Let's face it: there are no shortcuts in skincare. One exception is makeup wipes — which can be a godsend on nights when you just can't muster up the energy to do a full face cleanse. Nevertheless, wipes require tugging and pulling, neither of which are conducive to keeping skin taut (over time, excessive rubbing can potentially cause wrinkles, especially around the delicate eye area). Not to mention, wipes don't necessarily clean your skin thoroughly, which could set you up for breakouts. Lastly, they're not the most sustainable pick — after all, very few of them are biodegradable.
While we're not suggesting you toss your beloved wipes entirely, there are plenty of alternative options for removing makeup. Below, experts weigh in.  
Try an oil-based cleanser
Your best bet for breaking down stubborn makeup, even longwear formulas, is an oil-based cleanser. This is because oil can literally dissolve everything from your foundation to your mascara. Plus, because it's a lipid, it won't leave your skin feeling dry or tight.
Contrary to popular belief, acne-prone and/or oily skin types can benefit from an oil-in-water cleanser, too. "Oils work as solvents to help dissolve excess sebum," explains Vance Soto, Owner of Ole Henriksen® Face/Body Spa in L.A. So while it may sound counterproductive to use oil cleanser on an oily complexion, it can help achieve a deeper clean than a gel or foam cleanser. Plus, because it won't strip your skin, it won't send your sebum-producing glands into overdrive trying to make up for lost hydration.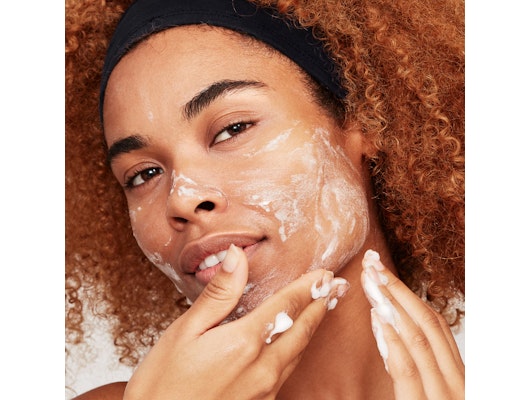 Stocksy United / Leandro Crespi
Consider double cleansing
If you wear a lot of makeup, it's worth giving double cleansing a go. Just as it sounds, this skincare technique involves not one, but two different face washes. First, apply an oil cleanser like Votary® Super SeedTM Cleansing Oil ($78) to help break down and dissolve surface makeup. Once you've rinsed, follow with a gel, foam, or cream cleanser, which can remove residual residue, as well as deliver a deeper clean.
If you're strapped for time but still want to try double cleansing, consider a 2-in-1 formula like the Dior® Hydra Life® Oil to Milk Makeup Removing Cleanser ($42), which mimics the two step process of a double cleanse.When double cleansing, keep in mind that if you wear lash extensions (or plan to get multiple wears out of falsies), the oil will actually break down the glue as well, so you may want to avoid that area.
Try micellar water
Eyes are actually the most difficult area of the face to clean without wipes. Some cleansers can burn, sting, or irritate the area. However, the thin skin around your eyes is the most susceptible to wrinkles formed by rubbing, so it's extra-important to treat them with gentle care. Instead of rubbing with a wipe, try a micellar water, suggests makeup artist Jamie Greenberg.
The skincare staple contains micelles — particles that attract dirt and makeup away from the skin without any soap or oil. Consider it the first step to clearing away eye makeup before cleansing, suggests Greenberg, who likes Koh Gen Do® Cleansing Spa Water ($46). To use a micellar water like this one, soak a cotton pad with it and gently swipe around the eye area. Yes, it will work like a magnet to pull away the makeup, but Greenberg says that she always follows it with a rinse to make sure that skin is completely clear.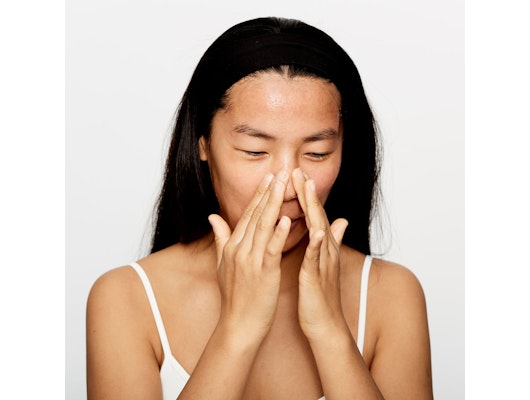 Stocksy United / Leandro Crespi
Try a microfiber cloth
If your hands and cleanser aren't doing the trick to remove stubborn makeup, Greenberg recommends trying a microfiber cleansing pad like the Face Halo® ($22 for pack of three). These circular, towel-like pads rely on specially-designed fibers to whisk away grime (including longwearing and waterproof formulas) with minimal effort and no soap. Most importantly, they require a lot less tugging and rubbing than most wipes, and will get off layers of color even without any cleanser.
Maintain an exfoliation routine
Even if you don't wear a ton of makeup, Soto says that water alone is not enough. "At my spa I have heard guests say 'I only use water on my face,' and that is definitely the least effective and makes me cringe. Proper cleansing is about investing in the largest organ in your body — skin," says Soto. Exfoliation is one way to promote skin health — and make makeup removal easier, too. Soto recommends prepping skin for makeup removal by exfoliating regularly with chemical exfoliants like AHAs, and glycolic and lactic acids. By removing layers of dead skin, these formulas inadvertently promote easier makeup removal. "If you properly exfoliate each week, it will result in less scrubbing during your facial cleansing," Soto notes. "Plus, it will also allow your products to work better, which can result in an improved complexion."
Product prices may vary from the time this article was written.
Allergan® may receive commission for purchases made through links in this article.