For many, the month of February is all about love. But it shouldn't be just about expressing your ardor for others (though that is obviously special, particularly around Valentine's Day). You should also remember the value of self-love. Accepting yourself for who you are and celebrating it will strengthen your relationships with others, and even promote a more optimistic outlook on life. An important part of self-love is self-care — and that's where we come in. Let some of these new beauty launches become part of your new self-care ritual, whether it's spritzing on a heady floral fragrance, giving your body a thorough scrub, or simply a quick masking while watching Netflix. Treat yourself!
Who: Lauren Levinson, Editorial Director
What: The Good StuffTM Gentle Shampoo ($8)
Why: UnileverTM recently launched eco-friendly hair care line, The Good Stuff, and I'm on board. The gel-like shampoo is a gentle formula that offers major volume (I can confirm this claim is true — even in the dead of NYC winter with no humidity, my blowout was ultra-bouncy). What makes it unique is that the vegan, sulfate-free shampoo is all you need to use in the shower to clean your hair. This saves time and water, since you're not waiting for conditioner to rinse out. Post-shower, you add a leave-in conditioner and styling product (there's a six-product range to choose from based on your hair type and desired look). It's easy to use, affordable, and an innovative concept for those of us trying to decrease the clutter in our bathrooms (#mariekondo). Plus, it comes in a 100 percent recycled and recyclable packaging.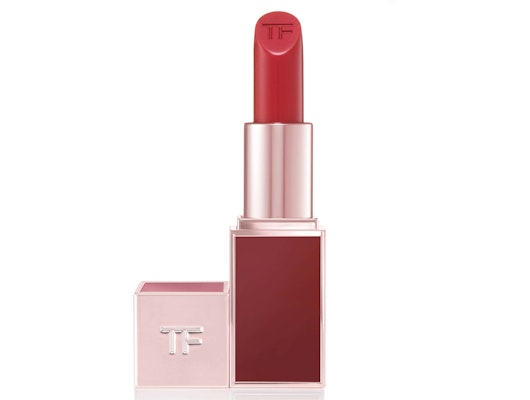 Who: Lauren
What: Tom Ford® Lost CherryTM Lipstick ($60)
Why: And on the eighth day, Tom Ford Lost Cherry Lipstick was created… So I jest, but this lipstick color seriously seems to be sent from above. If you've never tried a lipstick from the famous fashion designer, this may be your gateway. His formulas are all super creamy and feel silky on the lips, while offering saturated color statements. The Lost Cherry hue (inspired by the fragrance of the same name) is a raspberry red with cool undertones. It's bright (not brick), much like a fresh bowl of cherries. I love how I can just wear a brow pencil, mascara, concealer, this lipstick, and feel done — minimal effort required.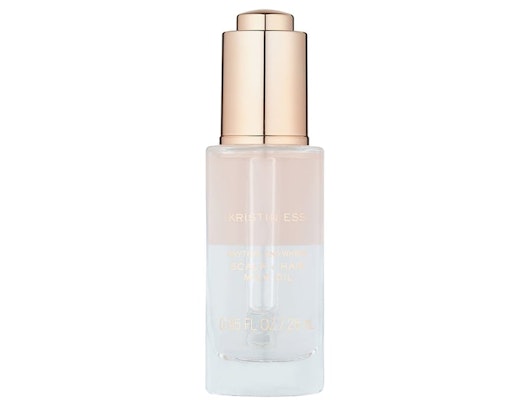 Who: Lauren
What: Kristin Ess® Anytime AnywhereTM Scalp + Hair Milk Oil ($14)
Why: In 2019, I've made the resolution to include my scalp as part of my skincare routine. This newbie from Hollywood stylist Kristin Ess (she works with Lauren Conrad and Jenna Dewan Tatum, among others) is helping me achieve my goals. The serum feels amazing on the scalp — nourishing, hydrating — especially those in dry, cold climates (hi New York City!). The bi-phase, oil-and-milk formula offers major PH-balancing and hair-health benefits thanks to ingredients like avocado, olive, jojoba and castor oils. I use it on wet and dry hair for shine, moisture, and adding a little "oomph."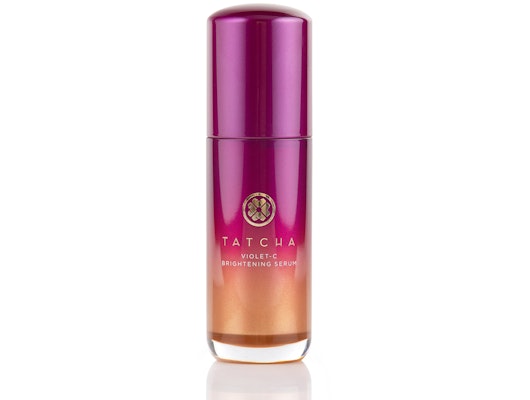 Who: Joslyn Winkfield, Senior Visuals Editor
What: TATCHA® Violet-CTM Brightening Serum  ($88) 
Why: I've been wanting to dabble in vitamin C skincare for a while now, and since anything on my face that Tatcha touches seems to turn to gold, I'm so excited to add this serum to my routine. Packed with 20 percent vitamin C and and 10 percent AHAs, I'm already seeing more smoothness in my skin's texture. I'm also hoping that over time my pesky dark spots will fade, thanks to the Japanese Angelica Root Extract.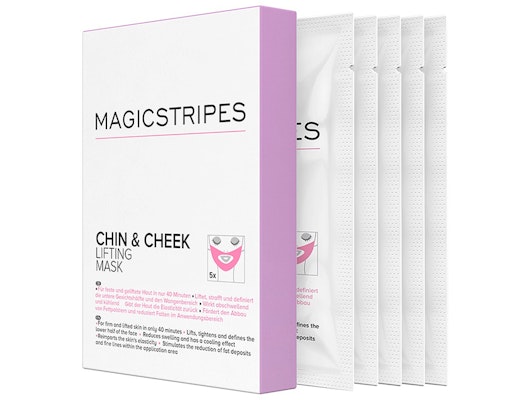 Who: Joslyn
What: MagicStripes® Chin & Cheek Lifting Mask ($70 for five masks)
Why: This is one of the most unique masks that's come across my desk in a while. I decided to try out this lifting and tightening mask for my slightly round jawline an hour before date night. The potent cocktail of goodies like collagen, caffeine, vitamin C, vitamin E, and macadamia nut oil tightened my face right up. Be sure to allot at least 40 minutes to let it do its work — and to take a few fun selfies while you're at it!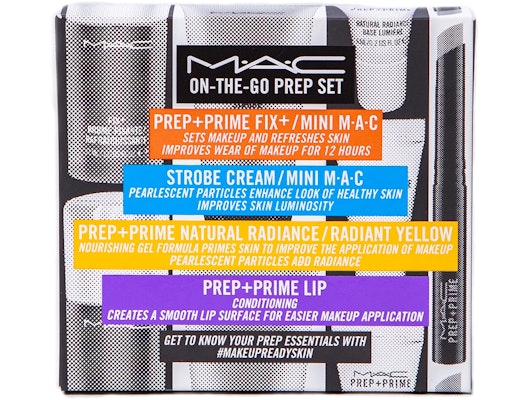 Who: Joslyn
What: MAC® Cosmetics On The Go Prep Set ($35)
Why: I travel quite a bit, so I'm always looking for minis of my must-haves. This kit has all that's needed to prep and prime my face for makeup, including the Prep + Prime Fix, Strobe Cream (gives me such a glow), Prime Natural Radiance, and the Prep + Prime Lip. I'm already daydreaming about my next vacation and throwing these in my carry on.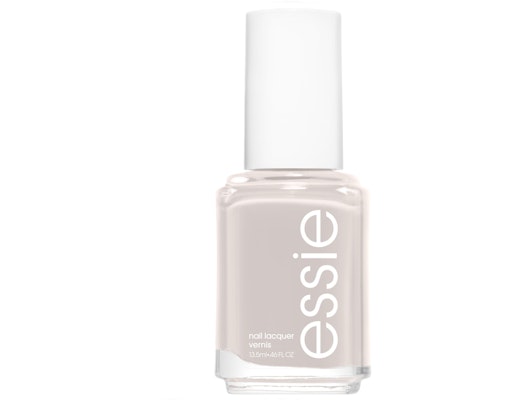 Who: Emily Orofino, Senior Beauty Editor
What: Essie® Nail Lacquer in Mind-Full Meditation ($9)
Why: I can always use a little more tranquility in my life — and I find a lot of my zen at the nail salon. Thus, the new Essie polish collection, serene slates, is right up my alley: It's inspired by meditation, and all of the shades are soothing neutrals. I'm particularly fond of Mind-Full Meditation, which the brand describes as a "dusky apricot beige nude." If you're a fan of pastel neutrals, you'll love it, too!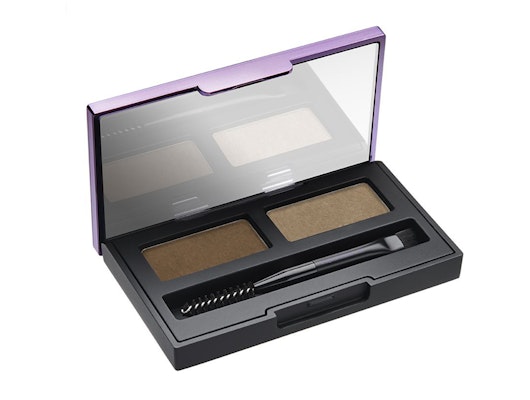 Who: Emily
What: Urban Decay® Double Down BrowTM ($29)
Why: I love filling in my brows, but have never been a fan of my process — I usually use two different products at any given time to make them look just right. I want my brows to have dimension like a real arch, rather than look painted on. That's why I'm into this new putty palette from Urban Decay. Each compact contains two (waterproof!) pigmented shades to custom blend your own bespoke brow hue. (It's available in seven colorways, too.) The formula itself feels more like a creamy powder than a chunky wax, so it disappears into your arches, and it seriously lasts all day — so your brows won't ever fade as your energy levels do.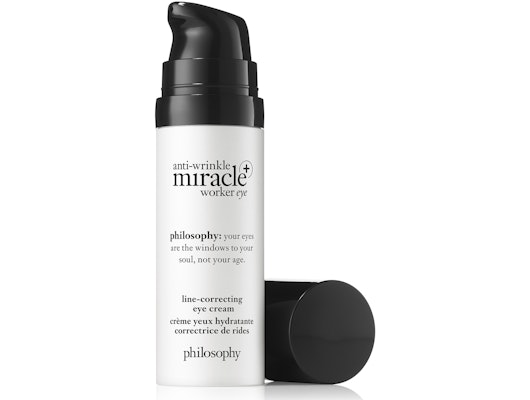 Who: Emily 
What: Philosophy® Anti-Wrinkle Miracle Worker + Line-Correcting Eye Cream ($60)
Why: Anyone who knows me is aware that I am not fully on team eye cream. (After all, isn't it just richer moisturizer in a tinier jar?) But the latest launch from Philosophy has me reconsidering my stance. The incredibly velvety formula is loaded with iconic antioxidant vitamin C and Indian gentian extract, which helps soothe and protect skin. The brand claims that after one week, you'll see less noticeable puffiness — but I observed deflated undereye bags after just one application.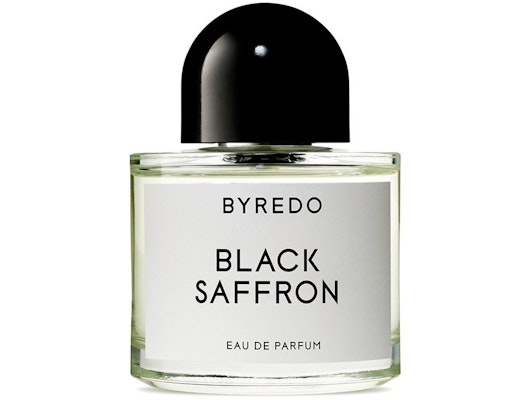 Who: Thia Laurain, Social Media Editor 
What: Byredo® Black SaffronTM Eau de Parfum ($250)
Why: Instantly upon inhaling this intoxicating fragrance, I knew it was going to become my new signature scent. Thanks to a heady blend of saffron, black violet, amber, and vetiver, this eau de parfum is warm, mysterious, and inviting, all at the same time. I find the scent lingers softly on my skin all day, but when I want to really amp-up the staying power, I'll layer with a coordinating body wash, body lotion, or hand cream from the recently-expanded body collection.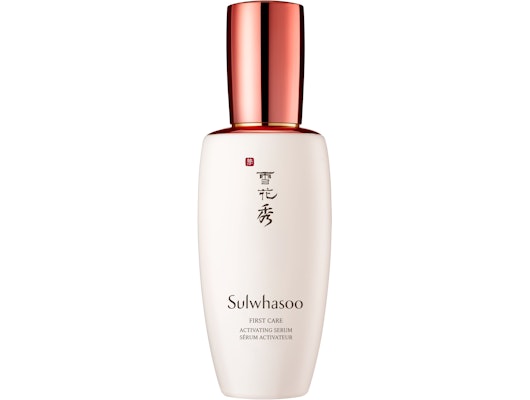 Who: Thia
What: Sulwhasoo® Limited Edition First CareTMActivating Serum Lunar New Year($105)
Why: This beloved serum has gotten a limited-edition makeover for Lunar New Year, but I think the romantic rose gold bottle makes it a perfect Valentine's Day gift for yourself or someone special. The herbaceous, watery formula absorbs quickly when patted into cleansed skin, elevating skin clarity and giving a boost to the rest of your skincare routine. The Lunar New Year bottle is also very generously sized, so it will last for months — even with twice-daily use.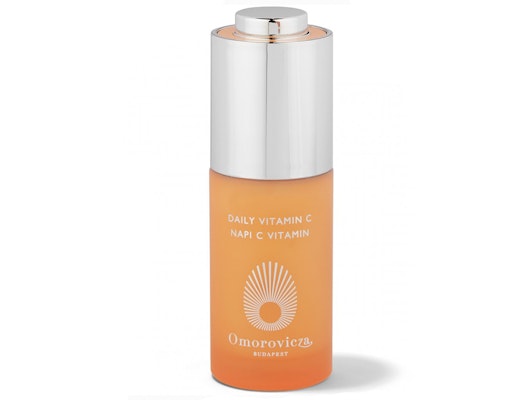 Who: Thia
What: Omorovicza® Daily Vitamin C Serum ($150)
Why: Vitamin C is my holy grail skincare ingredient, so I'm always on the lookout for the latest infusions featuring this powerful brightening agent. The most recent I love is the new milky-textured Daily Vitamin C Serum from luxe Hungarian brand, Omorovicza. Packed with vitamin C, niacinamides, and hyaluronic acid, it hydrates skin as it brightens and frights free radicals, leaving my face clearer and smoother, but never stripped.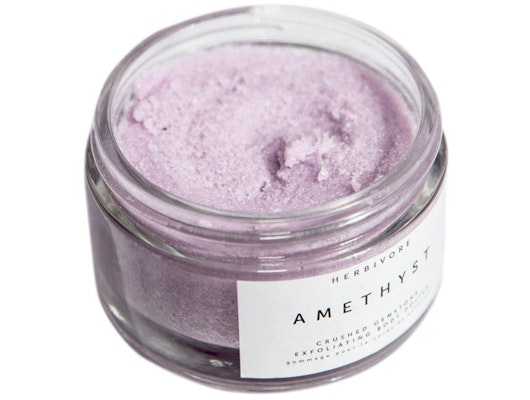 Who: Sophie Wirt, Beauty Editor 
What: Herbivore® AmethystTM Exfoliating Body Polish ($44)
Why: My birthday falls in February, which automatically makes me a sucker for anything amethyst-related. This body polish is infused with the actual gemstone — plus coconut and jasmine oils for softness and scent, respectively. The result: a skin-smoothing treat that leaves me smelling fantastically floral.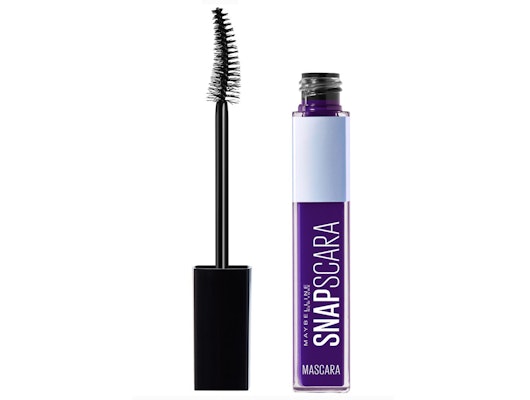 Who: Sophie 
What: Maybelline® Snapscara® in Ultraviolet ($6)
Why: Snapscara is the brand's upteenth lash launch — and, as per usual, it doesn't disappoint. The curved brush promotes a sexy cat eye shape and leaves no lash behind. Plus, the lengthening formula rivals mascaras three times the price, thanks to a fluttery, flakeless dry down. The formula comes in multiple shades; I'm partial to this aubergine hue, which is subdued enough to wear to work, yet noticeable enough to complement my hazel eyes.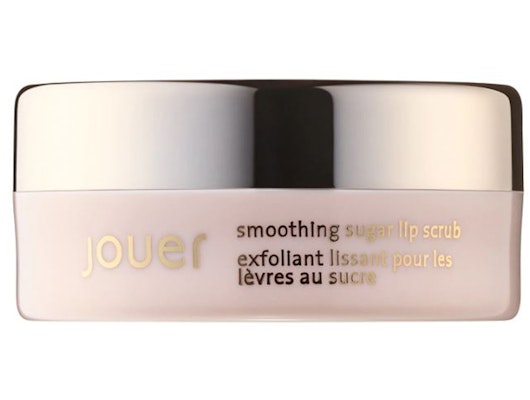 Who: Sophie
What: Jouer® Smoothing Sugar Lip ScrubTM ($16)
Why: I've tried many a lip scrub, but this one is in a category all its own. Like others, the formula relies on sugar to slough away flaky skin — but said sugar is so finely ground, it appears like a smooth, solid balm at first glance. As a result, the sloughing sensation feels more luxurious than it does abrasive. Pair that with its cupcake-like vanilla flavor, and the whole experience is decidedly scrumptious. Not to mention, this gold and pink packaging doubles as dainty desk décor.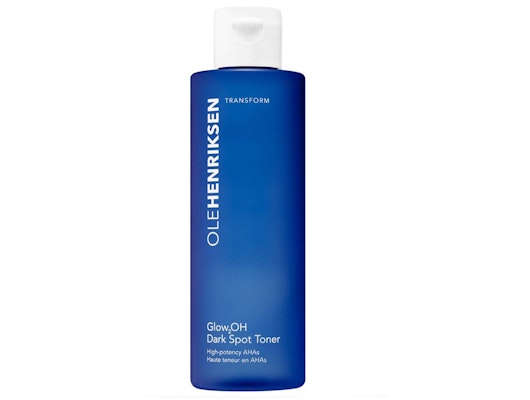 Who: Cat Matta, Copy Editor & Fact-Checker
What: OLE HENRIKSEN® Glow₂OHTM Dark Spot Toner ($28)
Why: If you're always on the lookout for products to balance out uneven tone and texture, as well as address early signs of aging, you'll love the latest toner from Ole Henriksen. It's a lightweight formula packed with high concentrations of glycolic and lactic acids to help smooth fine lines and lighten dark spots. After using it consistently for a week, I began using less concealer, foundation, and powder, and just let my refreshed complexion beam through. And, as someone who is barely conscious during my morning makeup routine, being able to trim off a few minutes of it was a godsend. An added perk: its sugar-lemony scent and the "it's working!" tingle pleasantly help rouse me from a dreamy fog every a.m.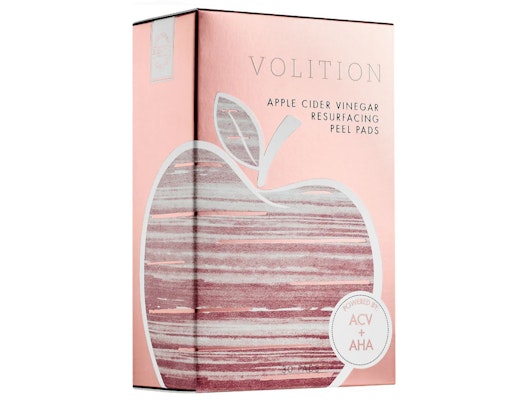 Who: Cat
What: Volition® Apple Cider Vinegar Resurfacing Peel Pads ($64 for 30 pads)
Why: Of all things both edible and topical, apple cider vinegar is one of my favorites. So when I came across this peel promising to address a range of skin concerns from dull or rough skin to uneven texture and tone in easily-transportable packets, I had to give it a try. Leveraging some of nature's own skincare gifts to create the formula, Volition harnesses the naturally-occurring alpha-hydroxy acid in apples as an exfoliator to rejuvenate, smooth, and hydrate skin. After just the first treatment, my skin felt soft, silky, and incredibly refreshed. I can't wait to see how my complexion looks and feels after all 30 pads are gone.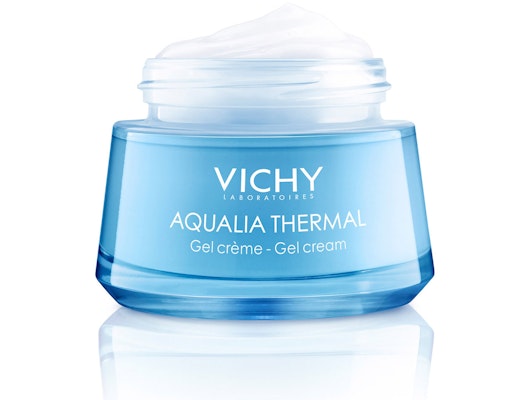 Who: Cat
What: VICHY® Aqualia Thermal® Water Gel Cream ($31)
Why: Winter air loves to feed off the moisture in my already hydration-starved skin. And its appetite seems to grow larger year after year, leading me to some desperate times when I just gave up and wore super-thick night cream 24 hours a day. Then along came VICHY with its supercharged Aqualia Thermal line, powered by the beast of water-binding ingredients, hyaluronic acid. Rather than shellacking my face with heavy cream that turned my skin into a Slip 'N Slide®, one small dip of my fingertips into the satiny gel was enough to not only cover, but also quench my thirsty face.
Best part: the gel cream absorbed quickly and thoroughly into my skin, leaving it both smooth and non-greasy to the touch. Now, when I habitually prop my chin up with an unclenched fist while sitting pensively at my desk, I won't risk slip-sliding off and accidentally punching myself in the eye.
Product prices may vary from the time this article was written.
Some products were gifted to the authors for the purpose of writing this article.
Allergan® may receive commission for purchases made through links in this article.