Judging by Christen Dominique's four million-plus YouTube® subscribers and 1.5 million and counting Instagram® followers, few people would characterize this social media butterfly as shy. You'd never guess it, considering she has her own line of makeup (Dominique CosmeticsTM), a new limited-edition MAC® Cosmetics kit, and a face and bod (which she attributes to hip-hop dance — her "first passion") that's always photo-ready. Yet interestingly enough, the beauty influencer describes herself as "reserved."
She credits her confidence to the camera and meet-ups with fans. "It's only over the past five years that I've broken out of my shell and come into my own," Dominique explains. "I'm more outspoken and feel free to be myself in any situation."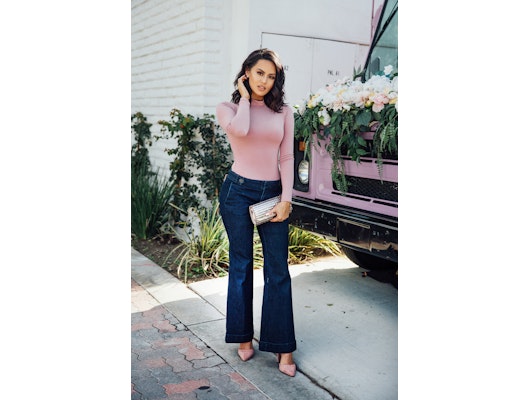 Emily Malan
Her beauty journey, however, started long before she started filming step-by-step tutorials. Much like the camera, magically erasing dark circles with a yellow color corrector stolen from her mother's makeup bag around age 12 or 13 provided Dominique with an instant boost. "I wasn't even allowed to wear makeup yet and I was already playing with it," she laughs. "It just made me feel better." From there, the self-taught beauty guru became the go-to in the girls' locker room for her peers who wanted a little pick-me-up after P.E. "There would be lines — it was an everyday thing," she says. "I was known as 'the makeup girl' from middle school all the way through high school, and even after [graduation] when I was freelancing."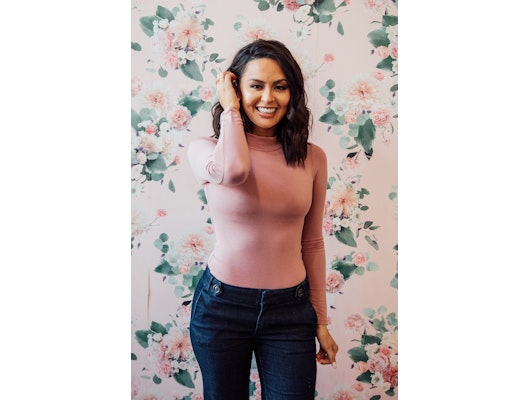 Emily Malan
Juggling a budding makeup career, a second full-time job, school, motherhood, and marriage was what initially led Dominique to YouTube. "It was becoming really hard to travel and carry [my kit] with me all the time, so I had to make a decision," she explains. "Somebody gave me a suggestion to do a tutorial on YouTube so that they could follow it instead of having me come over to do their makeup." The rest, as they say, is history.
Despite her enormous success, Dominique does admit that she still has insecurities — one of them being her skin, which is still prone to an occasional breakout. While there isn't one product that has proven to be the ultimate miracle worker, she does have a no-fail solution: "If I have a really bad breakout, I'll do dramatic eyes so that it distracts people!" she says.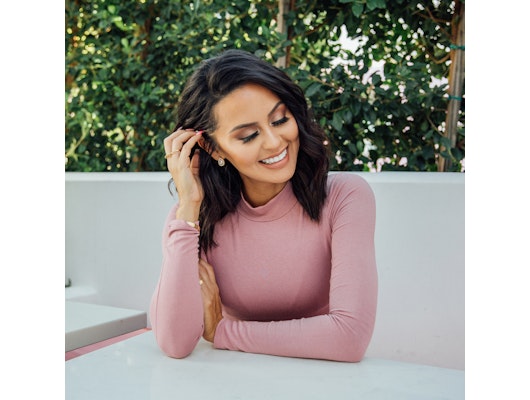 Emily Malan
Here, the in-demand influencer "spills the tea" on her top 11 skin, makeup, and lifestyle must-haves, shares the secret to selfie-worthy lips, and reveals her "ultimate indulgence."
Vanity Planet® Spin for Perfect SkinTM ($100): "For me, the most important thing is having a cleansing brush. It takes all of the dirt, makeup, and oils from the day out of your face. You can actually use this on your body for a really deep clean."
IT Cosmetics® Bye Bye Under Eye Cream® ($48): "It's intensive and really hydrating. I use this at night."
Laneige® Lip Sleeping Mask ($20): "This is super hydrating, and I love that it tastes good."
Benefit® Cosmetics Precisely, My Brow Pencil® ($24): "It's super important to take the time to figure out your brow shape because brows frame the face . . . The point on this pencil is tiny so that you can be really precise. It has a spoolie on the end that doesn't completely take off what you just put on. I don't know how [Benefit] did it, but it's a magic spoolie!"
Charlotte Tilbury® Magic AwayTM Liquid Concealer ($32): "[I wear] concealer, no matter what! Right now, I'm loving Magic Away from Charlotte Tilbury."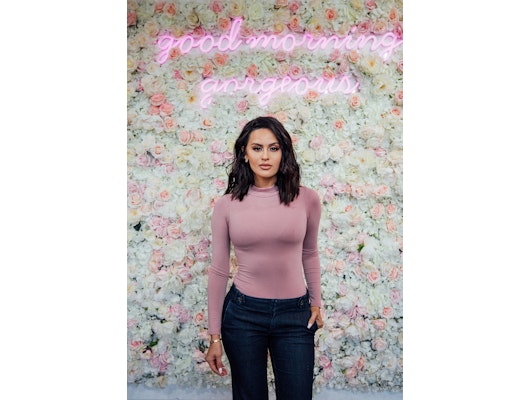 Emily Malan
Dermablend® Flawless Creator Foundation Drops ($40): "If I'm going to a meeting, I will wear full-coverage foundation, because I want my skin to look super even and smooth. This one is like a real-life filter for your face."
a® Pro ($20): "I cannot live without my beautyblender. I don't even know how I did my makeup before the blender came out! I like the black one, because it hides everything."
At-home facials: Yolanda Mata, commonly known by her Instagram handle as Yoli Glo, is Dominique's go-to for dewy skin. "She really takes her time and gets into your pores. She uses different types of stones to massage your face. For me, it's all about the spirit and vibe of the person. It's such a soothing and comforting [experience] — a facial from Yoli is almost like therapy."
Dominique CosmeticsTM Berries & CreamTM Collection ($80): "I love the variety the eyeshadow palette gives you and the liquid lipsticks tie the whole look together," she said. The must-try shadow color she loves: "Warm Pie. It's a reddish, warm brown with gold glitter flecks in it. You can use it in the crease or anywhere, really. It looks so beautiful and glitzy."Thus far, all of Dominique's makeup collections have been named after food, and perhaps a chocolate chip cookie palette — her "ultimate indulgence" — isn't far behind. "I always grab the ones that are pre-cut [at the grocery store]," she says of her favorite sweet treat. "Pop them in the oven and you're good to go!"
Pistaché SkincareTM Body Butter ($28): "I have very dry skin and I love pistachios, so this is perfect. It's super-hydrating and it smells so good."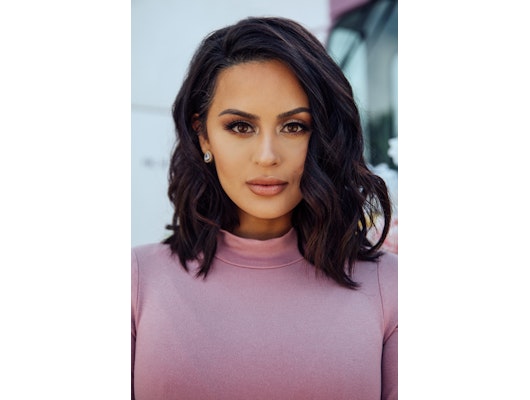 Emily Malan
Aesthetic Treatments — Injectable Wrinkle Reducer, Filler, and Radiofrequency: "I've had lip [filler], injectable wrinkle reducer, and skin tightening with radiofrequency. I started lip [filler] two years ago. I had no upper lip — I'm not even joking! My lips were cute before, but now you really get [a fuller] effect. I treat the lines across the center of my forehead with injectable wrinkle reducer.
[Editor's note: Injectable wrinkle reducers temporarily smooth the look of moderate to severe wrinkles in certain areas of the face, including the forehead, frown lines, and crow's feet. Injectable filler is a temporary treatment that adds volume to areas of the face such as the lips, cheeks, and laugh lines. Like any medical treatment, both injectable wrinkle reducers and injectable fillers have potential risks and side effects. Talk to a licensed provider to see if they're right for you. And learn more by chatting now with a trained aesthetic specialist.] 
I also do a bit of skin tightening [with radiofrequency] on my neck and face to keep a youthful look. Makeup looks a lot better on smoother skin. I had acne, and now that the texture is smoothed out, my foundation and anything else I apply on top looks better.
[Editor's note: As always, talk to your doctor before starting any new treatment.]
I go to Nurse Jamie for injectable wrinkle reducer and skin tightening. When it comes to lips, I go to Syuzanna at Flawless Laser Center. She's [known] for doing lips."
Product prices may vary from the time this article was written.
Allergan® may receive commission for purchases made through links in this article.