Dr. Sarmela Sunder knows a thing or two about Instagram: the LA-based double board certified plastic surgeon has almost 40K followers to her name. Whether she's posting post-op photos or photographic proof that it is possible to look gorgeous in scrubs, Sunder always keeps it real. "Authentic content really resonates with followers," she shares. "I started my account as a way to educate people about procedures they [might not] know about or [have] misconceptions about."  
As if being a surgeon (and a mom, we might add!) weren't enough, Sunders is also a Physicians Formula® Physician's Coalition member — which means she consults for an ultra-popular beauty brand to boot. Below, Sunder chats skin-saving products, makeup must-haves, and her personal stance on cosmetic injectables.  
On Her Daily Beauty Routine 
Sunder starts her skincare routine with serums. "In the morning, for medical grade skincare, I like using SkinCeuticals® Phloretin CF® ($166) to help prevent pigmentation," she says. "Then I use either the Physicians Formula Rosé All DayTM Oil-Free Serum ($15) or the Skin BoosterTM Vitamin Shot in Hydrating ($13). Next, I use a physical sunscreen, followed by either face powder (for lighter coverage days) or foundations (for days I want more coverage). The Physicians Formula Healthy FoundationTM ($15) is a nice option because it has SPF 20 in it, offering an additional layer of sun protection."
Once her skin is prepped and glowing, it's time for makeup. "I love some color in my cheeks," she shares, citing the cult-classic Murumuru Butter Butter BronzerTM ($15) and Murumuru Butter Butter BlushesTM ($13 each) as go-tos. "I can't live without eyeliner and I'm obsessed with bright lips," she gushes.  
After a hectic day spent with patients, Sunder double cleanses her skin to ensure it's free from traces of dirt and makeup. First, she uses The Perfect MatchaTM 3-in-1 Cleansing Balm ($13) to dissolve surface makeup, then follows with a gentle cleanser to remove any additional impurities. "Once or twice a week, I will exfoliate, use a [formula containing] glycolic acid or salicylic acid," she adds.
 On Her Overnight Skin Secrets
Sunder relies on topical retinoids to keep her complexion smooth and glowing. "On a clean face, I apply a prescription-strength retinoid one to four times per week," Dr. Sunder shares. "On nights I am not using retinoids, I use resveratrol (an antioxidant). [During colder months], I [often switch] to a more hydrating moisturizer like the SkinCeuticals Triple Lipid Restore [2:4:2]® ($128). Recently I have started pairing a Skin Booster Vitamin Shot with my moisturizer to help combat dry winter skin." 
[Editor's note: Retinol shouldn't be used by those who are pregnant, considering getting pregnant, or nursing. Please consult with your doctor before use.]
Her Journey With Injectables
Sunder was compelled to try injectable wrinkle reducers for the first time in her early thirties. "I started getting injectable wrinkle reducer in my glabella (the elevens) when I was 31 because I was starting to get some [wrinkles] in between my brows," she shares. "I continue to use injectable wrinkle reducers. I do it every three to six months."
[Editor's note: Injectable wrinkle reducers are used to temporarily smooth the look of moderate to severe wrinkles in certain areas of the face such as the forehead, frown lines, and crow's feet. Injectable wrinkle reducers should not be used more frequently than every three months. Like any medical treatment, they have potential risks and side effects. Be sure to talk to a licensed provider to see if they're right for you. Have more questions? Chat with our team of trained aesthetics specialists now.]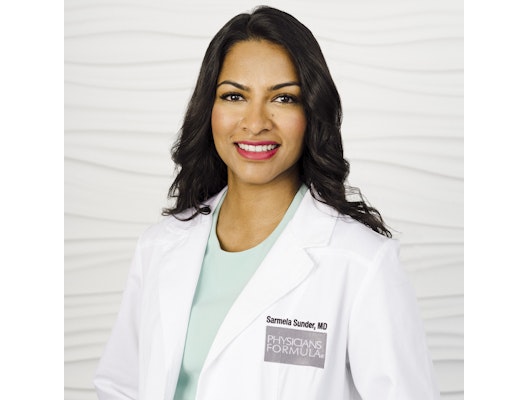 Photo by: TK
Lip Service
Dr. Sunder regularly performs lip injections on patients who want to add volume to their lips. That said, she notes that fewer patients are seeking the look of "overfilled" lips. Instead, they are requesting subtle-looking volume enhancement. "There is definitely [an interest in] more voluptuous lips, but it is shifting back towards a plump yet [subtle] look," she explains. Additionally, she finds that patients are still asking for more cheek volume with filler.
[Editor's note: Injectable filler is a temporary treatment that adds volume to areas of the face such as the lips, cheeks, and laugh lines. Like any medical treatment, it has potential risks and side effects. Be sure to talk to a licensed provider to see if it's right for you. Have more questions? Chat with our team of trained aesthetic specialists now.]
On a broader note, Sunder says patients no longer feel embarrassed about getting plastic surgery or injectables. "While there has been traditionally a stigma against all sorts of cosmetic treatments, I feel like that has really abated over the past few years," she shares. "People are feeling much more empowered."
On Passing Down Skincare Traditions
Long before she established a finely-tuned skincare regimen, Sunder relied on DIY skincare tricks passed down from her mother. "My mother taught me to wash my face with milk or yogurt before any special occasions," she recalls. "I didn't know it back then, but [these foods]  contain a form of a mild lactic acid. Another tip my mom taught me was to use [vitamin C-rich] lemon or lime juice on hyperpigmentation. Now, as a plastic surgeon I recommend vitamin C as a potent skin-brightening antioxidant that can improve [hyperpigmentation]."
Now a mom herself, Dr. Sunder plans to educate her two children about skincare. "I will teach my children the importance of using gentle cleansers and moisturizers," she shares. "It's critical that the products we use daily are gentle and non-damaging to the skin. I want my children to feel confident in their skin."
Product prices may vary from the time this article was written.
Allergan® may receive commission for purchases made through links in this article.