The first time I saw a Heyday® location in the flesh was when its Noho outpost opened in downtown Manhattan. I lived around the corner from it at the time, and was conflicted about the concept. Heyday's goal is to "take the facial out of the spa and into your life," which translates to relatively affordable, quick skincare treatments that even the busiest of people can incorporate into their monthly routines. "OK," I remember thinking to myself, "this is like the Drybar® of facials." But unlike my weekly blowouts, I like my facials with a major side of pampering — cucumber water and plush robe included. I decided Heyday was not for me and never went in.
Fast forward two years, and I'll admit, I majorly missed out. Do you want to know how many of those seriously pampering facials I had in that time? Approximately zero. As a new mom and just generally busy human, that kind of over-the-top self-care fell to the bottom of my priority list, and I had the broken-out skin to show for it. So when fellow mom and much busier human Rachel Blumenthal of Rockets of Awesome® told me she was a Heyday devotee, I decided to give it a second look.
I booked a 50-minute facial ($95) at the Tribeca location (Heyday now has six locations in New York and Los Angeles). I walked in fully expecting a very bland, sort of medical-feeling environment, and couldn't have been more wrong. The space was warm, cozy, and inviting and had the kind of chic vibe I'm always drawn to on the Apartment Therapy blog. As is the new normal, I checked in and filled out the typical "What are your skincare concerns?" questions on an iPad®. I noted that my goal for the day was to address extreme dryness (winter) and massive pore congestion (hormones).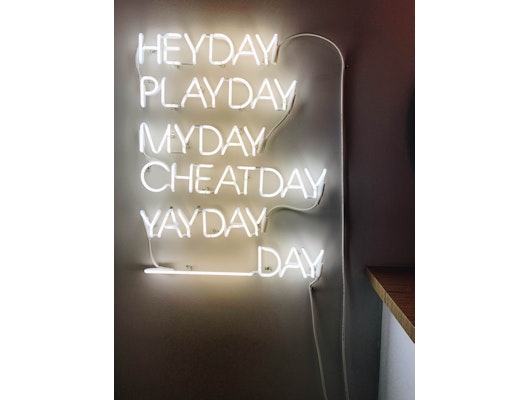 Courtesy of Lindsey Unterberger
My esthetician, Tia, led me back to a dimly lit, curtained-off, semi-private area. There was no plush robe to change into, but there was a comfortable bed and good music (think less Enya, more Tracy Chapman) playing in the background. There was something kind of nice about not having to strip down beyond kicking off my shoes.
Tia thoroughly cleansed my skin before looking at it under a Wood lamp, which is sort of like a black light that allowed her to see which areas of my skin were dehydrated, covered in dead skin cell buildup and/or suffering from hyperpigmentation. While I've seen a Wood lamp in my dermatologist's office, it was the first time I saw one used during a facial.  
Tia's diagnosis after analyzing my skin both with and without the lamp? Severe dehydration that caused a breakdown in my skin's moisture barrier. She actually rated my dehydration an eight on a scale of one to 10, with 10 being the most dehydrated. "I'm seeing dehydration all over your face, but I'm seeing most of it in your forehead and jawline," she said.
She performed a gentle papaya and passion-fruit enzyme peel to help get rid of some of my flakiness and provide some deep exfoliation, but gave me strict orders not to exfoliate at home at all for two weeks. No exfoliating acids, no enzymes, no physical scrubs. "Right now, you're in repair mode," she told me. "If you take a break from exfoliation for a week or two, that top layer should start to repair itself."
If you think that your own skin barrier is broken, there are a few characteristics to look for. "You can tell that the top layer is in trouble with a couple different signs: flaking, congestion, feeling tightness which is a sign of dehydration and redness," Tia explained. "Most people will see some of these signs, but if you're seeing all them, that's a pretty good indication that your moisture barrier is broken."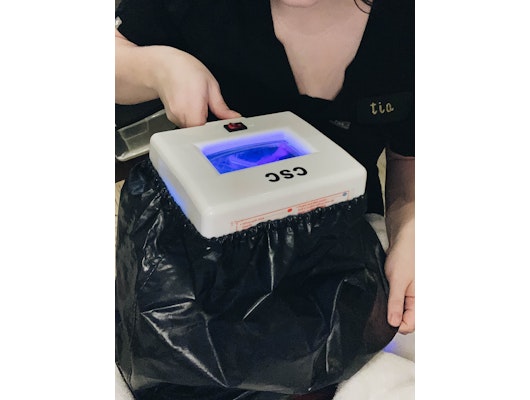 Courtesy of Lindsey Unterberger
Next, Tia massaged a combination of carrot seed and neroli oils all over my face to increase microcirculation, warm up my skin, and soften my pores. She then applied two warm compresses over it to amplify the effects. Heyday uses this oil-pulling method instead of a steam machine to prep the skin for extractions. Tia told me this is because the latter can dry out the skin and, if the device is not cleaned properly, introduce unwanted bacteria.
When she removed the towels, I braced myself for the intense pressure that usually accompanies extractions, especially the instant-tear-inducing areas around my nose, but it never came. Tia's touch was so light that I feared she wasn't actually getting any of the gunk out of my pores. "A lot of your breakouts are still under the skin, and we don't break open the skin here," she explained, probably sensing my confusion. (Don't worry, she still got rid of plenty of blackheads.)
The next step was a supremely hydrating Naturopathica® White Tea Antioxidant Mask ($50) that Tia mixed with an aloe vera gel. The concoction felt thick, cooling, and soothing as it went on, and I could feel the moisture instantly seeping into my skin. While the mask was on, Tia went over my face with a high-frequency wand. According to fellow Heyday skin therapist Ashley Howell, "High-frequency treatment kills bacteria and reduces inflammation by oxygenating the skin and producing an antiseptic effect. For this reason, it's used after extractions."
I've had high-frequency treatments in the past, and while they never hurt, sometimes the buzzing noise and slight burning smell emanating from the device makes me feel uncomfortable. When used over the mask, though, I barely noticed the high-frequency wand at all.
The facial ended with Tia applying yet another layer of moisturizer and sealing it with an oil. "When skin is dry and dehydrated, I like to use the oil after the moisturizer instead of the other way around," she said. She sent me home with marching orders to use nothing but a hyaluronic acid serum and moisturizer for the next two weeks and then said I could slowly start to re-incorporate exfoliation, advising me to use a time-released, encapsulated retinol three times a week at night.
[Editor's note: Retinol shouldn't be used by those who are pregnant, considering getting pregnant, or nursing. Please consult with your doctor before use.]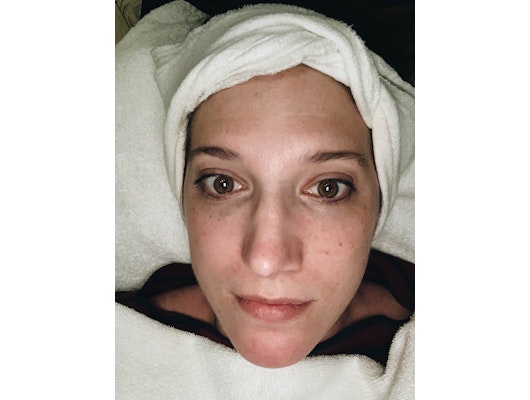 Courtesy of Lindsey Unterberger
When I checked my skin out in the mirror when she was done, I was surprised by how glowing and not-at-all-red it looked, and when I took stock of how I was feeling, I couldn't believe how relaxing the experience had been. I've been following Tia's plan to a T for the 10 days it's been since my facial, and I have to admit that laying off the exfoliation has absolutely helped with the redness and flakiness I had been seeing before she put me on my hyaluronic acid- and moisturizer-only diet. Despite my initial hesitation about Heyday's get-in-and-get-out facials, you can add me to their legions of fans now. I'll be back next month, hopefully with a much stronger moisture barrier.
Service was gifted to the author for the purpose of writing this article.
Allergan® may receive commission for purchases made through links in this article.