Charlotte Tilbury is a walking exclamation point. Larger than life in so many ways — from her vibrant, enthusiastic "Darlings!" to her fiery mane of red hair to her perpetually sultry smokey eye — she lights up a room when she enters it. But it's her talent that keeps us mesmerized. When she's at work making up a model's face, the only thing to do is watch and learn. And, if you're lucky enough, you can ask her a question or two.
Tilbury was born in London and raised in Ibiza until she attended boarding school, where she first started playing with makeup. However, it was in Ibiza where she met one of the original pro makeup artists Mary Greenwell, who encouraged Tilbury to attend the prestigious Glauca Rossi School of Makeup. Not long after, her career trajectory began. In no time, Tilbury was at the top of every fashion photographer's and designer's runway show list, while her expert eye was also tapped to aid in the creation of such makeup lines as Tom Ford and Helena Rubenstein, to name just two.
In 2013, Tilbury decided it was time to launch her own line. In its short five years, it's become one of the best-selling brands today, thanks to such inventions as her Luxury PalettesTM, Wonderglow®, and Charlotte's Magic Cream®.
Having recently done the makeup for the iconic 2018 Victoria's Secret Fashion Show®, the mother of two took a few minutes out of her busy schedule to share her story, skin care tips and why she never lets her husband see her without eye makeup on.
Spotlyte: How did you get into makeup artistry?
Charlotte Tilbury: People often ask me when I realized I wanted to become a makeup artist, and I love sharing my story. My love of beauty and my ambition to become a makeup artist started back when I was growing up in Ibiza — it is such a magical, bohemian place. I was constantly surrounded by a melting pot of creatives and visionaries who sparked my own creativity. And I was, therefore, always walking a path towards makeup artistry.
My talented father, Lance, was a painter in Ibiza and gave me an amazing root in colours, tonality, and contrasts. The first time I realized the power of makeup — and that it is every woman's secret weapon — was when I was 13. I discovered makeup, and it changed my life. I started wearing mascara, and overnight everyone from [ages] seven to seventy reacted to me in a very different way. I was instantly more empowered, magnetic, and mesmerizing.
Spotlyte: Did you know early on in your career that you wanted to create your own makeup line?
CL: I always knew I wanted to create my own makeup brand soon after the discovery of makeup! Instead of sweets and treats, my tuck box [typically a hamper of food taken to boarding school by students] was filled with makeup. I would always give my friends makeovers, advise them on what clothes to wear, [tell them] the colors that suited their hair color and eye color, and [teach them] how to make them the most beautiful versions of themselves.
Since those years, and throughout my career as a makeup artist, I have always wanted to share the power of makeup and show everyone of all ages how to look and feel like the most beautiful versions of themselves every single day. I was lucky enough to work for some incredible brands out there, but I wanted to create my own limitless makeup revolution in the blank space in the market for makeup.
Spotlyte: Why was that so important to you?
CL: I was shocked to hear women were/are lost when it comes to beauty: 50 percent of the women of England don't engage with makeup because they don't know what to use or choose and they are afraid of looking [bad]. I knew I could help them by giving them the guidance of an expert helping them at every step. I, therefore, wanted to create a brand where everyone is not daunted by makeup, but excited and empowered by it!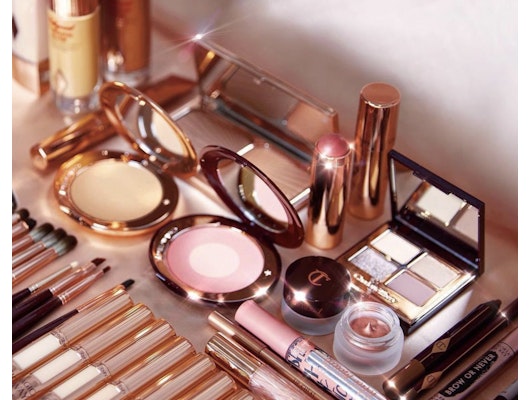 Courtesy
Spotlyte: For your personal makeup routine, do you have favorites you use on a regular basis or do you switch around all the time?
CL: I always find this question difficult, it's so hard to choose my favorite products — it's like asking me to pick a favorite child, darling! But if I had to pick, then one of my essentials would be my Charlotte's Magic Cream® ($100). I never go anywhere without it — it was how this brand began! From the very beginning of my career, I was known for amazing skin before amazing makeup. I always say, "you can't have a beautiful painting without a beautiful canvas."
The cream actually got its name because for years, I used to mix it myself and use it backstage at shoots and shows to turn around the tired skin of supermodels and celebrities. They soon became obsessed with it and would ask me every time for my magic cream! So, I decided to re-create it and share it with everyone, and now it's a worldwide favorite.
Spotlyte: Which of your products do you think best personifies Charlotte Tilbury herself?
CL: Every product has a bit of Charlotte Tilbury inside! I created my brand so it would feel like every woman and man had me sitting with them at their vanity tables, helping them to become the most beautiful versions of themselves. Whether that's through decoding my coveted Tilbury eye and that shimmer from supermodels on the runway or the super-flattering filters of the past and the present, I wanted to bottle all of my red carpet, backstage and celebrity beauty secrets to share the power of makeup with every one, of every age!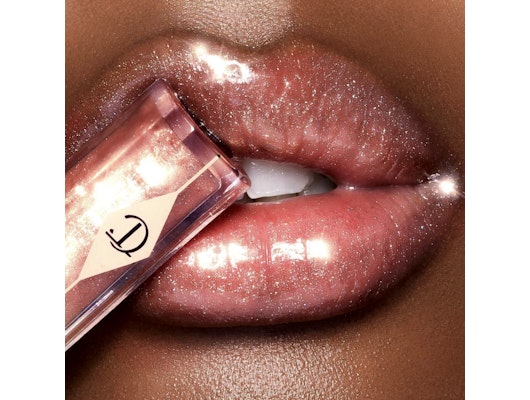 Courtesy
Spotlyte: What advice would you give a makeup artist starting out who's thinking about creating her or his own makeup line?
CL: My advice now to anyone wanting to become a makeup artist or someone who may be trying to build their own brand is to never give up and always have self-belief. One of my positive mantras that I always live by is "dare to dream it, dare to believe it, dare to do it." It's so important to have a single-minded focus, dream big and dare to make your dreams your reality.
I talk a lot, too, about the power of visualization. Visualize what you want and don't give up until you get it. You need to be professional, dedicated, and hard-working to make it in the industry, but most of all you need to have fun — to be successful, you need to love what you do! I remember when I was starting out, I received a note from a beauty editor saying "Knock it to them, Charlotte. I know you'll be a star." It encouraged me to keep following my dream during tough times and really gave me motivation when I was cold-calling for jobs and struggling. It made me realize that I just had to believe in myself. Because of this, you will find a hand-drawn star all over my brand's packaging.
Spotlyte: Shifting gears, we'd love to know about your skincare routine and what products you use.
CL: It starts in the morning, and the first thing I do to get my instant glow is to cleanse with my incredible Multi-Miracle Glow Balm ($60). It's enriched with vitamins and floral extracts and gives the complexion a youthful-looking boost. For the best complexion of my life, I then multi-mask with my Goddess Skin Clay Mask ($55), followed by my Instant Magic Facial MaskTM ($22).
I always prep my skin with Charlotte's Magic Cream ($100). I am never without it; it gives me the perfect glowing base. I then tap in my Magic Eye Rescue ($60) underneath the eyes, hydrating and visibly smoothing the skin.
To finish, I'll apply either my 'Gisele-in-a-jar' Wonderglow ($55) or my Brightening Youth Glow ($55), a magic brightening skin solution which colour-corrects and instantly blurs, brightens, and smooths the appearance of the skin, giving me a gorgeous glowing, dewy-looking complexion!
Spotlyte: Was your mum mindful of taking care of her skin? Did you learn good skincare habits early on?
CL: My mother is full of great advice and always makes me feel beautiful! She taught me that the sun is beauty suicide — you should always wear a high factor SPF. I've always been really careful with my skin growing up in Ibiza, especially as a fair-skinned redhead. I never sit outside in the sun and always use an SPF.
Spotlyte: Do you still reapply your eye makeup before bed?
CL: Absolutely, darling! I live in my makeup. I always wear a smokey eye to bed, that's where the expression "smokey eye til I die!" originated! For my famous bedroom eyes, I define my eyes using with my Rock 'N' Kohl® eyeliner in Barbarella Brown ($27). I also like to make my eyes look more almond-shaped with my signature Feline FlickTM ($30) – it instantly makes eyes look lifted and elongated, giving them the appearance of a more feline, seductive shape you can rock around the bedroom all night. I finish with a little Legendary Lashes® V2 mascara ($32). My husband has never seen me without makeup on! I always say look good, feel good, and a little eye makeup at night keeps the magic alive!
Spotlyte: What is the most important message that you want your consumers and followers to feel about themselves?
CL: I want to spread the powerful, feel good factor of makeup, and make all of my incredible fans and followers feel like the most beautiful versions of themselves every day.
My mantra is "Give a woman the right makeup and she can conquer the world!" because I really believe makeup can change your life! It has this incredible power to transform and boost every woman and man's confidence. I call it the psychology of makeup: if you look good, you feel good, you exude confidence, and the world reacts to you in a powerful, more positive way.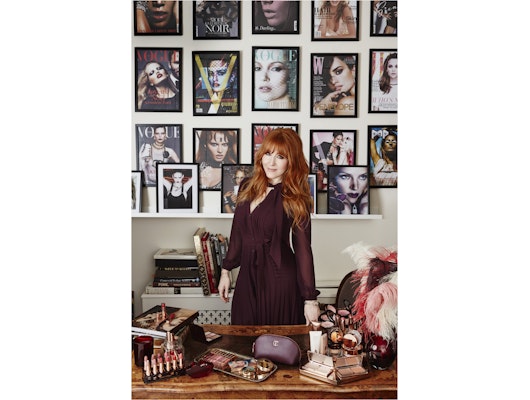 Courtesy
Allergan® may receive commission for purchases made through links in this article.