While buzzy skincare trends like glitter face masks and CBD come and go, we can rest assured that the popularity of retinol will never fade away. Of all the powerhouse ingredients on the market, retinol is likely the most well-known and is often said to yield the most dramatic results. This hardworking hero helps to reduce wrinkles and fine lines, treat and prevent acne, and even fade dark spots caused by photo-damage or hyperpigmentation. (Get a primer on this iconic ingredient here.) 
[Editor's note: Retinol shouldn't be used by those who are pregnant, considering getting pregnant, or nursing. Please consult with your doctor before use.] 
And while over-the-counter retinoids do have many beauty benefits, the side effects are what really intimidate consumers. Retinoids can be pretty harsh and experiencing irritation, dryness, or photosensitivity isn't uncommon. Those with normal, oily, and combination skin oftentimes find retinol to be too rough. Dry and sensitive-skinned folks just steer clear of the product all together for fear of becoming more dry and too reactive.
But if you're someone with sensitive skin, don't give up on this product category just yet. Gentle formulas can help ease your skin into retinoid use with help from moisturizing ingredients. To figure out whether your skin is sensitive to retinol, Dendy Engelman, MD, dermatologist in New York City, suggests paying close attention to your skin while using retinol. "If it's flakey, sensitive, or red, it could be too high of a dose or the use could be too frequent," she says.
"Most people can safely begin retinol treatment at a low dosage, and once they have used that dosage consistently, applying it once daily for 30 days, they can move up to a slightly higher dosage if needed," says Marguerite Germain, MD, dermatologist in Charleston, South Carolina. "Sensitive skin patients need to [use a low dose] retinol until their skin is well-conditioned to accept a higher dosage."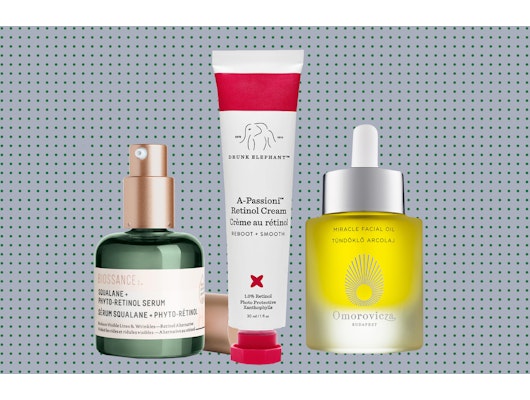 While Engelman suggests starting small by applying a retinoid one to two times a week at night to build up tolerance, Germain recommends applying it every night, but lowering the dose. "The key is consistent application and not necessarily the retinol dosage," she says. To start small, Engelman recommends trying over-the-counter Differin® Gel ($25 for two), which contains 0.1 percent retinol and helps to treat and prevent acne and acne-scarring. 
Seeking out retinoid products formulated with antioxidant or hydrating benefits will also go a long way in helping to stave off peeling and irritation. Options include the Germain RxTM Retinol Forte Serum 2x ($65), which features green tea polyphenols to fight against free radical damage and hyaluronic acid to moisturize, or RoCTM Retinol Correxion® Anti-Aging Sensitive Skin Night Cream ($14), which was also developed with hyaluronic acid to hydrate the skin.
If you do have sensitive skin, but noticed that no flakiness, dryness, or peeling occurs after using retinol (success!), consider trying a higher-dose retinol product with an even bigger boost in hydrating ingredients. Drunk Elephant® A-PassioniTM Retinol Cream ($74) is a one percent retinoid product that contains oils like passionfruit, apricot, marula, and jojoba to help moisturize the skin without compromising the efficacy of the retinol. Another new-to-market product, available only through prescription, is the first and only 0.5% tretinoin (a type of retinoid) lotion, used for the topical treatment of acne: ALTRENOTM (tretinon) lotion, 0.05%. It contains soluble collagen, glycerin, and sodium hyaluronate to hydrate the skin while treating pimples.
[Editor's note: As with any medicated product, those containing a retinoid have potential risks and side effects. Be sure to talk to your doctor before starting any new treatment.]
Despite all these formulas and doctor-recommended tips, you might still find that your skin just won't tolerate any retinols, no matter how low the dose. Don't worry, there's an alternative for that. Formulas featuring the antioxidant bakuchiol (found in the seeds of the plant psoralea corylifolia) are the new "retinol alternatives" and claim to be much gentler on the skin. New releases like Biossance® Squalane + Phyto-Retinol Serum ($78), Ole Henriksen® Goodnight GlowTM Retin-ALT Sleeping Creme ($55), and Omorovicza® Miracle Facial Oil ($190) all use bakuchiol as their main anti-ager, and Engelman is a fan of using the ingredient with other formulations safely, too.
"There are instances where you should avoid specific products when using a retinol (like exfoliators, toners, benzoyl peroxide, etc.), as they can cause irritation, but due to bakuchiol's natural composition, it's generally safe to use with other products in your skincare regimen," says Engelman.
Whether you're down to try and tolerate true retinol, or prefer an alternative route, don't forget to apply sunscreen every single day, especially since retinol can make you more prone to sun damage and sunburn. And who wants to have to apply more retinol to reverse more damage?
Dr. Dendy Engelman and Dr. Marguerite Germain are paid Allergan® consultants.
Some products were gifted to the author for the purpose of writing this article.
Product prices may vary from the time this article was written.
Allergan may receive commission for purchases made through links in this article.