Oh, the unfairness of being model-gorgeous, but also kind, smart, funny and thoughtful, to boot.
That's Lindsay Ellingson in a nutshell, but don't presume she didn't work for all of it. She studied hard in school, with science and math being her favorite topics. She not only competed in dance competitions but also choreographed routines. Juggled three jobs in college to help make ends meet. And, model- gorgeous though she may be, she's had more than her fair share of skin issues.
But, classic Ellingson, she made lemonade from those dermatological lemons by creating a makeup and skincare line that's gentle enough for all skin types — even moody ones like hers.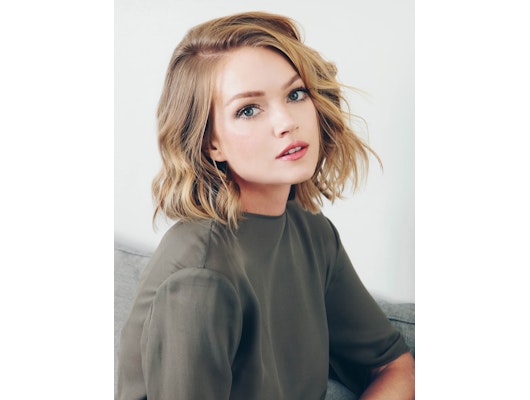 Joslyn Blair
It all started when the now 34-year old befriended Divya Gugnani, whom Ellingson met at a hair salon. In 2015, the duo launched Wander Beauty®, a clean (occasionally vegan) line of multi-purpose, TSA-friendly products.
While she still does the occasional modeling gig, this former Victoria's Secret® Angel divides her time between ideating new products, creating them and, subsequently, photographing them in her naturally-lit Williamsburg apartment.
We caught up with Ellingson to find out more about her personal skincare must-haves, discover the workouts she swears by, and elicit some of her fondest runway memories along the way.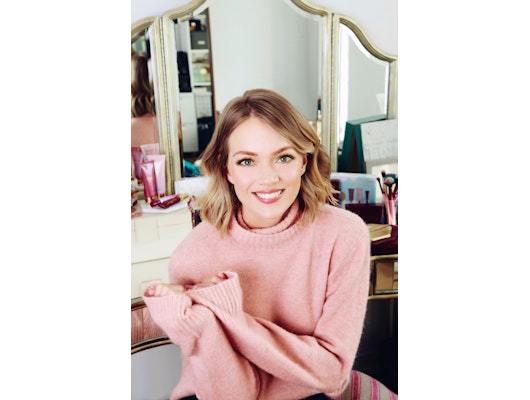 Joslyn Blair
Spotlyte: If you didn't become a model, what do you think you'd be doing these days?  
Lindsay Ellingson: I'd probably be a medical researcher. I was studying biology at University of California San Diego, so who knows!
Spotlyte: Do you think, one way or another, you'd have gotten into creating a beauty line?
LE: I experimented with beauty when I was young (not always successfully!). If I hadn't become a model, I think that's the furthest I would've gotten.
Spotlyte: Do you stay out of the sun? Whose products do you use?
LE: I never leave home without wearing SPF. Right now, I'm loving Josh Rosebrook's® Nutrient Day Cream SPF 30 ($50). It's packed with skincare ingredients, so if I'm in a rush, this product alone will work as my skincare and SPF. The formula starts off white and then blends beautifully into the skin without leaving a chalky finish.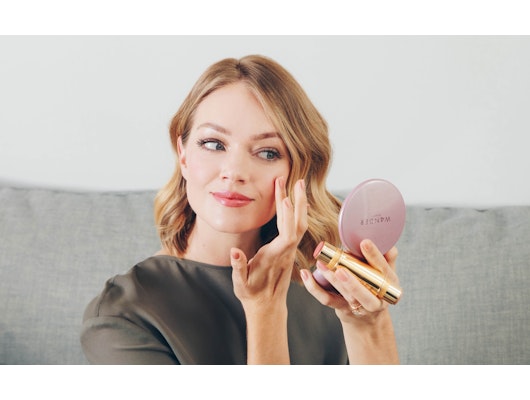 Joslyn Blair
Spotlyte: How do you care for your skin at home? Which products do you use? Are you faithful? How did you discover your favorite products? Through friends? Through your international travels?
LE: I'm faithful to my core routine, but since I work on product development for Wander Beauty, I'm always testing new products that we're working on. Part of the product development side is being aware of new launches and trends in the industry, so I'll sometimes accidentally discover new products through my research.
Because I've been modeling and a part of the industry for 14 years, I've been lucky enough to meet so many amazing experts —  they're who I get my most trusted recommendations from.
No matter what I'm testing, I always cleanse my skin with micellar water and exfoliating cotton pads, and layer serums and oils. My go-tos are Devgan's Platinum Hyaluronic Serum ($245), Dr. Barbara Sturm®'s Anti-Pollution Drops ($145), and Wander Beauty's Glow AheadTM Face Oil ($48). Whenever I have an event or need to look extra-rested, I always keep a pair of Wander's Baggage ClaimTM Eye Masks ($8) nearby to pop on. I keep a few in the fridge for when I need extra de-puffing.
Spotlyte: Is there one skin care product that would give you the sweats if you ran out?
LE: Wander's Glow Ahead Face Oil.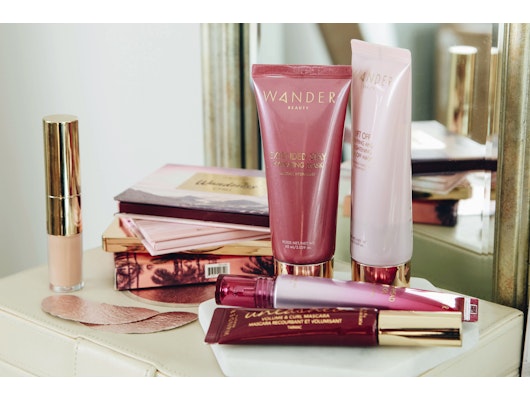 Joslyn Blair
Spotlyte:How is Wander Beauty good for your skin?
LE: All of our color multitaskers are infused with skin-loving ingredients that work with your skin, not against it. And they are free of parabens, phthalates, synthetic fragrances, and mineral oils. What we put into our products is just as important as what we leave out.
Now that we've expanded even further into skincare with our face oil and masks, I've been able to create my dream products. I use our Glow Ahead Oil daily — it never leaves my bag because it's in a tube. Now that the weather's changing, I rely on our Extended StayTM Mask ($38) as an overnight treatment. It contains lychee extract (which has oligonol), so it works to reduce dark spots and hyperpigmentation while intensely hydrating skin.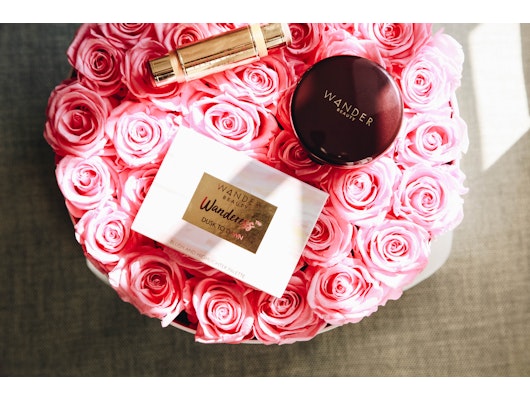 Joslyn Blair
Spotlyte: This probably changes, but which Wander product is currently your favorite?
LE: Right now, I can't stop using our new Play All DayTM translucent powder ($32). I love translucent powder for touching up, but it never travels with me beyond my vanity because of how messy loose powders are. We reimagined this must-have by housing the loose powder inside of the puff, making touching up throughout the day completely mess-free.
Spotlyte: What's your skincare regimen? Is there a favorite product that's more magical than the others you rely on?
LE: Facials. My facialist, Ildi Pekar changed my skin. I love her microcurrent facial. Her CBD serum ($148) in particular has truly helped soothe and calm my redness.
Spotlyte: Any at-home devices you've tried and love?
LE: I'm a big fan of the Dermaflash® ($189). It lets products absorb more effectively, and my makeup application always looks better after using it. I've also enjoyed using the NuFACE® ($429) devices. I wish I used it more! I also always travel with a gua sha and or jade/ice roller. I've been using Jenny Patinkin's roller ($38) most recently. They're super portable and are great for lymphatic drainage and de-puffing the face — much needed while traveling.
[Editor's note: If you take blood thinners, talk to your doctor before using a Gua Sha tool.]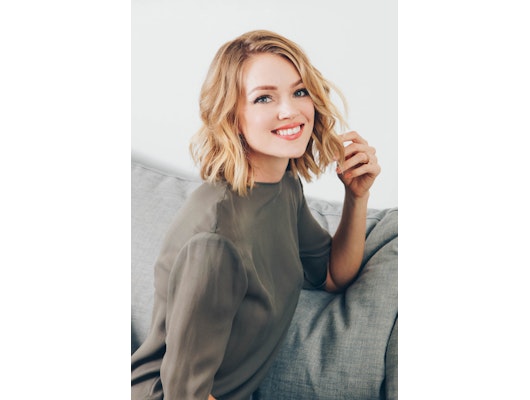 Joslyn Blair
Spotlyte: What is the best skincare advice you ever received?
LE: Because I've gotten to work with so many makeup artists, dermatologists, and aestheticians over the years, I've absorbed so many tricks and tips. But the best advice that most have given me is to stop stripping my skin; just because your skin is broken out or oily doesn't mean you need to go at it with harsh cleansers and treatments.
Spotlyte: Favorite hair care products?
LE: PlayaTM Every Day Shampoo ($28) and Supernatural Conditioner ($28).
Spotlyte: Ever do a weekly mask or deep conditioner?
LE: I love the Briogeo® Don't Despair, Repair!® Strength + Moisture Leave-In Mask Spray ($28).
Spotlyte: Who cuts and colors your hair?
LE: Suite Caroline®.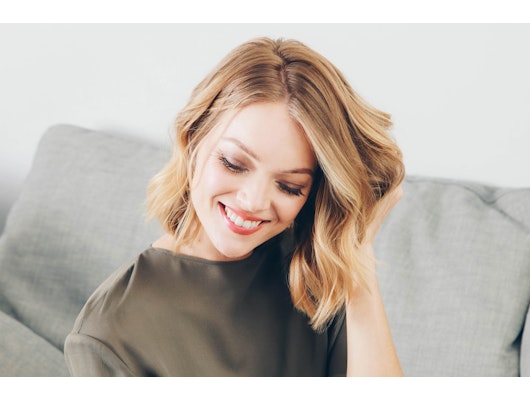 Joslyn Blair
Spotlyte: What's your favorite beauty treatment indulgence?
LE: Cryofacials at The CryosphereTM.
Spotlyte: Do you exercise?
LE: I grew up dancing, so I've always been active. There's nothing like a good sweat to detox skin. Now, I do pilates at Le Petit StudioTM and hot yoga.
Spotlyte: Do you meditate?
LE: Trying to! I've been using the Headspace® app.
Spotlyte: What about nutrition? Are you a healthy eater?
LE: I'm a healthy eater. Being so on-the-go, I rely on quick, easy, healthy meals and snacks to keep me going. I make my own smoothies each morning, and for lunch, will usually bring a Sakara® meal to the office or grab something from Juice PressTM.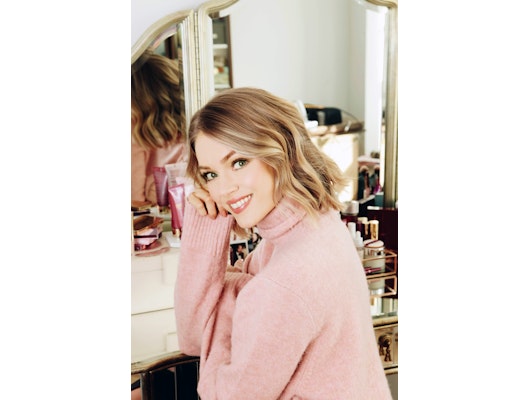 Joslyn Blair
Spotlyte: Finally, any crazy/weird/unorthodox things you do for your skin?
LE: I cup my face! Not the weirdest thing, but it's so satisfying. It's like an instant face lift.
Spotlyte: Who was your favorite designer to walk for?
LE: Oh my god, Valentino. When Valentino himself was designing. Everything was the most luxurious — the fabrics, the colors, the makeup. Pat McGrath did the makeup, and Orlando Pita did the hair. I did the hair and makeup test for them, which is actually how Valentino discovered me. The clothes were so beautiful and I always felt so beautiful in them. It was like playing dress-up the whole time. I also loved doing the Balenciaga® show when Nicolas Ghesquiere did it. Everything was so structured and robotic and so cool. It's fun to morph into the character for the designer.
Spotlyte: That brings up an interesting question: Did you walk differently for different designers?
LE: Oh, yeah. For Balenciaga, we couldn't move our arms much. For Valentino, we could move our hips more. At some shows, you can't smile at all, which was always easy for me. Maybe because I got nervous. Looking back, at some shows, I could look very deer-in-the headlights…
Product prices may vary from the time this article was written.
Allergan® may receive commission for purchases made through links in this article.