When we think about dieting and weight loss, we immediately assume that the best thing for us is to restrict our calorie intake, up our hours at the gym, and cut out large portions of our diet (goodbye alcohol and carbs!). But there's a reason why that old cliché "the best diet in life is a balanced diet" exists — it's because it's true. And perhaps no one understands — and preaches — it better than renowned NYC-based dietitian Tanya Zuckerbrot.   
As the founder and author of the best-selling F-Factor® Diet, Zuckerbrot's sought-after weight loss program is unique in that it flips the script on most diets by focusing on the foods you can have rather than the ones you can't.
What that means for her coterie of VIP clients — including Olivia Culpo, Molly Sims, and the entire Miss Universe Organization — is that they can not only enjoy the occasional glass of wine (or two), but also eat out with friends, spend less time at the gym, and yes, eat a wide range of carbs. That is, so long as they're high in fiber (a.k.a the "F-Factor"), of course.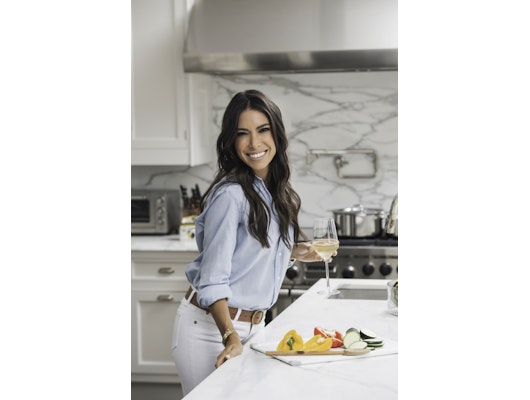 Brian Marcus
Seem too good to be true? Just scroll through the 47-year-old's Instagram page, and you'll see that the results pretty much speak for themselves. With her flawless, lit-from-within skin, lusciously long mane, and perfectly svelte figure, the mother of three proves just how effective and easy the plan is to follow. And if that's not enough, her more than (at press time) 77,000 followers are more than happy to sing her praises.
To further understand her approach to wellness, we sat down with the diet guru to talk about the importance of fiber, her tips to maintaining a healthy, balanced lifestyle, and how she manages to keep her skin looking that good all the while.
Spotlyte: How did you first get into the health and nutrition field?
Tanya Zuckerbrot: Food had always been an important part of my life, as some of my earliest childhood memories involve food, especially cooking in the kitchen with my grandmothers. After gaining the "freshman 15" in college, I decided I wanted to learn more about the connection between food and health.
After undergrad, I applied to the nutrition program at New York University, which I believed to be food-focused. Only when I arrived did I realize that the program was science-based, with prerequisites such as anatomy, physiology, chemistry, etc. I was surprised to learn that I loved the science aspect, and I went on to pursue my Master's degree in food and nutrition studies.   
Spotlyte: How did you start growing your client base?
TZ: When I began my private practice, I was originally just focusing on treating clinical patients through dietary intervention — specifically patients with diabetes and cardiovascular disease. My job was to create meal plans that would help manage their sugars or lower their cholesterol. Both patient populations received versions of high-fiber diets because of [their] ability to lower cholesterol and manage blood sugar levels. On these plans, my patients were getting healthier: cholesterol improved, sugars were better managed, and surprisingly across the board, all these patients were losing weight. 
What I had not anticipated was that by prescribing fiber for the clinical benefits, these patients were simply feeling fuller throughout the day on fewer calories, which led to weight loss without hunger. Friends and colleagues of theirs noticed too and began to call in, requesting diets to lose weight. This was the birth of the F-Factor Diet and the practice continued to grow from there.
Spotlyte: What is the F-Factor diet?
TZ: The F-Factor Diet is a sustainable approach to permanent weight loss and optimal health in which people can expect to lose up to 15 pounds in the first month. F-Factor works because of fiber (a.k.a the "F-Factor"), which is the secret nutrient for losing weight without hunger. Fiber is the zero-calorie, non-digestible part of a carbohydrate that adds bulk to food. It swells in the stomach, [aids digestion], and boosts metabolism for long-term success.
When you follow a diet rich in fiber you feel fuller after eating, so you'll generally eat less throughout the day, especially when paired with a lean protein. On F-Factor, you also have the freedom to dine out anywhere and drink alcohol.
[Editor's note: Be sure to talk to your doctor or a dietician before starting any new diet.]
Spotlyte: Take us through a day in the F-Factor program. What are some of the foods/meals that you suggest to your clients?
TZ: At F-Factor, we say, "fiber and protein at every meal make losing weight no big deal." Every meal should be a combination of fiber and protein as the combination keeps you feeling full for the longest period of time on the fewest calories. Here are examples of some different F-Factor approved meals:
Brian Marcus
Breakfast:
F-Factor 20/20 waffles or pancakes (20g fiber, 20g protein)
Nonfat plain Greek yogurt with ½ cup of high fiber cereal and 1 cup of berries (220 calories, 2g fat, 21g fiber, 18g protein)
F-Factor 20/20 smoothie– Depending on recipe, approximately 200 calories, with at least 20g fiber and 20g protein
Lunch:
Miso soup, Naruto roll, 2 hand rolls (no rice), and salad with ginger dressing.

Big salad with non-starchy vegetables and protein (grilled chicken, artichokes, hearts of palm, spinach, tomatoes, broccoli, carrots, onion)
Cup of broth-based soup, side salad, and tuna tartare
Snack:
Dinner:
Steamed whole artichoke, filet mignon (women 3 oz, men 6 oz), steamed asparagus, and a well-deserved glass (or 2) of wine or spirits on the rocks.
Mixed green salad, F-Factor meatballs over zoodle, and a glass of red wine
Spotlyte: What advice do you have for someone who wants to go into this field?
TZ: There is a lot of noise in the wellness and nutrition space today; it's oversaturated by information, and unfortunately misinformation. My advice for anyone who wants to go into this field would be to educate yourself and practice what you preach so that you can educate your clients or followers in a truly authentic way. When you educate, you empower, and when you empower, you inspire. This is something I've made it my business to do, and it has really differentiated me from others in the space. By sharing the science and teaching it, rather than simply telling people what to do based on my own opinions, I am informing them as consumers and empowering them to make decisions on their own. This sets them up for continued success and discourages them from succumbing to the ebbs and flows of wellness trends. 
Spotlyte: What are your tips for growing a wellness brand on Instagram®?
TZ: My Instagram account specifically gives clients and followers alike a real glimpse into what it means to live on the F-Factor Diet. I know first-hand the efficacy and benefits of the program, and am uniquely positioned to show people how easy it is. My hope is that this inspires people to recognize that they, too, can work hard and play hard, and still have the health and physical appearance they want.
Spotlyte: What is the best part about your job? The most challenging part?
TZ: I'm fortunate that I have a career that allows me to touch so many people's lives and change them for the better. Witnessing the transformation people go through as they begin to achieve their goals is special to me. When people lose weight, their self-esteem increases, they feel better about themselves and report feeling sexier, more productive, and more confident. Figuratively and literally, they lighten up. Being able to witness how successful people are on the diet I created is not only a constant professional highlight, but it also keeps me passionate about the work we do. I truly love my job and feel blessed that I can say that.
The most challenging part of my job would have to be maintaining a work/life balance and giving proper attention to those closest to me when they may need it. I see clients all day, give lectures and do media appearances, while also juggling my home life. There are times where a national TV news network will call for an interview, and I have to turn it down because there's a 7th-grade music recital I have to attend. There are also times I have to begrudgingly go to the office, knowing my little one is home with the sniffles. I try to do it all, and I may make many mistakes, but I always show up (although I may be 10 minutes late).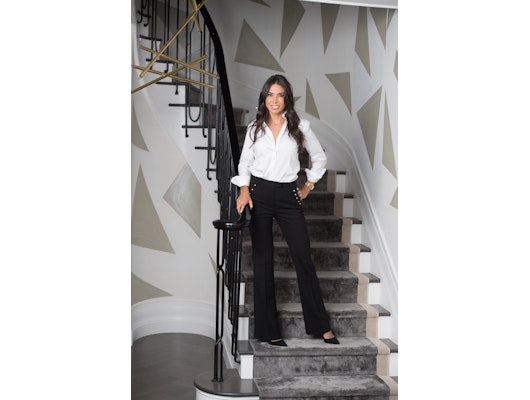 Brian Marcus
Spotlyte: Walk us through your daily skincare routine. What products are you using in the AM/PM?
TZ: Skincare has always been an important part of my regimen. I love my products from Rodan + Fields® and SkinCeuticals®. I use the Lancôme® Tonique Radiance Toner ($27) and SkinCeuticals Gentle Cleanser ($54) in the morning, as well as Elta MD® Skincare UV Clear Broad Spectrum SPF 46 Facial Sunscreen ($33) and Dr. Devgan Platinum Eye Repair Complex before putting on my makeup. Once a week, I'll do the BeautyCounter® No. 3 Balancing Facial Mask ($45). My nightly routine includes cleanser and both Dr. DevganTM Platinum Recovery Cream and Dr. Devgan Platinum Glow Serum — I swear by them!
Spotlyte: Any other products you love?
TZ: For makeup, Charlotte Tilbury® The Retoucher ($35) and Hollywood Beauty® Light Wand ($38), and the AMOREPACIFIC® Cushion Compact with SPF ($60).
Spotlyte: What is your approach to anti-aging?
TZ: Deny it. Just kidding! I'm a stickler for proper hydration and skincare.
Spotlyte: What are some of your favorite facial treatments either at home or in-office with a professional?
TZ: I love JTav Clinical SkincareTM for facials and treatments. The staff customizes the services for your needs and can do Vivace® microneedling, Laser Genesis, Ultherapy®, and LED light therapy, too.
Spotlyte: What do you do to keep your hair so healthy and shiny? What are your go-to products?
TZ: The Oribe® Texturizing Spray is amazing! I love their shampoo and conditioner too, it makes your hair smell so good.
Spotlyte: What advice do you have for someone who may be looking to make a change in their own diet and health?
TZ: If [changing your diet] sounds overwhelming or intimidating, my advice would be to take small steps; you don't have to change everything overnight. Set short-term goals, and when setting those goals, make them SMART — Specific, Measurable, Attainable, Realistic, and Timely. SMART is a strategy for goal-setting that's especially effective for weight loss. I regularly encourage my clients to use it.
Spotlyte: You seem to be a very active person. What are some of our favorite workouts/forms of exercise?
TZ: Running late! All jokes aside, I work out with a trainer two to three times a week where we focus on strength training exercises. I let F-Factor be my cardio. People do cardio to create a caloric deficit, but . . . I create a caloric deficit by eating a diet high in fiber, like F-Factor. When doing strength training exercises, you create a lean physique and build lean muscle, which boosts metabolism and keeps it going throughout the day, while not increasing your appetite (like cardio does).
Spotlyte: What do you eat (or avoid eating) for better skin?
TZ: In addition to my high fiber diet, which benefits skin because it naturally pulls toxins out of the body, I place extra emphasis on eating a lot of nutrient-rich fruits and vegetables, which contain fiber too. A 2012 article published in Dermato-Endocrinology, [investigating] the link between nutrition and skin aging reviewed existing literature on the link between nutrition and skin aging and found that "fruit and vegetable consumption may represent the most healthy and safe method in order to maintain a balanced diet and youthful appearing skin." That's why I aim to make half of my plate fruits and vegetables. I also aim to drink at least three liters of water a day.
Spotlyte: What are your thoughts on the use of injectable treatments?
TZ: I'm all for the use of injectable treatments. Personally, I see Dr. Lara Devgan for injectable wrinkle reducers.
[Editor's note: Injectable wrinkle reducers are used to temporarily smooth the look of moderate to severe wrinkles in certain areas of the face such as the forehead, frown lines, and crow's feet. Like any medical treatment, they have potential risks and side effects. Be sure to talk to a licensed provider to see if they're right for you. Have more questions? Chat with our team of trained aesthetics specialists now.] 
Product prices may vary from the time this article was written.
Allergan® may receive commission for purchases made through links in this article.