While I work out regularly and have a fairly healthy diet, my upper arms aren't quite as lean as I'd like them to be — no matter what I do. That's why I decided to try CoolSculpting®. This treatment is designed to target areas of stubborn fat and literally freeze them to death.
I met with my dermatologist, Dr. Michelle Henry, for my first CoolSculpting appointment. If you're interested in trying it for yourself, or just learning more about it, keep reading — I've outlined what you may experience during a standard first treatment. 
[Editor's note: The CoolSculpting treatment is a non-invasive fat-freezing treatment that effectively reduces fat in certain self-proclaimed "problem spots" in the submental and submandibular areas, thigh, abdomen, and flank, along with upper arm fat, bra fat, back fat, and underneath the buttocks (you know, those bulges that just won't go away, regardless of how much you sweat it out on the treadmill). While it isn't a weight loss solution, fat-freezing can reduce pouches of fat. As with any procedure, there are risks and side effects, so talk to your doctor to see if it's right for you.]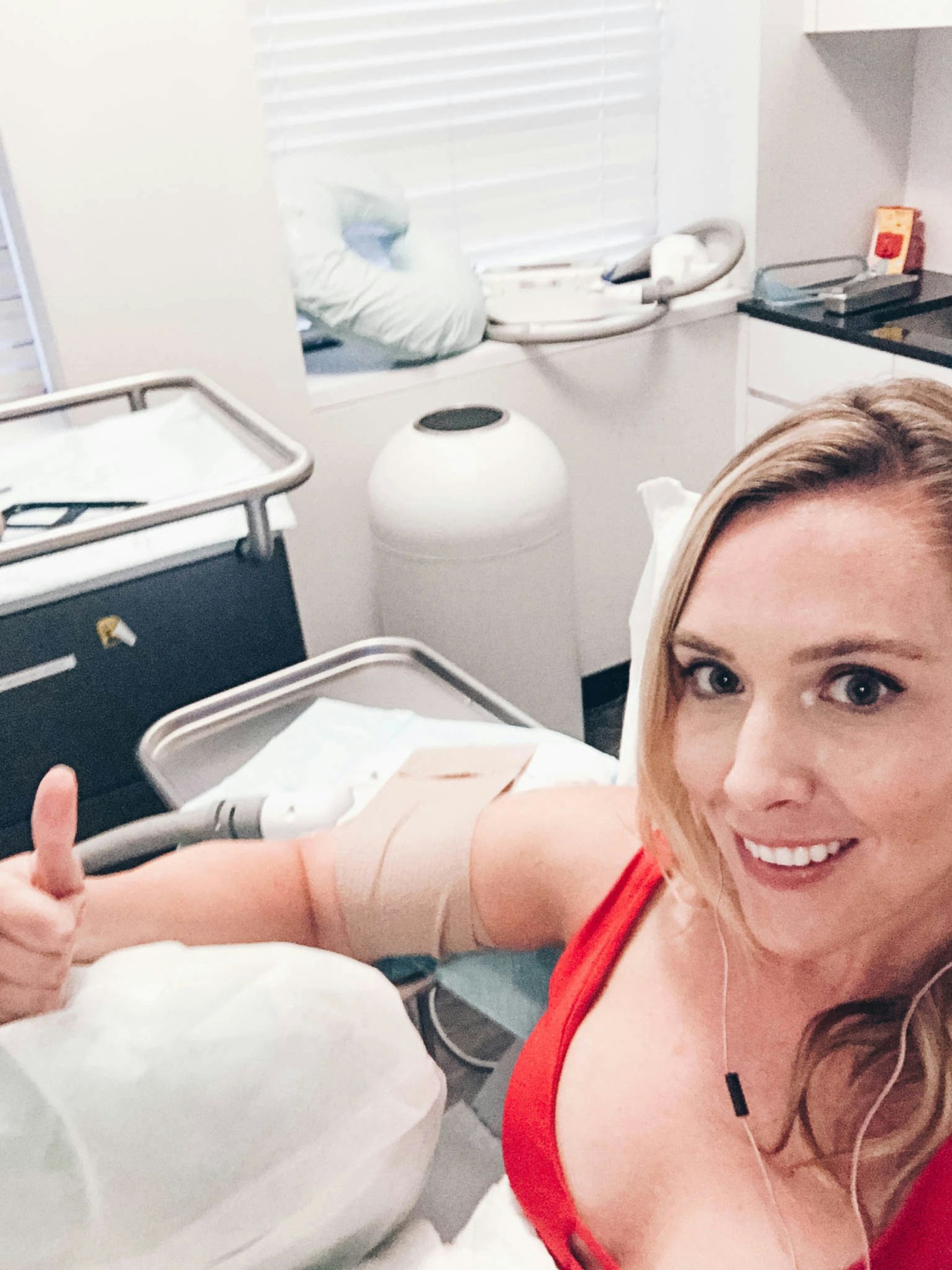 Consultation
There are a wide range of different body parts that can be treated with CoolSculpting, including your double chin, your back fat, and your stomach. It's important to understand one key factor when going to your consultation, though: whether or not you're even a candidate. Your doctor will assess this, but according to Dr. Henry, that consists of "people who are [close to] their ideal body weight and just have a little bulge." Remember, it's not a weight loss treatment and is not designed for someone who is considerably overweight.
At your consultation, you'll also review your health history with the doctor, ask any questions you might have about the procedure, plus learn about how CoolSculpting works in more significant detail. Discover more about CoolSculpting here.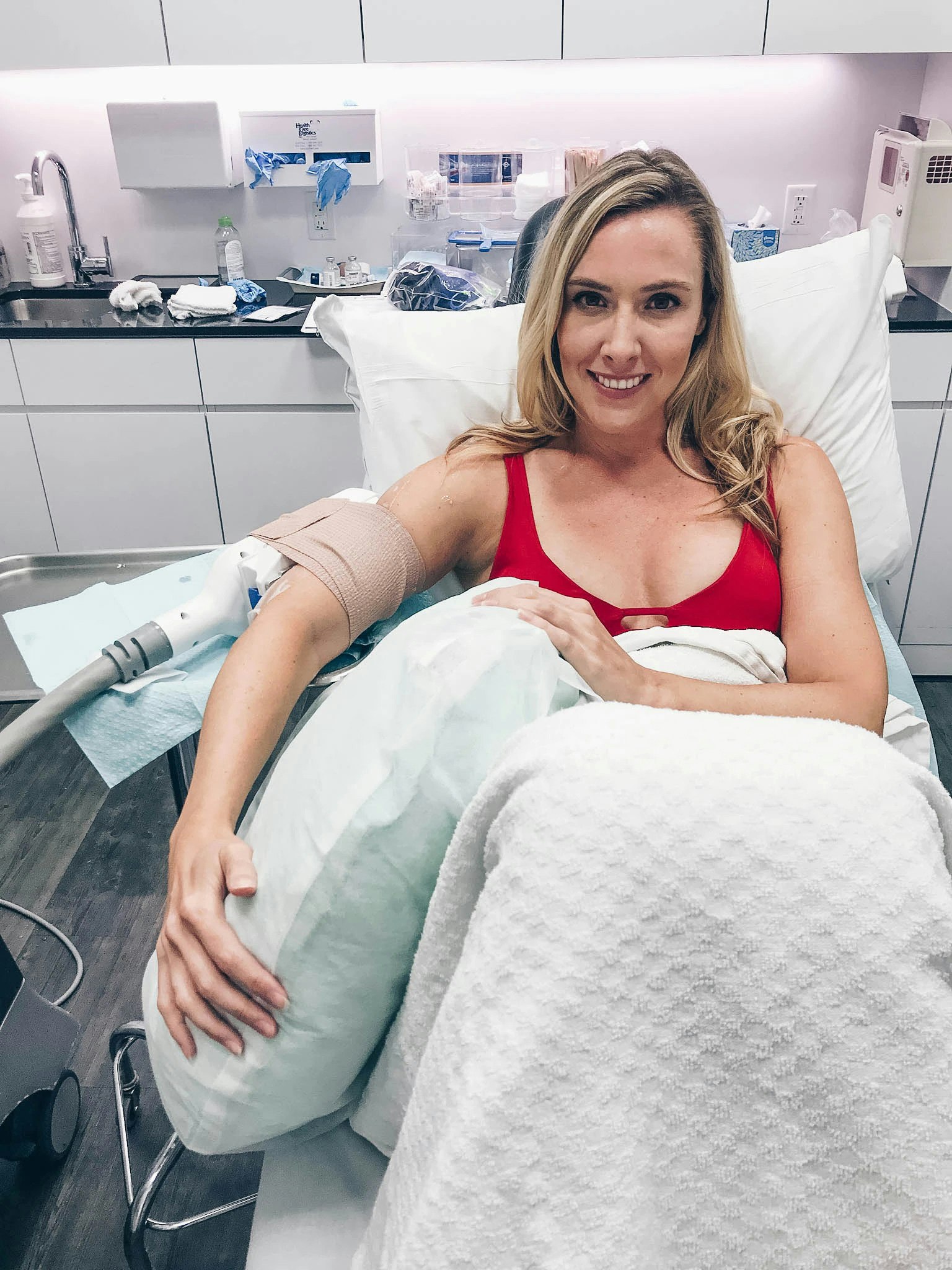 Treatment Prep
If you and your doctor decide to move forward with your appointment, you may have to change into a gown. This will depend on what area you're getting treated. (Because I knew I'd be documenting my appointment, I chose to wear a swimsuit instead.) After Dr. Henry took "before" photos of my upper arms, she and a nurse applied gel pads to them, which help protect your skin from the CoolSculpting machine.  
There are several sizes of applicators for the treatment. Since I was getting my upper arms done, Dr. Henry let me know she'd be using the Petite applicator on me.  
During Treatment
When Dr. Henry actually attached the CoolSculpting machine for the first time, it felt like my skin was stuck in a vacuum. I didn't find it to be painful, but I definitely felt some strong pressure as it went to work. "When we attach the device, you're going to feel pretty strong suction and the area will get colder and colder," Dr. Henry says. "After 5 to [10] minutes, when the area is frozen, you really don't feel it anymore."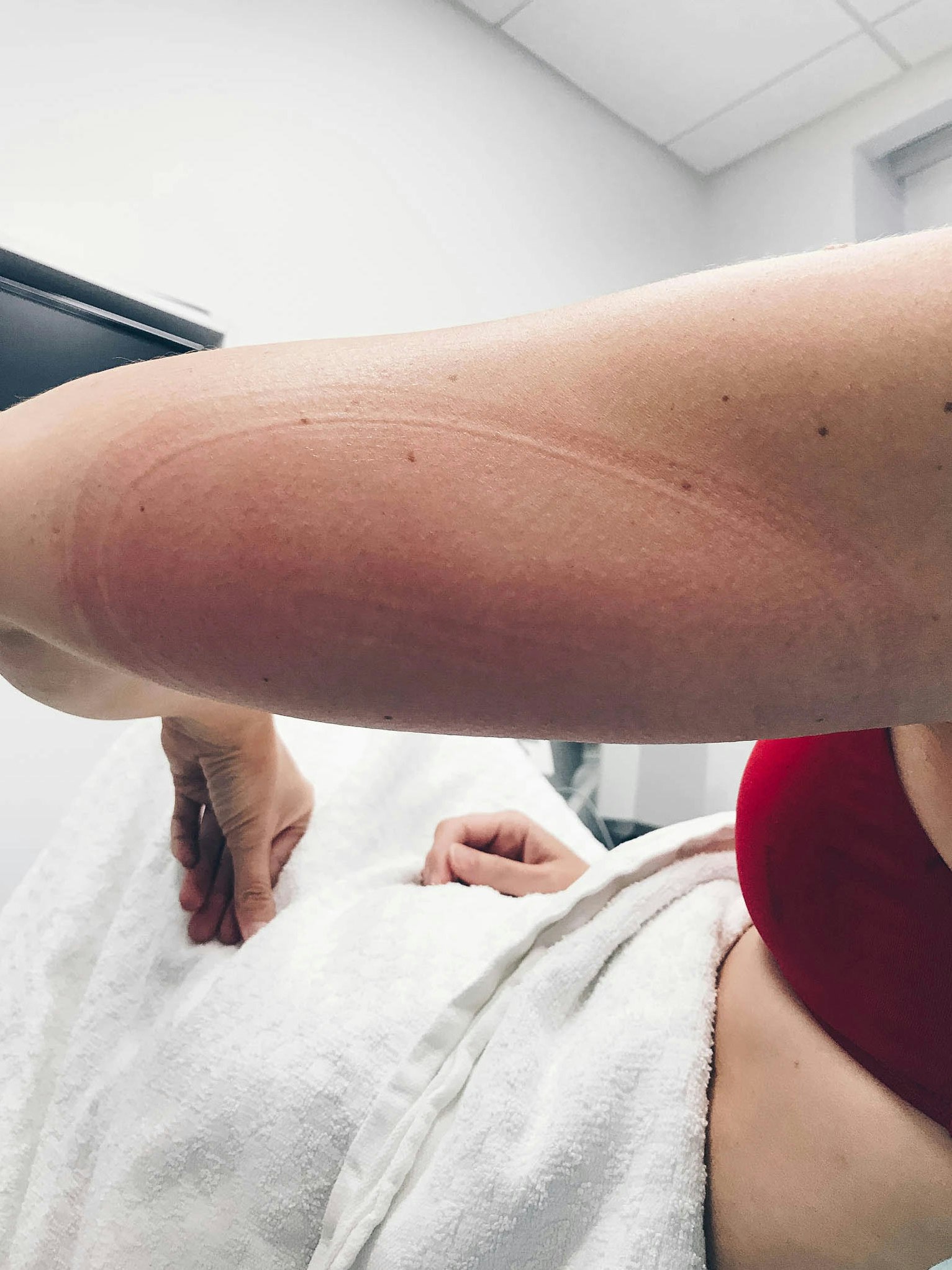 Dr. Henry was right — after a few moments of feeling that suction, my upper arms got fairly numb and the pressure was less intense, and my treatment was only 35 minutes (Note: Treatment time depends on which area is being treated and is something your doctor will discuss during a consultation). Once the time was up, Dr. Henry removed the Petite applicators to reveal some redness and swelling.
A key part of the CoolSculpting treatment is the massage directly afterwards, which helps break up the frozen fat cells and damage them even more for better results.
You will likely be eager to see your finished look, as I was, but you have to be patient: it typically takes two to three months to see the results, and your body will continue to flush out fat cells for up to six months. The good news? Those treated fat cells have been removed permanently. "By the time you're an adult, you don't make any new fat cells — so any treated fat cells you get rid of are gone forever," Dr. Henry shares. "You can expect up to a 20 [to 25] percent reduction in each treatment area, and it's additive, so you see [an even more significant] reduction with the next treatment."
Three months later, I did notice my upper arms looked leaner, though my results weren't incredibly drastic. I may opt for a second treatment to double down on my progress, which most of Dr. Henry's patients do. In the meantime, however, I'm quite happy with it!
Individual CoolSculpting® experiences and results may vary depending on the number of treatments and the amount of time after treatments.
Treatment gifted to the author for the purpose of writing this article.
CoolSculpting is an Allergan®-owned non-invasive fat reduction treatment.
CoolSculpting® Treatment Important Information
The CoolSculpting® procedure is FDA-cleared for the treatment of visible fat bulges in the submental and submandibular areas, thigh, abdomen and flank, along with bra fat, back fat, underneath the buttocks (also known as banana roll), and upper arm. It is also FDA-cleared to affect the appearance of lax tissue with submental area treatments.
During the procedure you may experience sensations of pulling, tugging, mild pinching, intense cold, tingling, stinging, aching, and cramping at the treatment site. These sensations subside as the area becomes numb. Following the procedure, typical side effects include temporary redness, swelling, blanching, bruising, firmness, tingling, stinging, tenderness, cramping, aching, itching, or skin sensitivity, and sensation of fullness in the back of the throat after a submental area treatment. Rare side effects may also occur. The CoolSculpting procedure is not for everyone. You should not have the CoolSculpting procedure if you suffer from cryoglobulinemia, cold agglutinin disease, or paroxysmal cold hemoglobinuria. The CoolSculpting procedure is not a treatment for obesity. Ask your doctor if CoolSculpting is right for you. To learn more about what to expect, visit the CoolSculpting website.