You probably haven't ever wondered what pouring a container of salt on your face would feel like, but I have. (My guess is that it would be something like getting a trendy salt facial, only not as relaxing or good for your skin.) It was that curiosity was what brought me to Skinney® Medspa in New York City to try out the company's take on a salt facial, a new treatment that promises better, glowing skin using everyone's favorite mineral.
Specifically, it's called the Salt Facial L'avantageTM, which is a three-part treatment combining the natural properties of Himalayan pink salt (the same kind you might have in your kitchen) with cutting edge-technology like ultrasonic massage and LED light therapy. The company promises a painless experience that can address all sorts of skin issues like wrinkles, tone and texture, and even acne. Since Skinney MedSpa claims to be the premier place on the East Coast to currently offer this specific treatment, I hightailed it up to their Flatiron NYC location to see what all the fuss was about.
 For a treatment that touts the benefits of a natural ingredient like salt, the experience of going to Skinney Medspa, one of NYC's busiest and most popular medspas, is the opposite of hippie-dippy. The no-nonsense staff had me fill out all the requisite medspa forms, and I was quickly led back to the treatment room by my aesthetician, Sasha. I put on a robe and made myself comfortable. As someone who gets a lot of facials, there wasn't anything especially different about the experience, except for a looming machine in the corner labeled SaltFacial L'avantage.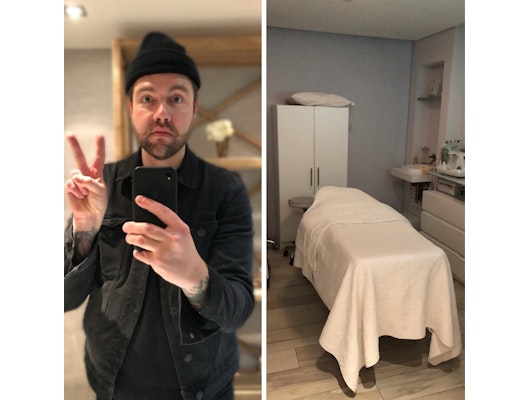 That machine is what makes this salt facial different from mixing up some Morton's at home. It combines all the technology used in the treatment into one device — like a Transformer® for facials. On one side, there is a hose that shoots out salt crystals at lightning speed. On another, an ultrasonic massaging device that Sasha would use to push serum deep into my skin. On top, like an umbrella, is an LED fan that I'd sit under for about twenty minutes at the end. (Without having yet experienced it turned on, I immediately fantasized about having one in my home.)
Not the particularly warm and fuzzy type (which I appreciate), Sasha got right down to business after a quick cleanse of my face using Replenix® Gentle Antioxidant Soothing Cleanser ($37). The salt aspect of the treatment was first and basically acts like microdermabrasion. Instead of a diamond-tipped wand or other standard instruments, though, the device sprayed a constant stream of uber-fine pink Himalayan salt crystals onto my skin.
The tiny crystals are abrasive and exfoliate away dead skin cells, while the natural properties of the pink Himalayan salt supposedly detox and balance the skin in the process. If you've ever seen those chunky salt lamps you can buy at Whole Foods Market®, the concept behind them is the same: pink Himalayan salt is said to have purifying properties even for the air (as well as your skin).
The spray of salt was the part of the treatment I was most nervous about. I'm sensitive to exfoliation and try to do it minimally on my own. I favor chemical exfoliants over mechanical agents like scrubs, since I tend to get aggressive when left to my own devices and end up looking like a plate of beef carpaccio. But Sasha gently worked the salt spray over my face in sections, making sure to get every last inch. It felt mostly like she was gently rubbing a rough cloth over my face or, you know, exactly how I expected getting sprayed in the face with salt to feel. Nothing about it hurt, until I opened my eyes to take a selfie and a tiny particle went into my eye. Lesson learned. 
After I was sufficiently salted, Sasha cleaned off the excess and doused my face with Replenix Hyaluronic Acid Serum ($59). She fired up the ultrasonic massage wand and used circular motions to push the hydration deep into my freshly exfoliated face. According to the company, this ultrasonic massage not only helps to deeply hydrate, but also stimulates blood flow to increase oxygen distribution. All I know is that it felt pretty damn good.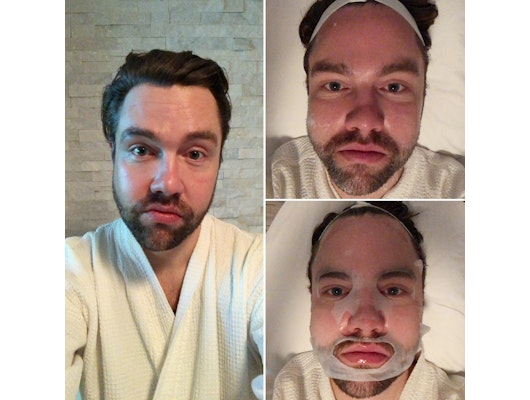 Next came a sheet mask (because why not) and the umbrella of LED lights was placed over my face. Sasha turned it on and left me by myself for about 20 minutes to let the lights do their thing. I chose red lights, which have been shown to help soothe inflammation and calm the skin. I'm no stranger to LED therapy and more than anything, look forward to a few minutes when I can close my eyes and relax. For me, it's not the kind of treatment that shows an immediate difference; but when used consistently, I see the effects. These were no different, but relaxing nonetheless.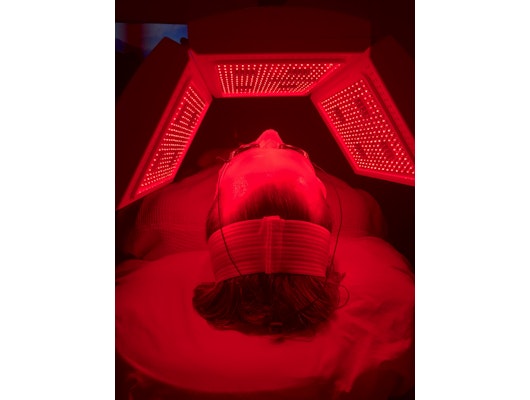 Once my 20 minutes were up, Sasha came back to slap on some Citrix® Vitamin C Pro-Collagen Brightening Serum ($114) and Elta MD® UV Physical Broad Spectrum SPF 41 Sunscreen ($30) and sent me on my way. As I walked out into the greyness of the overcast day, I noticed a little spring in my step. I felt clean, refreshed, and not the least bit salty.
---quiz start
---quiz end
Service was gifted to the author for the purpose of writing this article.
Product prices may vary from the time this article was written.
Allergan® may receive commission for purchases made through links in this article.