Strutting down the sidewalk after a blowout feels nothing short of fabulous. But while a fresh look can provide a surefire confidence boost the day you leave the salon, maintaining the style for the rest of the week can feel like a marathon. Dry shampoo is one way to extend your blowout. These oil-absorbing formulas can save your scalp from becoming an oily mess between salon visits, and consequently conserve cash you might otherwise spend on additional blowouts.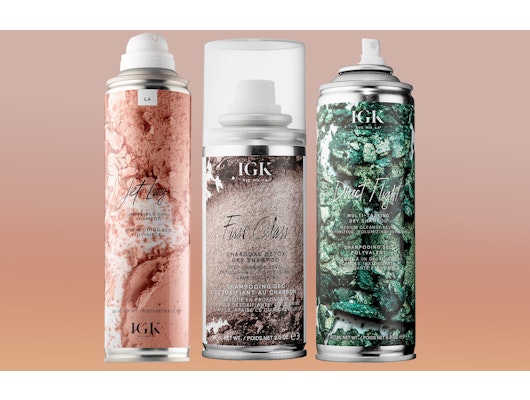 But recently, a new breed of dry shampoo has hit the market, formulated specifically for extending your blowout into the next day. Dubbed "second day" or "day two" dry shampoos, they promise to give a no-fuss "second day hair" look. According to co-founder of IGK® Hair Care, Aaron Grenia, "Second day hair is that perfect, not too clean, not too dirty lived-in look that's effortless and cool but it's not trying too hard." Instead of aggressively cleansing, detoxing, or removing odor from your strands, day two is more about sustaining your style without weighing it down (which many traditional dry shampoos are wont to do).
Sounds great, but do we really need an entirely different dry shampoo to get the look? The new product category had us wondering whether there's a measurable difference between classic and "second day" formulas, or whether it's merely a marketing ploy.
But as it turns out, dry shampoo formulas are similar to foundation in a sense: different formulas provide various levels of "coverage." For example, IGK sells not one, but three distinct dry shampoos, each of which provides a different cleanse level, ranging from light to deep. The lightest, Jet Lag® Invisible Dry Shampoo ($27), is most similar to the so-called second day formulas springing up. It relies on fine volcanic ash to nix light levels of dirt found in (otherwise clean) second-day hair.
The brand's medium and deep cleanse formulas (Direct Flight® Multi-Tasking Matcha Dry Shampoo, $27 and First Class® Charcoal Detox Dry Shampoo, $27) contain heavier cleansing ingredients. "The Detox Dry Shampoo is our deepest cleanse," Grenia notes. "It actually cleans hair, absorbs heavy oils, and eliminates odor." As a result, this formula is ideal for the third, fourth, or fifth no-shampoo day, or for cleansing sweaty post-workout hair in a flash.
If it's a second day clean you're looking for, though, it's essential that you take a close look at the ingredients listed on your product's packaging. "Most dry shampoos on the market contain high levels of oil absorbing powders, such as aluminum or corn starches, that are delivered in heavy, style-ruining layers when deposited into the hair," says Sean Steigerwald, John Frieda® Hair Care R&D Expert. Second day dry shampoos, on the other hand, rely on lighter starches or cleansers like charcoal (a natural polysaccharide).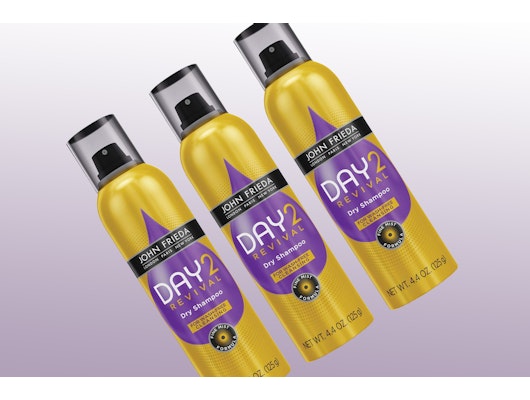 This seems to be the key to maintaining the second day hair look without weighing down your hair. Try the John Frieda Day 2 Revival Dry Shampoo ($9), which relies on light and gentle rice starch to give just the right amount of clean. As a rule of thumb, seek out rice starch and other starches to find this kind of formula. Words like "light," "refresh," and "gentle," are usually a good indicator that a shampoo is good for second day hair — rather than "detox" or "deep cleanse."
How you apply also matters in terms of extending your style. To avoid excess buildup (which can weigh down your strands), apply your dry shampoo at an eight- to 10-inch distance from your roots, advises Leon Van Gorkom, R&D Senior Manager of Hair at UnileverTM. "Then, massage the scalp using your fingertips to absorb oil," he says. Lastly, he advises brushing through the hair, which will help to remove excess grime and odor.
But remember — whether it's a light refresher or a heavier formula, any dry shampoo could do more harm than good to your hair if you overuse it. "Dry shampoo can dry the scalp," warns Anabel Kingsley, Director of Communications and Trichologist at Philip Kingsley®, which, in turn, can cause inflammation and even hair loss. "The health of the hair is strongly reliant on the health of the scalp," she continues, adding that dry shampoo does not replace the need to use actual shampoo. Regular true cleansing needs to happen for your scalp to function optimally. "Frequent shampooing is vital for clearing oils, dead skin cells, and sweat that can negatively impact the function of hair follicles [by clogging pores]," says Kingsley.
Just as you feed your stomach when it grumbles, you need to wash your hair when it starts to feel itchy and/or irritated. Clogged hair follicles can affect your rate of hair growth, give a lackluster appearance, or even lead to hair loss in rare cases. After all, most people would rather have oily hair than unhealthy hair.
 Some products were gifted to the author for the purpose of writing this article.
Product prices may vary from the time this article was written.
Allergan® may receive commission for purchases made through links in this article.