As if dealing with freezing temperatures, slushy roads, and a bleak, early nightfall wasn't rough enough, wintertime always seems to put major stress on our skin, too. For many of us, a dry, flaky dermis is just par for the winter course, and is almost expected every holiday season. Body acne, however, is another wintertime skin issue which seems to always fly under the radar (and under our clothing) during this time of year.
 This frustrating condition can be more widespread than the acne you may develop on your face, since it can show up on your chest, back, or even on your buttocks. Unlike your face, your body's skin is covered up by heavy sweaters and jackets in the winter, which can lead to excessive sweating and more issues. "Acne is exacerbated by heat and sweat . . .  [and can also be caused by] waxy residue left on the skin from the use of fabric softeners or dryer sheets [which can clog pores]," explains Dr. Carl Thornfeldt, an Idaho-based dermatologist and founder of Epionce® Skin Care.
Since traipsing around in spaghetti-strap tank tops and short-shorts isn't really an option in 30℉ weather, we're forced to deal with heavy layers and a great deal of sweating — but all hope should not be lost. We conferred with multiple dermatologists for their best advice (and favorite products) to help you banish body blemishes.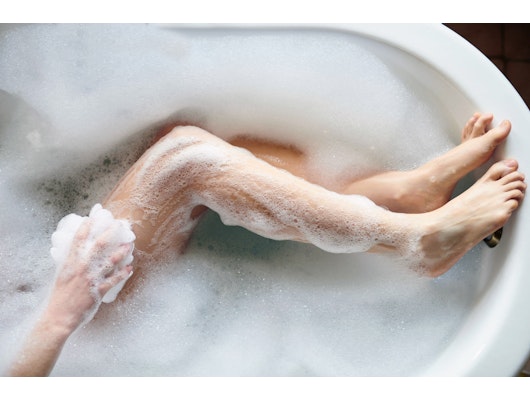 Stocksy United / Guille Faingold
Lather Up
After a tough workout or long, sweaty commute (hello, mass transit), rinsing away dirt, oils, and perspiration is key to treating current breakouts and preventing more from popping up. PanOxyl® Acne Foaming Wash ($12) has been a fan favorite for treating body acne, especially because a 10 percent concentration of benzoyl peroxide (BPO) might be too drying for some when used regularly on the face.
"Benzoyl peroxide can be drying, but it also has antibacterial properties that aid in keeping the skin clean and getting rid of papules," explains Dr. Marguerite Germain, South Carolina-based dermatologist and founder of Germain® Dermatology. "It's typically recommended to start applying this wash just once daily to avoid dryness, but if the skin does start to feel too dry, we recommend washing with PanOxyl every other day," she says.
If you know your skin is reactive to BPO, or if you're not particularly interested in finding out, Dr. Suneel Chilukuri, a Houston-based dermatologist and founder of Refresh DermatologyTM, recommends trying something less aggressive. "The Epionce Lytic Gel Cleanser ($37) effectively removes oil and dirt while calming irritated skin," says Chilukuri. "This cleanser doesn't strip skin of its natural oils, and therefore, prevents drying the skin, which can actually lead to more acne breakouts." 
Willow bark extract, which contains a natural form of salicylic acid, is one of the key ingredients in the Epionce Lytic Gel Cleanser. Salicylic acid (a.k.a. beta hydroxy acid) is another well-known acne-fighter, and is the power-player featured in many acne products on shelves worldwide. Chilukuri loves how easy-to-use and cost-effective the PCA skin® Blemish Control Bar ($40) is, which contains 2 percent salicylic acid. "It comes with treatment sponges that are used to create a creamy lather in the jar . [Then apply it] to the area and [leave] on the skin for about two minutes," says Chilukuri. "The bar format is great for use on larger areas of treatment, like the body."
Dr. Germain also suggests opting for salicylic acid-based products if BPO is too drying for your skin. "The CeraVe® Renewing SA Cleanser ($13) contains salicylic acid to remove surface oils, exfoliate, heal excoriations, and decrease inflammation," says Germain. "[This] will [also eliminate] dry and dead skin and help to clear acne," she notes.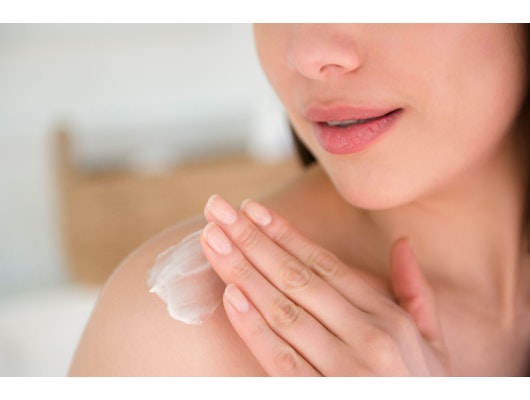 Stocksy United / Jamie Grill Atlas
Aftercare Essentials
The battle against body breakouts shouldn't just end post-shower — the war still continues after stepping onto your bath mat and toweling off. Post-cleansing, "It's important to moisturize in order to restore the lipids found in the skin," explains Germain.
Differin® Gel ($15) is a favorite treatment option recommended by both dermatologists. Once a prescription-based product, Differin is now available over the counter, and is typically recommended for use on the face. "It can also be used on the upper back or chest to clear acne," says Germain. "The retinoid creates cell turnover, unclogs pores, and prevents future breakouts from reappearing, leaving the skin tone and texture clear."
[Editor's note: Retinol shouldn't be used by those who are pregnant, considering getting pregnant, or nursing. Please consult with your doctor before use.]
Stocksy United / Guille Faingold
Go the Extra Mile
Cleansers and treatment/prevention products are essential when it comes to clearing acne over the long haul, but it's important not to overlook your body on #SelfCareSunday, either. Light a candle, apply a facial sheet mask, and consider applying another mask to your body acne. Germain recommends trying the DDF® Sulfur Therapeutic Mask ($39) on your shoulders, back and chest. "The mask contains sulfur, which has natural anti-bacterial properties to help purify the skin, absorb excess oil, and reduce inflammation," she says. Plus, the gentle formulation means you can use this mask without fear of over-drying your skin.
Similarly, you can repurpose beauty tools you bought specifically for your face: If you've splurged on a facial cleansing device and then discovered its irritating side effects on your complexion, try testing it out on your body instead. "The Clarisonic® Mia Acne Brush Head ($27) is more effective in uniformly removing dirt and pollution from the skin," says Chilukuri. It's also the number one recommended brand and device used by U.S. dermatologists. Use one of the cleansers mentioned above with it and don't forget to replace the head every 90 days to ensure you're not scrubbing any unwanted bacteria into your complexion.
When over-the-counter cleansers and ointments aren't giving you glowing, clear skin, Chilukuri suggests trying a professional peel treatment. "PCA skin Smoothing Body Peel ($68) is an excellent, safe choice for treating acne on the body, and the blend of 10 percent TCA, 45 percent lactic acid, and 10 percent salicylic acid works to smooth skin and minimize breakouts," he says. If you've got the time and money, Chilukuri says these types of treatments can be performed as frequently as every two weeks, but if your skin becomes inflamed, it's recommended to space treatments farther apart to avoid over-irritation.
Whether you prefer a daily body cleanser or a regular peel treatment, there are plenty of ways to battle body acne, and each method is accessible to all. Be sure to consult your dermatologist for your skin's best treatment plan, and don't feel discouraged when a galaxy of acne shows up on your back this season — many of us are fighting the good (skin) fight, too.
Product prices may vary from the time this article was written.
Allergan® may receive commission for purchases made through links in this article.