In our series Behind the Curtain, we get the scoop on the routines, careers, and more of those working so hard behind the scenes to make celebrities look stunning.
If you've flipped through fashion photography — or been lucky enough to attend a runway show — you've undoubtedly seen Guido Palau's work. He's not a designer, per se, but you could argue that the stylist's hair creations are worthy of a catwalk all their own. In case you need visual confirmation, take a gander at Palau's Instagram®; a whimsical portfolio of skyscraper coiffs, boisterous bouffants, and cuts that are so uniquely cool, they're almost unsettling.
"[I get my inspiration from] just about everywhere; I look at everything," the stylist divulges. At the time of our interview, Palau is gearing up to travel to Paris for Fashion Week; I've been lucky enough to catch him pre-departure in New York City, where we sit across each other in a spacious loft.
"I'm looking at your hair now," he continues, studying my strands — which are dry, have split-ends, and are hardly worthy of his gaze. Nevertheless, I have no doubt that Palau (who is  also the longtime Global Creative Director for Redken®) could fashion a masterpiece atop my head. Below, he talks the changing fashion landscape, his favorite products to use backstage, and how he styles his own hair (hint: it's not what you'd think).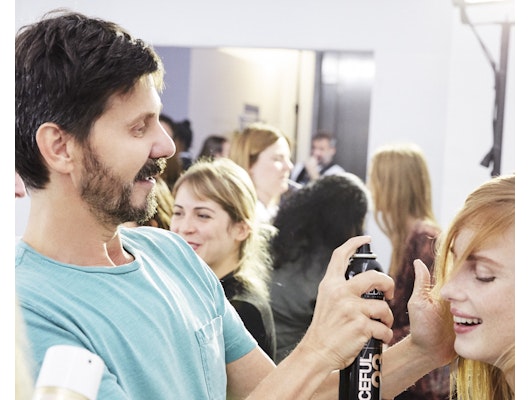 Courtesy of Redken
On luck, hard work, and maintaining a spark
Spotlyte: Cliché yet necessary question: how did you get to where you are today?
Guido Palau: There's tenacity, there's having an idea where you want to go, and going for it. [But] I think every job also has luck. When opportunity strikes, [it's important to] take that opportunity. I've had lucky breaks and worked with amazing designers and photographers who have all been great teachers.
Spotlyte: How do you think you've maintained momentum after all these years?
GP: I still put myself under pressure. I don't rest on my laurels. I don't think what I did yesterday defines me; I think it's what I do today. All those things have stood me well. It's been 35 years now from the beginning of my career, and I still get excited about my job.
Spotlyte: What inspired you to start as a stylist? Were you always interested in hair?
GP: I didn't go to college. I left school, and I didn't know what I wanted to do. It was the '70s in England, which wasn't a great time politically; the country was on strike. A lot of industries were closing down. In the '80s, I moved to London and started hairdressing. It was a youth-oriented time in fashion. Street style was beginning, and I was visually aware of all that. Luckily enough, I went on a shoot with another hairdresser. I was the assistant, and there's where I found to what I wanted to do.
On his unique style and where he draws inspiration
Spotlyte: When you first started, did you envision being as iconic in the fashion world as you are today?
GP: It's hard to perceive yourself how other hairdressers might perceive you. You're still who you are — still that kid at 14 somewhere. Sometimes I think, oh my god, I probably couldn't [have] done much better than I've done. [However], my personality always looks at what I haven't done right. So I don't walk around feeling better than others.
Spotlyte: Has hair styling always felt like your calling?
GP: It's not like I grew up dying to do hair; I didn't have Barbie dolls when I was a kid. I actually started hairdressing because I didn't know what else to do. I didn't do well at school. Finding the fashion side [of hairdressing] is what made me want to be better.
One thing I do have is a great memory. I see something once — whether that be a movie still, a picture, or someone on the street — and if it interests me, it goes into my mind library. Sometimes I'm not even aware of it, but then it comes out again. To be good in my job, you need to be able to notice minutiae of detailing.
Spotlyte: Perceptive. How would you describe your signature artistic style?
GP: I suppose it always has an English-ness, or a subversiveness. Even if it's glamorous, it [shouldn't feel like it's] too glamorous. There's an off-ness to [my work]. There's a point when you know it's right. It's probably like making a great meal. For a chef, he knows when to put the lemon zest in, for example. Or a painter — the last stroke.
Spotlyte: When you're working with models, do you take their physical appearance into account? In other words, do you choose something "flattering" for the particular person you're styling?
GP: No. Normally it's my fantasy about who the person is that inspires me.
Often I'll say to the model — not in a bad way — "Don't talk to me too much." If they joke around [and talk a lot] I'll say, "Put your model face on." That's who they are in my fantasy — [in that moment] they're not really the person [who I'm styling].
Spotlyte: Is this always your process? What about models you've built a rapport with over the years?
GP: It can also work the other way. You can work with a model a lot and know them so well. [Then], they trust you so much that you can create a great character together. So there is more dialogue with models I've worked with over the years.
Luckily enough, I suppose I've done some models' best work. Kate Moss, or Amber Valletta, or Stella Tennant — [I've worked with them at the prime of their modeling careers]. They've gotten older and they've developed their beauty, creating these images that will live with them forever.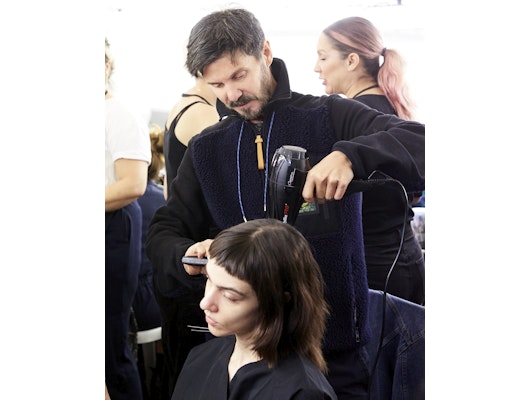 Courtesy of Redken
On how the industry has evolved and his favorite products
Spotlyte: You've been in the industry for over 30 years. How has it changed?
I'm lucky that my career has lasted over several fashion decades. Without sounding too grand, I've been on the cusp of many fashion moments. By the end of the supermodel era, I worked on the George Michael Freedom [project], which was the beginning of my career. Next, I went into that grunge period, that English sort of Kate Moss idea of beauty. Then the minimal idea [of beauty], and then back to glamour.
I've been very lucky to work with photographers and designers — at those times — who were at the cusp. I've [also] been very lucky that [my work] hasn't been pigeonholed to a certain period.
Spotlyte: How do you feel about hair trends?  
GP: They're not sudden. Sometimes you don't realize they've happened. I don't think real women take [to them] that quickly. So if they see straight hair on the runway for four years, then they might say, "Oh, I want my hair straight."
[Another example is] texturizing spray. When [stylists] first started using these sprays to make hair a little bit gutsy looking, women didn't [automatically] want it. Nowadays, every woman has a texturizing spray. It takes a while for a woman — [especially] outside of a city — to really translate trends to her life.
Spotlyte: How has backstage at Fashion WeekTM changed throughout your career?
GP: There are more distractions than there used to be. When I started, there were only 18 girls in the show. Now at Dolce [& Gabbana] there are 170 models. Then there's all the press — and most brands have the girls to do some social media now. — and rehearsals. So [the models are] taken away from you, but you still only get three hours.
Being the Global Creative Director for Redken, which I have been now for 10 or 15 years, the job has changed from the very beginning. It's growing all the time. Now, it's talking to [the press] and explaining new products. It's testing new products, doing photo shoots, and [creating] social media content. The idea of Redken is very New York-centric, and the runway is a bit is a part of how Redken started off.
Spotlyte: Give us the scoop on new products you've recently used behind the scenes.
[A lot are] texturizing products. They're not oil-based, so they won't make hair fall flat. Redken Windblown 05TM ($20) was big at Fashion Week. And  Redken Triple Dry 15TM ($22), which is in a can. What's very important with products, actually, is the way they're dispensed. It kind of changes the feeling of the hair, and the way you perceive it. [Triple Dry] has a very light airiness to it. It's a texturizing spray, but the dispensing of it feels great. [I also use] a dry shampoo pasteTM ($20), which I find is good for shorter hair. Or if you want some guts at the roots, you can put it right into the root. These three are great, especially with this natural texture that's so prevalent. I'm using Redken Satinwear 04 TM ($20), the blow dry lotion, for more glossy looks.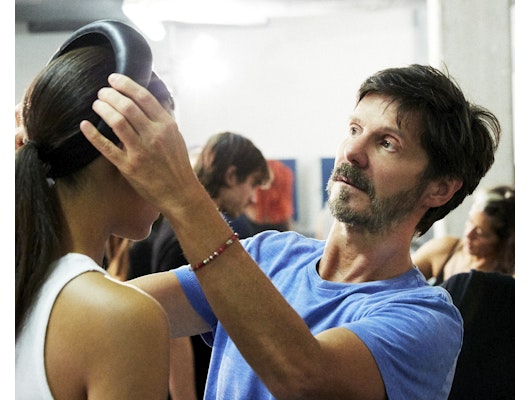 Courtesy of Redken
Spotlyte: What about for your own hair? How do you style it?
GP: My hair changes with age. I used to have the most voluminous big hair; I never used to even think about it. Now,  I use the Redken No Blow Dry NBD® Cream ($24). I  run a bit of that through my hair — that's it. Sometimes it works, and sometimes it doesn't. Do you know what I mean? It's like, "I'm having a good hair day, or bad."
I didn't realize until I got older, that your hair does change. It's got less [grit] in it, less elasticity. So you've got to try and put that in [with products]. So that's what I do. My assistant cuts my hair. I never shampoo it —  I just rinse it with water.
Spotlyte: Never? What about conditioner? It doesn't get greasy?
GP: No. It self-cleans after a while. Lots of men I know don't wash their hair.
Allergan® may receive commission for purchases made through links in this article.