The name "Joanna Vargas" is whispered among the proverbial hallowed halls of skincare cognoscenti. She's responsible for the coveted complexions of Rachel Brosnahan, Debra Messing, Mandy Moore, and Maggie Gyllenhaal. It's understandable why these power Hollywood women want to work with her (aside from the skin-glowing results). When you meet her, you're hard pressed to find a kinder person.
Vargas happened into skincare in a rather circuitous way. The Berkshires native headed to New York City with dreams of becoming a photographer, then eventually shifted to makeup. But her hands (and brain) found their calling when she realized how adept she was at solving skincare dilemmas.
She and her husband opened Joanna Vargas® Skincare 12 years ago, and in no time, an appointment with Joanna was a coveted slot. The fashion and celebrity world flocked to her for her SuperNova and Triple Crown Facials, her LED bed and, of course, her exquisite touch and sage skincare advice. When her eponymous treatment line launched, clients and those not fortunate enough to live nearby became downright giddy. You could now buy Vargas-made beauty products (sheet masks, vitamin C serums, etc) to use at home.
In November 2018, she moved a few floors away from her former NYC lair to a new space that fills an entire floor. Along with windows featuring breathtaking views of the New York Public Library and Bryant Park, the massive 13-room space has also expanded its menu, which now includes massage, micro-needling, and cryotherapy facials and tanks. And fans of Vargas' famous LED bed will be thrilled to see a new and improved version of her RevitalightTM bed (four of them, in fact!), which now can target different areas of the body. Did we mention she also opened a space in Los Angeles in the Sunset Tower HotelTM last year?
Vargas took a moment to speak with SpotlyteTM about her new space, how she manages home life with work life, and why she considers Rebecca Minkoff to be an angel.
Spotlyte: You came to NYC with hopes of becoming a photographer. Can you relay the exact moment as a makeup artist when you knew skincare was for you?
Joanna Vargas: I did come to New York to pursue photography. But once I worked here for a few years, I realized it wasn't for me. I went to beauty school thinking I would pursue makeup. But when I was in school, I fell in love with taking care of people one-on-one, and that was that. I gave myself a year once I got licensed to see how it would be, and I never looked back.
Spotlyte: Did you always have aspirations of being your own boss?
JV: I think I had moments of being a leader and moments of insecurity like any kid. I started to think about my own salon because I was seeking a creative outlet I could not fulfill working for someone. I wanted to create treatments and products for my clients.
Spotlyte: Was there someone in the skin care field who you looked up to when you were starting out? Someone whose business inspired you to aim high?
JV: There were many people in the industry who I admired. When I was coming up in the business, I used to hear story after story about Marcia Kilgore. She was an inspiration. Also, Janet Sartin. I had clients who used to see them both for facials and they set the gold standard as far as facialists/founders.
Spotlyte: You worked at Ula Day Spa with dermatologist Brad Katchen. Did you also work for Jo Malone, or did you always just admire her from afar?
JV: I had the pleasure of meeting Jo Malone. I was and remain a huge fan of hers. But I never worked for her. I dotted around the industry trying to find my own voice for a long time.
Spotlyte: How did you attain your first clientele? And at what point, did you realize it was time to hang your own shingle?
JV: When I started my own salon with my husband, I [didn't have] clients. He and I just called anyone and everyone we knew and invited them in. Rebecca Minkoff was an early supporter of my work. She sent everyone my way. Also, I had a few actors that would buy gift cards at every appointment, so that they could help spread the word. It was tough in the beginning, but I just stayed focused on making sure every facial was so good that the person would leave and tell someone else. To this day it's the secret of my success. Make someone so happy they are bursting to tell their friends and family.
Spotlyte: What is your take on dermatological and plastic surgical treatments when clients ask?
JV: Those things are so personal. We talk about realistic expectations with non-invasive technologies and what their personal goals are. If I think that their goals can be met with non-invasive, that's always my recommendation. I never judge anyone for anything they want. My job is to figure out how to get there!
Spotlyte: At Spotlyte, we talk a lot about the stigma surrounding medical aesthetics. What's your advice to someone who is interested in cosmetic injectables but wary of taking the plunge?
JV: I think education is always the way to make those decisions. Educate yourself and then find someone who you can really trust and communicate with.
[Editor's note: Be sure to talk to your doctor before starting or stopping any new treatment.]
Spotlyte: What's the best business advice you ever received, and who was it from?
JV: When my husband and I told people we were thinking about starting our own salon, everyone told us we would fail. It was a time in the industry when spas were opening with $20 million build-outs. We decided to do what we thought was right and stopped asking everyone else what they thought. It's your life and you have to live with the decisions you make, so forget about everyone else, and do what's right for you!
Spotlyte: Now, tell us about your new spa!
JV: It's a duplex, which is so cool for us! The whole third floor is the salon space with four LED beds, nine facial rooms, three massage rooms, and one cryotherapy room. The upstairs is the corporate headquarters, so we have a mix of people who work for the salons and the skincare line, plus our social media team. It's so nice to have the space to house all of us and it's great for the clients because they feel luxury the second they walk in.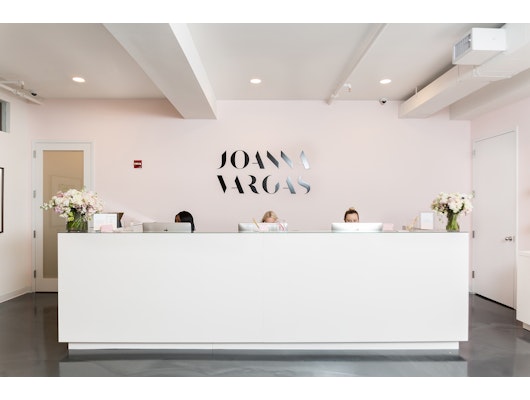 Kelsey Ann Rose
Spotlyte: Does the new treatment menu tick off every service box you've wanted to do for a while? And were clients asking for cryotherapy facials and massage (and microneedling?).
JV: Yes. But I feel like the industry is constantly changing. I introduce new treatments regularly because there are so many exciting things happening in beauty right now!
Spotlyte: What's the new Revitalight Bed like? How has it been improved upon?
JV: The bed is updated in every way. We can program it to do different treatments for different zones on the body, so cellulite for the butt and anti-aging for the face. Your entire body is surrounded by light, so the whole organ gets the treatment at once. It's the best 30 minutes you will ever spend on yourself!
Spotlyte: Having 13 treatment rooms sounds enormous! And a huge hiring undertaking! Or do you have the Vargas teaching plan down to a science by now?
JV: [Laughs] Yes, we do. My Head Trainer, Elena Lupino, is amazing, and we have it down quite well. We assign books to read, and it takes a lot to make it onto the schedule here. We have such an amazing team of estheticians!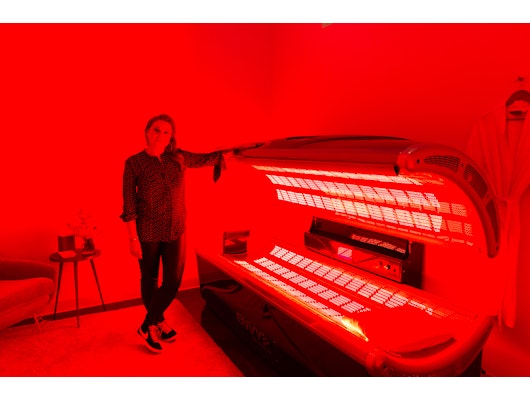 Kelsey Ann Rose
Spotlyte: With such a big space, do you hope guests will book full days? Is the spa conducive to lounging between appointments?
JV: I already had people who would book for five hours at a time. We don't have a chill out lounge, because people come here for services, not to drink tea! But we are able to see bigger parties of people, which we were not able to do before.
Spotlyte: Do you hope to attract a larger male clientele?
JV: We actually have a large pool of male clients already. Professional athletes, models, and just guys who like to take care of themselves. Jake Gyllenhaal has spoken about wanting to inspire more guys to take care of themselves with my facials.
Spotlyte: Now, in the "Cobbler's children have no shoes" category, how do you pamper yourself? Does anyone ever give you facials? Or is it too much of a work thing that you could never relax through one?
JV: I do get facials. With all these amazing facialists on two coasts, I try and get a facial every other week or so. I always fall asleep when I get one. I really try and take care of myself. It's hard during award season, but I still do it. I'm a better caretaker as a result!