It's not easy to be on camera — and we all have plenty of furiously untagged Facebook photos to prove that. That's why we have a serious appreciation for those who get in front of the lens for a living. Lisa "Kennedy" Montgomery in particular is a true pro at it. After serving as a MTV VJ and correspondent, she hosted several reality shows and wrote two books before joining Fox Business for her own primetime show "Kennedy," where she covers everything from daily news to politics. (If you'd like to tune in, you can spot her on Fox Business on Mondays through Thursdays at 9 p.m. Eastern.)
As a seasoned veteran of the screen, Kennedy has some serious beauty secrets to share. Keep reading to see Kennedy's top 11 essentials to get that ultimate glow — on camera and in real life.
Fresh® Black Tea Firming Overnight Mask ($92): "When your skin is dry and at its wits end, this thick, luxurious mask will bring it back to life. You sleep in it, so it really sinks in."
Jo Malone® London Orange Blossom Cologne ($136): "It is clean and energizing; I can't help but be happy when I wear it. Sometimes I mix it with the Red Roses body lotion; it's super dreamy and luxurious."
Resveratrol ($20): "I take a 500mg capsule every other day and it really makes your skin glow. This is one of those inside out beauty products that tackles more than just skin; it is [an antioxidant] and makes your face glow from the inside."
[Editor's note: Talk to your doctor before starting or stopping any new treatment, medication, or supplement.]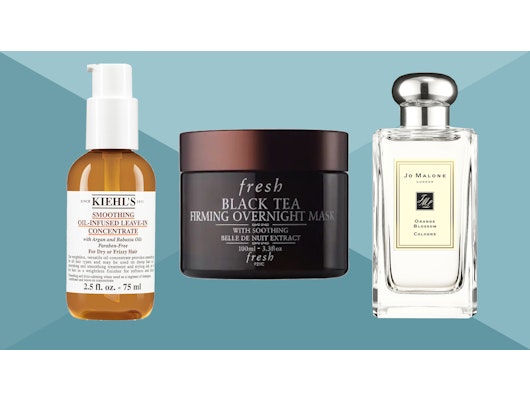 Vital Proteins® Beauty Collagen in Lavender Lemon ($26): "I have seen a difference in my skin since I've been taking this. A friend recommended it and I glow when I drink it. Just mix it with water and wash down your resveratrol." 
Green tea (or matcha) in smoothies: "Either a teaspoon of powdered matcha or a room temperature cup of regular green tea in a smoothie. The more fresh and frozen fruits, the better."
SunWarrior® Vanilla Protein Powder ($45): "Great for smoothies; It's my favorite morning smoothie mix. I also mix it in muffins and brownies for supercharged snacks on long bike rides — it's great to bake with."
Vitamins B, D & Zinc: "Fights infections, inflammation & hangovers — enough said."
[Editor's note: Talk to your doctor before starting or stopping any new treatment, medication, or supplement.]
Swimming: "[In my opinion,] there is nothing better for circulation as well as muscle-balancing and cardio; you use every part of your body. When you come out of the pool after a vigorous swim, there is literally nothing you can't do. Don't forget to put some conditioner in your hair before you go, so your color won't fade and your ends don't split."
Kiehl's Since 1851® Smoothing Oil-Infused Leave-In Concentrate ($25): "I love this conditioner because no matter how beat up my hair is from swimming, this smooths it out beautifully; it will detangle and beautify anything."
Sauna: "After I swim, I like to finish with an ice-cold shower, and then run into a nice hot sauna to meditate and sweat. Not only does it seal a good workout, it's also a nice time to breathe deep and reset the day — and maybe even apply a good Sephora® sheet mask."
Sleep: "It is the best beauty secret on the planet, mostly because good sleep heals and recharges your busy brain. [I think] a week of solid sleep every night will make you look five years younger."
Allergan® may receive commission for purchases made through links in this article.
Product prices may vary from the time this article was written.