In The Path, we spotlight different women making a difference in the fashion, beauty, wellness, and medical aesthetics industries. Here, Haute Hijab founder Melanie Elturk shares her road to success.
In the super-saturated beauty and fashion industries, it's essential to have a niche. For Melanie Elturk, founder of Haute HijabTM, her particular niche transcends fashion — it's also about representation and culture. Nearly nine years into launching the brand — which she started with her husband as a side hustle while working as an attorney — Elturk has amassed a following of over 225K fans on Instagram alone.
Haute Hijab began as a blog, with a goal of helping American Muslim women find fashionable hijabs and serving as a role model to girls and women not represented in traditional fashion and beauty media. But it quickly evolved into a full-fledged shoppable brand. It grew so big that Elturk ended up quitting her full-time job. Here, Elturk shares more about Haute Hijab, her new collection of underscarves with skincare benefits, and why pursuing her passion in fashion means more than just selling a product.
Spotlyte: Why is Haute Hijab important in the current beauty, hair and fashion landscape?
Melanie Elturk: Our brand is at the center of not only uplifting and empowering Muslim women, but at the forefront of innovation and elevated design. In January 2018, we released our Luxury Hijabs and created a new category in fashion. In August, we made history again with our Underscarves Collection — utilizing tech fabric for the first time in the hijab space for an underscarf that maximizes breathability, is temperature regulating, anti-bacterial, and has a built-in Ultraviolet Protection Factor (UPF) 50. We elevated an age-old design that hasn't seen innovation in decades.
Spotlyte: There has been a clear shift in the beauty world toward personalization and customization. How does Haute Hijab fit into this shift?
ME:We couldn't agree more! With the Underscarves Collection, the existing design was a one-size-fits-all approach that was not only ineffective, but at the root of many issues Muslim women were facing with hijab, such as hair loss and tension headaches. Additionally, despite the fact that hijabs are as basic as socks, it's historically been unreasonably difficult to purchase them. We had to travel overseas (yes, you're reading that right!) to get our hands on some hijabs, or suffer through the experience of wearing [regular] neck scarves on our head. [Editor's note: Elturk notes that traditional winter scarves are not meant to be washed once a week, which is regular practice with hijabs.]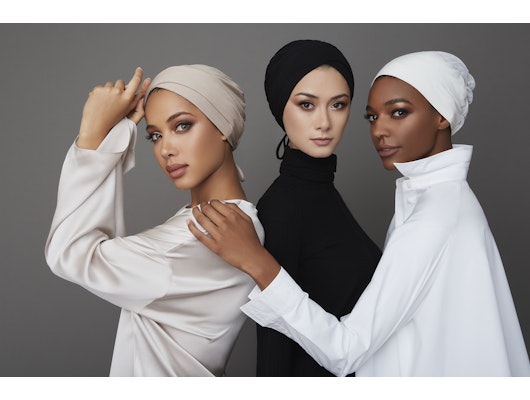 Photo by Tony Kim
Spotlyte: Please explain/describe what an underscarf is. What makes Haute Hijab underscarves different from traditional ones? What are the skincare benefits?
ME: An underscarf is a piece many Muslim women wear under the hijab to either contain all her hair and/or ensure the hijab doesn't slip off. Traditional underscarves are essentially a long headband. There's a hole in the back, so your hair is still exposed. If you're wearing a sheer hijab, it looks terrible in the back, and it's not adjustable in any way. Not only did we close up the back and add a beautiful pleated design element, but we made ours adjustable with back straps and an elastic band for a custom-fit. It also distributes volume to perfection at the back of your head where you hair lays with our ruched-back design. We've had customers tell us our underscarves have been life-changing as they no longer suffer with ear pain, headaches, or slippage.
The skincare benefits are incredible, as they have built-in UPF 50 as well as antibacterial properties. One issue that came up over and over again during market research was acne, particularly along the hairline, where the underscarf is worn, mainly due to sweating that occurs along the hairline. Anti-bacterial properties infused in the fabric help address this issue. Additionally, parts of the face are covered by the underscarf and are still in need of sun-protection which is why we made sure we used fabric with built-in UPF to protect from the harmful effect of UV rays.
Spotlyte: Tell us a bit about your perspective on inclusivity in the beauty business.
ME: Inclusivity to me, is simple and obvious. The majority of the world does not have white skin and in some cities across the U.S., that's also the case. I recently attended an event for a big beauty brand here in NYC — I won't name any names! — that launched a new foundation. When I was getting color-matched, the makeup artist told me, "I just don't have a match for you. There aren't enough medium/dark tones in this collection. You'll have to mix these two." (To make matters worse, she and I had similar skin tones.) Puzzled, I thought, "That can't possibly be true! There are over 30 shades to choose from!" After looking through them myself, I quickly saw that the majority of those 30 shades were light colors.
This explains the notion of white-washing in beauty that I experienced first-hand when I lived abroad in Dubai for four years. Almost every major drugstore beauty brand has some sort of whitening skincare line overseas. Why? Because people in other parts of the world have been taught that to be white is to be beautiful and the darker your skin is, the less desirable you are. It breaks my heart. But when the only option for you available at the beauty counter are dozens of shades that would never work for darker skin tones, this bizarre notion is sadly reinforced.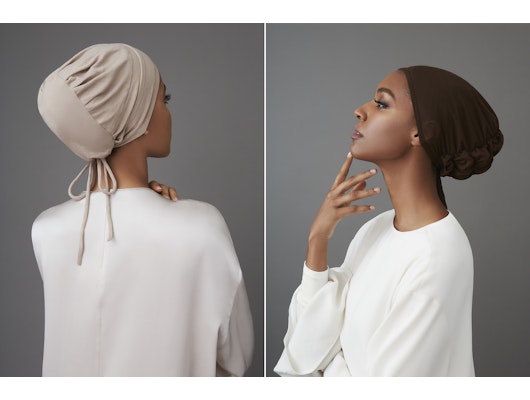 Photos by Tony Kim 
Spotlyte: What have been some of the biggest challenges you've faced while building your brand? Biggest wins?
ME: One of the biggest challenges that is also the biggest win has been fundraising. We literally just closed our second round of funding, so it's top of mind, but it's both incredibly challenging and rewarding when you do finally close. Trying to talk hijabs to a bunch of venture capitalists that are primarily white men can be incredibly frustrating, not only because they don't understand your business, but mainly because they will also try and tell you how you should be running it — with little to no insight about our consumer or product. That being said, we found incredible partners from diverse backgrounds that understand our product, recognize the market opportunity, and most importantly believe in my husband's and my ability to grow and lead our team.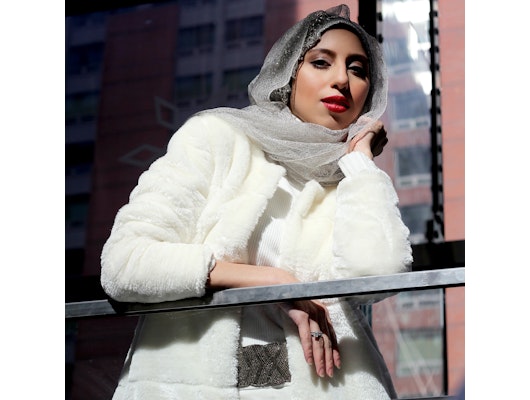 Photo by Salwa Marzouk
Spotlyte: What's your daily skincare routine (both day and night)?
ME: I love talking skincare! In the morning, I cleanse with Cetaphil® Gentle Skin Cleanser ($10). It's my absolute favorite cleanser; I'll never replace it. [Next, I] tone with the Neutrogena® Alcohol-Free Toner ($5). Then, I  apply a serum from Allies of Skin® followed by Fresh® Rose Hydration Cream ($42). I finish with CeraVe® SPF 30 ($11).
At night, I cleanse and tone again and follow with an AHA/BHA (Drunk Elephant® T.L.C. Framboos® Glycolic Night Serum ($90) is my current fave), apply another serum from BIOEFFECT®, and then a night-time moisturizer. My fave is CeraVe PM ($12) mixed with a few drops of Fresh Seaberry Face Oil ($53). I also use an eye cream morning and night. My two faves are Fresh Créme Ancienne® ($128) or Drunk Elephant C-TangoTM ($64). The real fun starts when I start masking.  
Spotlyte: Tell us more about how you care for your skin. Where do you get facials?
ME: When I lived in Dubai, I had an amazing medi-spa I went to for monthly facials that included a chemical peel, followed by microdermabrasion, a healthy amount of extractions, and finally a seaweed mask. Since I've moved to New York I've really dropped the ball, so any recommendations are welcome! 
Spotlyte: Tell us about your personal hair routine. What do you do and how often?
ME: Hair is not really my forte, mainly because I have stick-straight hair that hardly holds a curl, so I've never really had to learn how to "do hair." Before I wore hijab, I would shower every morning, comb my wet hair, and head out. Now, I comb it, put it in a bun, put on my hijab and head out. I do color my hair, however! My husband begs me to keep it my natural jet black because that's the color it was when we first met, but I've been going honey blond with medium brown lowlights for the past seven years. Although I have to say, I don't get it done as often as I should. Because in hijab, no one really sees my overgrown roots on a daily basis besides myself and my husband. If I ever get up the nerve to go platinum, God help me, because my husband will hate it. But it's always been something I've wanted to do. Well, at least since my Lady Gaga phase back in 2010.
Spotlyte: Do you have any tips for caring for hair under a hijab?
ME: Absolutely! I have a whole blog post about it! In a nutshell, make sure you have your hair in the right kind of ponytail, switch up your part often, deep condition weekly, trim your ends regularly, and let it breathe as often as you can! When you're not wearing hijab, let your hair down! I also recommend frequent scalp massages.
Spotlyte: What's your daily makeup routine? Any tips and advice for playing up certain features like eyes, skin, or lips to complement a hijab?
ME: It really depends on how much time I have that morning, but I do have a few non-negotiables. As a woman of middle-eastern descent, my under-eye circles are both hereditary and horrendous. That said, concealer is always my first-step, as well as my absolute must-do before walking out the door every morning. I've perfected my routine and you can watch it here. I have medium skin but very light features. I barely have eyebrows (you can credit that to my other ethnic half — my Filipino side). So I pencil in my eyebrows and either define my eyes with eyeliner or mascara. If I'm feeling extra [motivated, I'll use] both.  
I usually need some color in my cheeks, so I rely on bronzer, blush, or both to brighten up. I also love  highlighter, but nothing too noticeable. I love a natural dewy look. My fave highlighter is the Marc Jacobs® Beauty Glow Stick ($42). It's absolutely magical. I never go bare-lipped, I can't handle it! I have to have something on my lips at all times. Lipstick is my go-to, but when I'm not in the mood for an entire liner plus lipstick ordeal, a tinted [balm] like the Fresh Sugar Lip Treatment ($24) is fail-safe.
Spotlyte: What are your can't-leave-home-without beauty favorites?
ME: Rosebud® Salve ($7,I have one on me at all times, as well as one in my nightstand drawer and medicine cabinet). I also always have a face mist on my desk at work and [in my bag] while traveling — airplanes wreak havoc on my skin! My current pick is the Fresh Vitamin Nectar Glow Water($25). The Avene ThermalTM Spring Water ($9) is always a classic.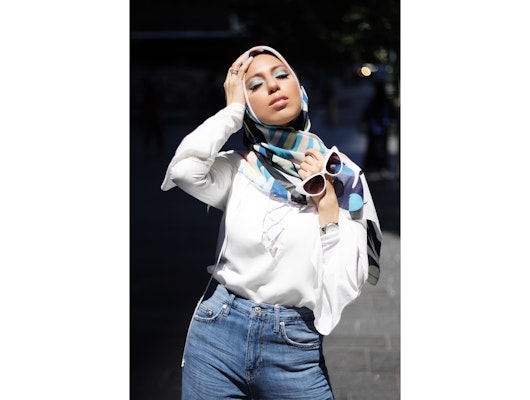 Photo by Salwa Marzouk
Spotlyte: How much of what you show style-wise on Instagram is trend based? How do you source these trends?
ME: Fashion and style are in my DNA — I've always had a sartorial propensity. Some of what I wear is trend-based (although I doubt I'll be wearing this explosion of prints forever!). For the most part, it's based on my personal style that is largely informed by my body type. Like all things, I play to my strengths. I'm never going to look good in a billowy long dress (with a bigger bust and little to no hips, it falls off me like a muu-muu on Mrs. Roper from Three's Company), but I'll rock a monochromatic look every time.
Spotlyte: What empowering beauty advice would you like to tell Spotlyte readers?
ME: Something I tell girls all the time is, God doesn't make mistakes. He created you perfectly as you were meant to be. So while I love to use skincare and makeup to enhance my beauty, I'm not reliant on it to make me feel beautiful.
Product prices may vary from the time this article was written.
Allergan® may receive commission for purchases made through links in this article.