Double chins are relatively common and can be attributed to numerous factors — including weight gain, aging, and plain old genetics. Below, we tapped three pros for answers on how to get two chins to look more like one.  
Go get a facial.
Facials do more than give you glowing, clear skin. According to Joanna Vargas, celebrity facialist and founder of her eponymous skincare line, they can also depuff the face and may temporarily reduce the appearance of a double chin. Treatments such as her Triple Crown Facial℠ may drain excess fluids and lift facial [skin]. Alternatively, you could try a facial designed to instantly tighten the skin via radiofrequency (Vargas offers one called the The Forever Facial℠). These treatments require no downtime and the results are virtually instant. (Read about one writer's experience with radiofrequency here.)  
While a quick fix certainly has its appeal (especially before a big event!), longer-lasting results require regular appointments. "If you're choosing a non-invasive treatment, [it's important to understand that] a series of treatments will likely be necessary," Vargas confirms.  
Freeze the fat cells away.
CoolSculpting® is a viable option for slimming down the area under the chin. The treatment targets specific bulges of fat and freezes those treated cells to death, ridding you of them permanently. (The CoolSculpting device even has a specifically-shaped applicator for double chins.) You can expect a series of one to three overlapping applications in one treatment. Multiple treatments may be necessary to achieve desired results. According to aesthetic dermatologist Heidi A. Waldorf, MD, CoolSculpting can lead to a reduction of a double chin by permanently killing off the treated cells.
"It is helpful because we can reduce those genetic bulges of fat; the places we gain out of proportion to elsewhere because we have that extra pocket of fat cells," says Waldorf.
Because CoolSculpting is not a weight loss method, Waldorf recommends daily exercise and maintaining a healthy diet for best results.  
[Editor's note: The CoolSculpting treatment is a non-invasive fat freezing treatment that effectively reduces fat in certain self-proclaimed "problem spots" (you know, those bulges that just won't go away, regardless of how much you sweat it out on the treadmill). As with any procedure, there are risks and side effects, so talk to your licensed provider to see if it's right for you.]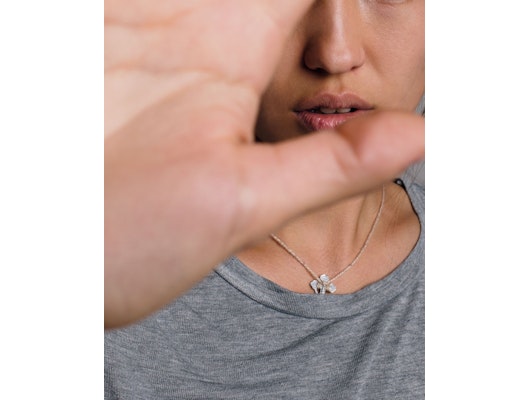 Stocksy United / Danil Nevsky
Does not imply person featured in photograph had the CoolSculpting treatment.
Use the right products.
To enhance the results of a slimmed-down double chin, consider using topical skincare products to smooth — and possibly tighten — the surrounding neck skin (as we previously mentioned, age-related collagen loss can cause sagging!). Vargas recommends a product containing retinol (try the Joanna Vargas® Supernova SerumTM, $85) which can regenerate collagen as you sleep. 
[Editor's note: Retinol shouldn't be used by those who are pregnant, considering getting pregnant, or nursing. Please consult with your doctor before use.].
According to dermatologist Dr. Rachel Nazarian, MD at Schweiger Dermatology Group, a hardworking neck cream can also delay the signs of sagging neck tissue. Try Revision Nectifirm® ($133), which contains peptides and ceramides, or La Prairie® Anti-Aging Neck Cream ($250), which is spiked with SPF 30 to protect against UV damage.
Additionally, as a preventative measure, Nazarian strongly advises slathering sunscreen on the neck (in addition to the face!) every day. That's because UV damage can break down collagen and elastin, which leads to sagging.
Implement one (or all!) of these three expert-approved options, and you're on your way to improving the look of your double chin! Discover more techniques for smoothing away a double chin here.
Some products were gifted to the author for the purpose of writing this article.
Allergan® may receive commission for purchases made through links in this article.
CoolSculpting® is an Allergan-owned non-invasive fat reduction treatment.
CoolSculpting Treatment Important Information
The CoolSculpting procedure is FDA-cleared for the treatment of visible fat bulges in the submental and submandibular areas, thigh, abdomen and flank, along with bra fat, back fat, below the buttocks (also known as banana roll), and upper arm. It is also FDA-cleared to affect the appearance of lax tissue with submental area treatments. 
During the procedure you may experience sensations of pulling, tugging, mild pinching, intense cold, tingling, stinging, aching, and cramping at the treatment site. These sensations subside as the area becomes numb. Following the procedure, typical side effects include temporary redness, swelling, blanching, bruising, firmness, tingling, stinging, tenderness, cramping, aching, itching, or skin sensitivity, and sensation of fullness in the back of the throat after a submental area treatment. Rare side effects may also occur. The CoolSculpting procedure is not for everyone. You should not have the CoolSculpting procedure if you suffer from cryoglobulinemia, cold agglutinin disease, or paroxysmal cold hemoglobinuria. The CoolSculpting procedure is not a treatment for obesity. Ask your licensed provider if CoolSculpting is right for you. To learn more about what to expect, visit the CoolSculpting website.