I'm no stranger to laser facial treatments. I've certainly tried more than the average Joe — even more than many other beauty and grooming editors I know — but despite that, I feel as if I haven't even scratched the surface of the laser world. It seems like a new laser comes out every day, and since I only have one face, I can barely keep up. I find lasers to be ideal skincare devices for people like me — those who who have packed schedules, but still demand quick and visible results. That's what drew me to Skin Laundry® in the first place: the brand's classic 15-minute laser facial changed how I thought about my skincare routine. And judging from their rapid global expansion, I know I'm not alone.
If you've never been to a Skin Laundry location before, here are some things that I like about them in no particular order: check-in is done on an iPad and is so easy that you barely have to speak to anyone. The staff is friendly (so if you do speak with someone, it's not painful). The beachy decor makes you feel like you're lasering your face oceanside, and the no-nonsense quasi-medical treatment rooms feel comfortable, but not too fussy. But most of all, I like that everything is fast as hell.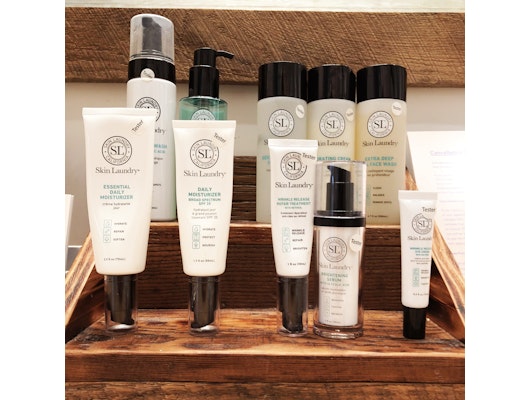 So when the Skin Laundry team told me they had come out with a new, more intense treatment called the Ultra Fractional Facial ($250), I jumped at the chance to try it. While the Signature Laser & Light Facial ($75) uses a YAG laser in combination with IPL (Intense Pulsed Light) to clean and rejuvenate the skin in just 15 minutes, this new facial ups the ante. It's twice as long and is done in three steps. The YAG targets the skin's dermis (the layer below the surface) to help rejuvenate while vaporizing away dirt and debris from your pores, then you'll receive three passes of a fractional laser, and finish with a dose of hydration serum.
You may have heard of an ultra fractional laser by another name: Fraxel® or Clear + Brilliant®. These are brand names, (and not the same lasers Skin Laundry uses for their treatment) but the way they work is similar. The non-ablative fractional laser works to help resurface the epidermis (the top layer of the skin) as well as create microchannels to help stimulate collagen production and cell regeneration. Those benefits are why I was one of the first in line for this new zap.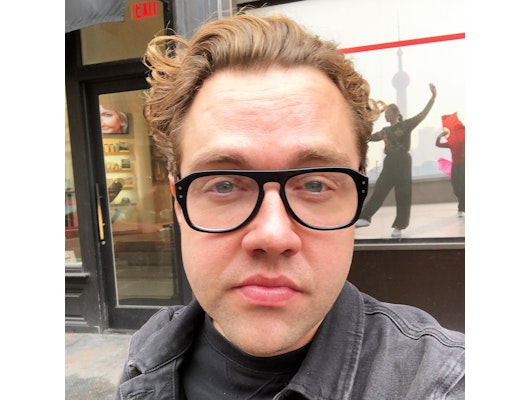 Before
The Ultra Fractional laser treatment starts off pretty much the same as the classic Signature treatment. My technician, Tracy Malkin, RN, guided me to the treatment table, and started with part one: the classic YAG laser. "We're going to do two passes of the YAG," she said. "Over time, this laser will reduce pore size, reduce acne breakouts, and improve your overall skin tone by stimulating collagen in the dermis."
I knew what to expect since it wasn't my first rodeo at Skin Laundry. The popping sounds of the laser were coupled with little tight pricks on my skin as it hit my face, but nothing painful. There is also a distinct smell — like a combination of burned popcorn and blow-dried hair. "That's the laser vaporizing the dirt and debris," Malkin told me. 
When it came time for step two of the ultra fractional laser, Malkin told me there were three levels. Since my skin isn't too sensitive and I'm not a stranger to lasers, we decided to do level two. "We can always dial it back if it hurts too much," she said. I told her we wouldn't need to because of machismo. No pain, no gain, right?
Truthfully, the first pass of the ultra fractional laser was nothing. I didn't even feel it as much as the YAG from the first part. But as we rounded out the second pass and started on the third, my skin was feeling tight and I had a dull yet radiant tingling on my face (not unlike a sunburn or a skinned knee),and I could feel the laser more with each zap. The sunburned feeling, Malkin told me, was normal and wouldn't just happen during the session. "You can expect temporary redness similar to a windburn or sunburn," she said.
The third step of the treatment quickly did away with most of that feeling of thermal distress. "The ultra fractional is creating microscopic channels in your skin," Malkin explained as she doused my face in cooling serum. "While we have those channels, we want to infuse in our hyaluronic acid serum to help hydrate the skin." It's a similar philosophy to most microneedling treatments, only the channels that were in my face were much tinier than any microneedling device could make, thanks to the laser. Science!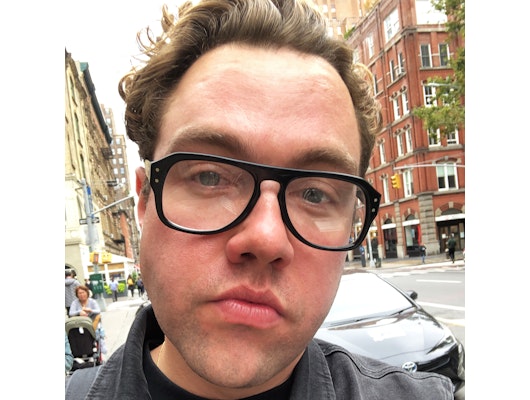 After
Malkin told me that what sets the Ultra Fractional facial apart is that other similar fractional laser treatments don't include these other two steps. All I know is that I left Skin Laundry in under 30 minutes — with very little redness and no irritation from a pretty intense laser treatment. In fact, while my face felt tight and tingly like a sunburn, when I looked in the mirror, there was barely any redness at all (I was just a little flushed like I was embarrassed or flirting).
Compared to some other laser treatments I've done, I wasn't self-conscious walking around the city for the rest of the day. I had a red tint, sure, but that dissipated by morning. (That said, it's important to remember that everyone's results will vary, and you should be sure that you're a candidate for an Ultra Fractional Facial appointment before you book. For a list of contraindications, including a current sunburn, recent spray tan, or recent laser treatments, visit Skin Laundry's site here.)
Malkin had told me to put on sunblock — of course — and to not exfoliate that night, but the aftercare was minimal. I woke up to brighter and plumper skin (from the hydration) the next day. "Any significant changes in pigmentation, breakouts, or pore size are compounded over time," she said. A Skin Laundry professional will work with you to develop a customized treatment plan that's ideal for you. For me, Malkin recommended a minimum of three treatments to see the best results and to wait two weeks between them. Needless to say, I've already made my next appointment.
Services were gifted to the author for the purpose of writing this article.