Our eyes may be the windows to our souls, but they're also the first places to show signs of exhaustion after a long night and aging over time. This is mostly because the skin is thinner and more delicate than the rest of our face. And while eye creams are often our first line of defense against fine lines and puffiness, it can take some time before you start seeing serious results. An eye serum, on the other hand, may contain more potent ingredients than its creamier counterparts. As a result, serums might just provide a fast track to a more favorable undereye appearance.  
While it can be easy to spend hours searching the shelves at your local beauty supply to find a formula that fits all of your needs, you can streamline the process by simply adding one to your next Amazon order. The platform has bolstered its beauty section to include a slew of exceptional skincare essentials that dermatologists would adore — eye serums included. We asked doctors to weigh in on the some of the most coveted eye serums on the market. Consider yourself one step closer to waking up refreshed — or at least looking like it.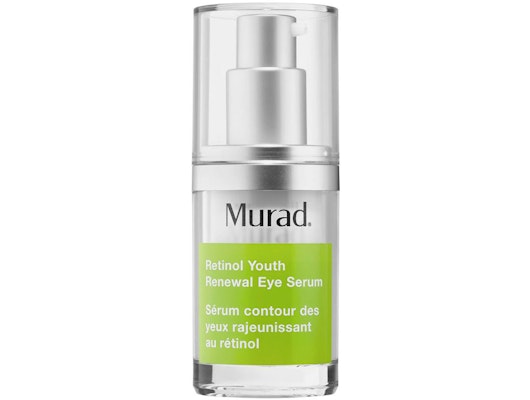 Retinol is believed to be a skincare secret weapon, able to tackle multiple skin issues in one fell swoop. It's also the key ingredient in the Murad® Resurgence Retinol Youth Renewal Eye Serum ($71) that Dr. Debra Jaliman, Assistant Professor of Dermatology Icahn School of Medicine at Mount Sinai, regularly recommends to her patients.
"Besides the retinol, it has kelp extract which helps to lift, firm, and brighten the eye area," she says, noting that the retinol is time-released so it can keep working long after its seeped into your skin. The serum is so powerful that you can start seeing results in as little as a week!
[Editor's note: Retinol shouldn't be used by those who are pregnant, considering getting pregnant, or nursing. Please consult with your doctor before use.]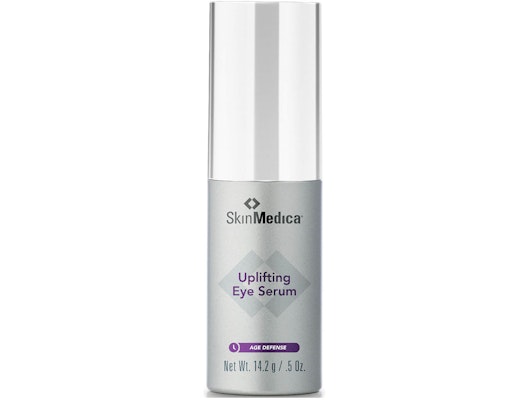 The SkinMedica® Uplifting Eye Serum ($48) is a product you'll likely find stocked in your dermatologist's office, but you don't need a prescription to snap it up for yourself. Patricia Ceballos, M.D. of Schweiger Dermatology Group in New Rochelle, approves of this eye product because of its array of natural ingredients.
"The thing I like about it, aside from the fact that it includes the most powerful humectant known for the skin (hyaluronic acid), is its plentiful antioxidant ingredients," she explains. It's fragrance-free, formaldehyde-free, and paraben-free, which she says are very important considerations when selecting a serum for the area around your eyes.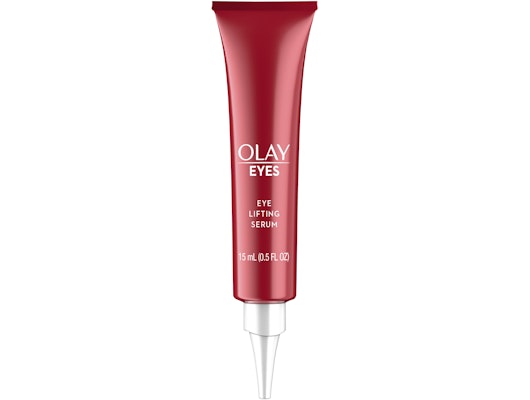 If under eye bags are weighing on you, you might need something like the Olay® Eye Lifting Serum ($30) for support. "[The formula] has peptides, glycerin, niacinamide, panthenol, [and] olive oil," Jaliman says, some of which hydrate and plump skin, making it less likely to wrinkle. "It not only helps with firming the skin around the eye area but also with dark circles."
Additionally, the powerhouse formula smoothes over fine lines, so you can look like you got a full eight hours of beauty sleep (even if you only snagged a two-hour nap before your alarm went off).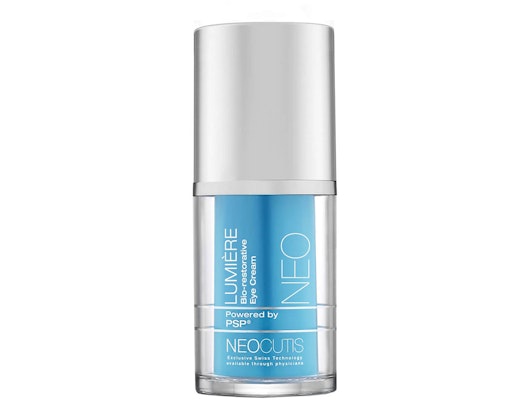 Don't let the mention of "cream" in Neocutis® Lumière® Bio-restorative Eye Cream ($97) fool you — it packs as powerful of a punch against exhausted eyes as a serum, thanks to the Processed Skin Cell Proteins (PSP®)  in the formulation.
"This cream has PSP, which is exclusive to this Neocutis brand," says Jaliman. "PSP is a blend of growth factors and antioxidants." Combined with a dose of caffeine, hyaluronic acid, and bisabolol, PSP works to send eye bags and darkness packing by helping to smooth sagging skin back into place. And while the abundance of powerhouse ingredients might make you believe that the formula would feel heavy on the fragile skin, Dr. Panta Rouhani Schaffer of Gramercy Park Dermatology says it's not the case at all as it quickly sinks into skin to get to work.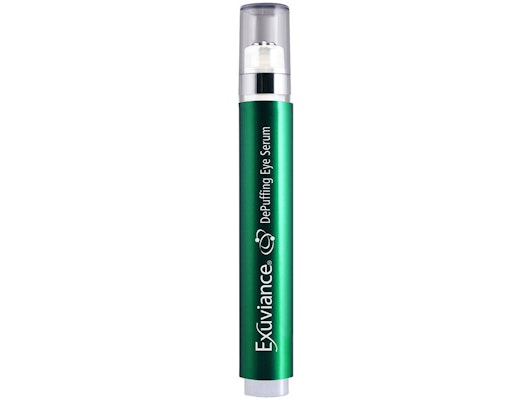 When you're already exhausted, it can be easy to skip a few steps in your routine for the sake of sleep. But even if you forgot to apply your eye care, all you have to do is roll on the Exuviance® DePuffing Eye Serum ($72). (The rollerball packaging boosts the formula's abilities to fight bags as it helps increase circulation with every swipe.)  
Schaffer says the formula itself is "light and refreshing" but doesn't skimp on the all-powerful actives. She points to Eyeliss and Actiflow technologies, which target puffiness and bags within four hours, as well as the caffeine and green tea to revitalize and refresh the eye area so you're ready to greet the day.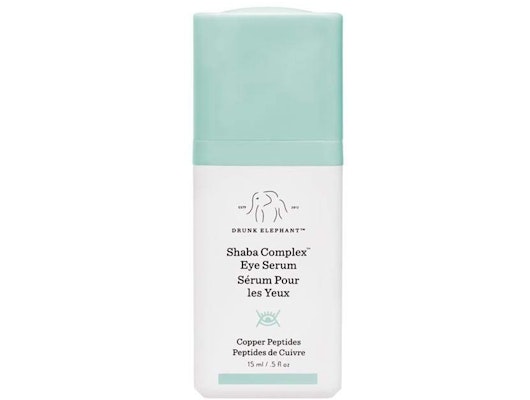 Drunk ElephantTM has quickly become a fan favorite amongst editors and experts alike. While most of its fame can be attributed to its powerfully exfoliating Babyfacial Mask, the rest of its skincare essentials, especially its Shaba Complex® Eye Serum ($60), are worth checking out.
"[The serum] has copper peptides to help support collagen and antioxidants to banish dark circles," explains Dr. Farber. Many of those free radical fighters are thanks to fermented black tea — an ingredient that also eliminates puffiness. Not to mention a dash of Co-Q10, which works to erase dark spots leaving you the very definition of bright eyed.
Some products were gifted to the author for the purpose of writing this article.
Allergan® may receive commission for purchases made through links in this article.
SkinMedica is an Allergan-owned product line.