In this series, Top 11, influential people with share 11 ways they take care of themselves including beauty, skincare, and aesthetics. Knowledge is power!
It's incredibly easy to find yourself curled up with your phone at three in the morning, the room pitch-black, save for the glare of blue light, as you scroll through endless Instagram videos. But if you're a popaholic, those videos are graphic enough to make even the strongest stomach turn weak with nausea.
Until recently, we popaholics — that is, those of us obsessed with watching content devoted to popping pimples — had been forced to scour the internet to find satisfying videos and GIFs. I personally have frequented Reddit's® r/popping subreddit for years, and it was there that I came across the sickening masterpieces of Dr. Sandra Lee, who you may know as Dr. Pimple Popper®. "When I found r/popping, I knew I could be their queen," she told me.
She began posting her patients' cysts, blackheads, and DPOW (dilated pores of Winer, for the uninitiated) and their extractions to Reddit, YouTube®, and Instagram® about three years ago, and the reactions were (pun intended) explosive. "I noticed there were strong feelings for my Instagram posts," she shares. "It was either they were grossed out, or they loved it and wanted more. Either way, they tagged their friends." She has since amassed over two billion YouTube views, 25 million followers across social media, and a television show on TLC, Dr. Pimple Popper.
But of course, these impressive entrepreneurial skills (and grody videos) are all the more admirable because of the trained expertise behind them. Both she and her husband are dermatologists and her father was one, too (and they took over his practice) in Upland, California. "It was just a part of my life, a shadow around me that I just took for granted," she says. "I'm just lucky I knew about how great dermatology was at a younger age than most."
It might sound wild that Dr. Lee's empire was built on something that is inarguably disgusting to most people, but she explains that many of her (again, over 25 million) fans find the content soothing. She's received a lot of positive feedback; plus it can inspire people who pick at their skin to stay hands off. And, in many cases (including mine!), to help them sleep.
"There's a sense of completion, of cleansing," she explains. "I also think it may give some people a little rush . . . similar to what a person may feel from riding a rollercoaster or watching a scary movie. And I think it's fascinating for many people to see what can come out of the skin of a regular, normal, healthy human."
On that same note, however, if you're inspired to see what can come out of your pimples, know that Dr. Lee doesn't recommend you pop them yourself. "I know that most won't follow this recommendation," she admits. "I, instead, insist [you must] 'know when to pop, and know when to stop.'" (Pop: whiteheads, as long as you've sterilized the area and the breakout bursts with very little pressure. Stop: if your blemish requires any serious force to pop.) And unsurprisingly, she advises you start a complete, consistent skincare regimen to keep your complexion clear.
We asked the flawless-faced derm (trust me, I've seen her skin up close!) to share her Top 11 skin essentials and medical aesthetics go-to treatments with Spotlyte, and interestingly, Dr. Lee doesn't have a very rigid routine. "I don't have a ton of products I use every day, but I do love trying and testing new things," she confesses. "This is why I'm having so much fun creating products for my own line." As someone with skin that leans dry, she seeks out deeply moisturizing formulas; but above all, will never leave the house without SPF: "I always make sure to re-apply (on both me, my kids, and anyone else around me!)," she enthuses. Discover her favorite sunscreen and more of her top picks when you read on.
1. SLMD® Salicylic Acid Cleanser ($25): "This is the best-selling product from my line and I personally use it and love it. Salicylic acid is an amazing exfoliating ingredient [that may be used in conjunction with other topical therapies to] really help to lighten up hyperpigmentation and dark spots on the skin. It's great as a face wash, but I personally love to apply it like a mini-mask and leave it on my skin for a few minutes while I do something else, like wash my hair or shave my legs."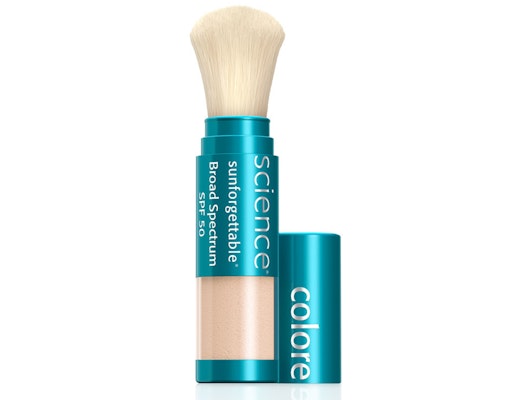 2. Colorescience® Sunforgettable® Brush-On Sunscreen ($65): "SPF is the most important thing you can do for your skin, and this powdered sunscreen makes it so easy to put on and reapply throughout the day. It's a sunscreen and a touch-up powder.
3. SLMD Glycolic Acid Body Scrub ($40): "This is an amazing exfoliating scrub that uses alpha-hydroxy acids to smooth skin and get rid of all your dead skin. It's really great to use if you have keratosis pilaris or rough skin, but if not you can actually use this before you get a spray tan or use sunless tanning products to make sure product applies evenly." [Editor's note: Read our review of it from September 2018 here.]
4. Injectable wrinkle reducers: "I wish I had stock in injectable wrinkle reducers. [Although temporary, they reduce the appearance of moderate to severe wrinkles in certain areas of the face such as the forehead, frown lines, and crow's feet.] Treatment takes just minutes."
5. Injectable filler: "A versatile filler [that can be used on multiple specific areas of the face, it's] used to plump lips, define your cheeks, [and] fill in deep lines and wrinkles. [If you want it to look subtle], but don't want people to know you've had anything done — [choose a credible provider that you trust who has lots of experience injecting it.]"
[Editor's note: Injectable wrinkle reducers temporarily smooth the look of moderate to severe wrinkles in certain areas of the face, including the forehead, frown lines, and crow's feet. Injectable filler is a temporary treatment that adds volume to areas of the face such as the lips, cheeks, and laugh lines. Like any medical treatment, both injectable wrinkle reducers and injectable fillers have potential risks and side effects. Talk to a licensed provider to see if they're right for you. And learn more by chatting now with a trained aesthetic specialist.]
6. Reflective Visor ($10): "We all know sun protection is extremely important. These visors are great for anytime you're outside, poolside, etc. They might look a little crazy, but it's worth it!"
7. SLMD Hyaluronic Acid Serum ($50): "I love [topical] hyaluronic acid and think it's one of the greatest ingredients for everyone to use, just for general skin maintenance and getting that glowy, moisturized skin that we all are after. My HA serum is different from others because the hyaluronic acid is actually dehydrated and then suspended in a solution of squalane (a very moisturizing ingredient), so that it will actually not only hydrate/plump but also provide deep and lasting moisture."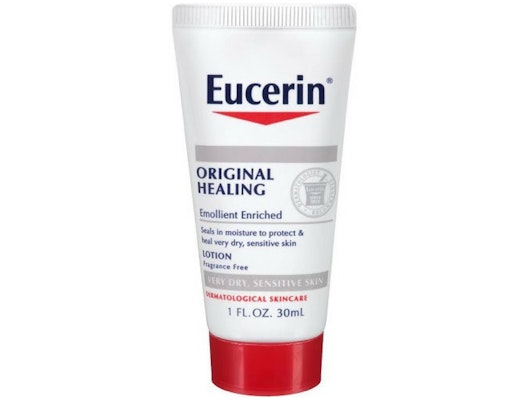 8. Eucerin® Original Healing Hand Cream ($8): "I always have this on me! It's inexpensive and does the job. A lot of hand lotions out there are supposed to be very moisturizing, but contain fragrances, which actually will dry out the skin. This one is completely fragrance free!"
9. Micropen, with and without PRP: "PRP is platelet rich plasma and is used in conjunction with micropen to stimulate new collagen formation, minimizing fine lines and wrinkles. It can even help regrow hair on the scalp!" [Editor's note: Learn more about microneedling here.]
10. A Schamberg-type comedone extractor ($13) : "[This is] the original Dr. Pimple Popper comedone extractor. [It's] used to express blackheads, whiteheads, and milia with the least trauma to the skin!"
11. Fractionated CO2 laser: "This can do so many things for your skin. If I were to have only one type of laser at my office, I would have to choose this one. At a lighter setting, can eliminate brown spots (what people call age spots, but I prefer to call "wisdom" spots), and at higher settings, can help minimize fine lines and wrinkles and lessen acne scarring. Overall, [it] certainly improves the texture and tone of your skin."
Product prices may vary from the time this article was written.
Allergan® may receive commission for purchases made through links in this article.