The other day, a relative stranger complimented my skin. "It looks so glowy," she ogled, to which I waved my hand and mumbled something about it being a "trick of the light." In actuality, my skin has been looking darn radiant as of late (if I may say so myself). In fact, it just so happens that I have recently adopted a new skincare product into my routine: the Peach and LilyTM Glass Skin Refining Serum ($39).
If you're even remotely interested in Koren beauty trends, you're probably familiar with the term "glass skin." According to Alicia Yoon, founder of K-Beauty powerhouse Peach & Lily, the term refers to "skin that looks like a pane of glass: poreless, translucent, luminous, and smooth." Through research I've learned that achieving glass skin is a marathon, not a sprint; that it requires a dedication to multi-step skincare routine, and cannot be achieved in a single product. Nevertheless, it turns out that the Glass Skin Refining Serum may have brought me gloriously close to the glassy look (when used in conjunction with the rest of my routine).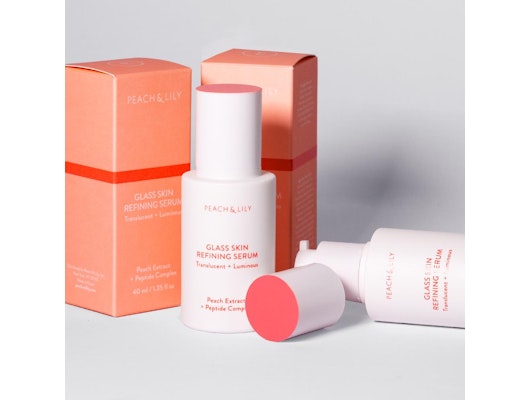 Courtesy
Unlike other serums I'd tried in the past, this one is specifically designed to address the elements of glass skin. Firstly, "hydration on multiple levels," Yoon explains. "All layers of skin get hydrated, thanks to a short, medium, and long-chain blend of hyaluronic acid." In addition to hydration, the serum thwarts inflammation and improves texture and radiance — a combination that supports smoothness and clarity. This is achieved through a blend of secret ingredients: firming peptides, dark spot-correcting niacinamide, vitamin-rich peach extract, and minerals. Additionally, the serum contains lesser-known superstars mountain yam and madecassoside (a popular K-Beauty ingredient and compound found in centella asiatica) to regenerate and soften, respectively.
To use, Yoon recommends cleansing, toning, and then applying the Glass Skin Serum before your moisturizer (and SPF, of course!). The formula has an almost-watery consistency that makes me feel like I'm bestowing a literal glass of water upon my thirsty skin. It absorbs in seconds, and leaves a flash of instant glowy gratification behind. For an extra treat, Yoon suggests giving yourself a quick facial massage as soon as you apply the serum. (Try using a gua sha for a lymphatic drainage effect!)
[Editor's note: If you take blood thinners, talk to your doctor before using a Gua Sha tool.]
"Ultimately, this serum . . . truly transforms [skin] from the inside out — that's why skin looks like glass," Yoon says. "It's not a makeup effect or superficial effect — it's your skin becoming more refined, luminous, smooth, and firmed up, like a pane of crystal-clear glass!" While I'm not ready to ditch my highlighter quite yet, I will say that I've been using less foundation as of late.
It's worth noting that this product is unscented, totally non-irritating, and non-greasy, making it an ideal option for all skin types. I would highly recommend this stuff to anyone who is going for the glass skin look — and for anyone who wants strangers to compliment their complexions, of course.
The Peach and Lily Glass Skin Refining Serum was gifted to the author for the purpose of writing this article.