The world is getting smaller. No longer do you need to travel to Africa for shea butter, Korea for snail mucin, or Morocco for blue tansy. Instead, you can snag these ingredients at your favorite skincare store. Even if you've yet to experience the lattermost ingredient (sometimes referred to as Moroccan Chamomile), chances are you've at least seen it. After all, the stuff boasts a striking aquamarine hue (which only looks like it has been spiked with food coloring).
According to Courtney O'Connor, a Holistic Esthetician for blue tansy-centric brand, Primally Pure®, this signature shade comes from azulene — a naturally-occurring compound that can be extracted by steam-distilling the plant. (Otherwise known as Moroccan Camomile, the plant itself is originally yellow). In addition to its colorful curb appeal, the azulene from blue tansy has been touted for its array of skincare splendors.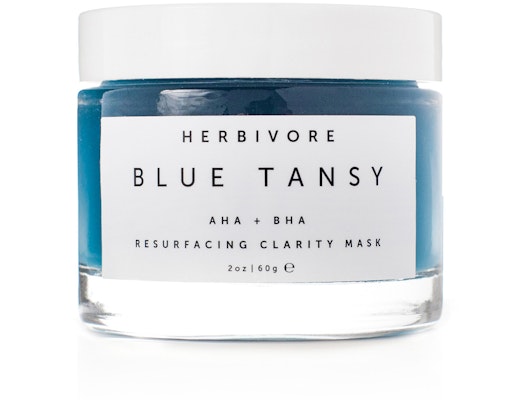 It's Skin-Soothing
For starters, it soothes inflammation. Given that blue tansy is a member of the chamomile family, this quality isn't exactly surprising. "Blue tansy can benefit conditions such as eczema, psoriasis, dermatitis, and acne," O'Conner says. If your skin is prone to inflammatory acne, consider the Herbivore® Blue Tansy Mask ($48), which contains blemish-busting salicylic acid in addition to its soothing hero ingredient.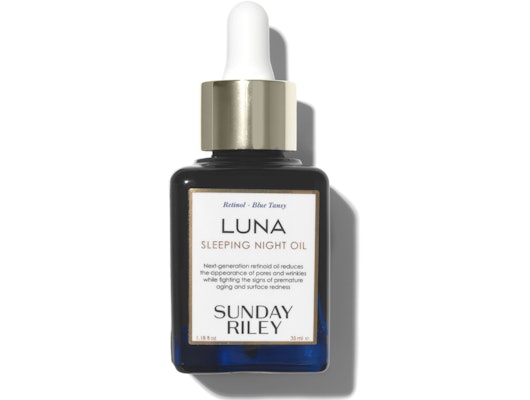 On a similar note, blue tansy can soothe many types of irritation. Whether your skin is feeling raw from hitting the slopes, or it's irritated from adding an ingredient like retinol to your routine, azulene could bring it back to equilibrium. One example of such products is the cult classic Sunday Riley® Luna Sleeping Night Oil ($105) which relies on azulene to balance its (potentially irritating) retinol content. As a result, you could say this blue elixir thwarts redness, O'Conner notes. For extra-sensitive skin, try the Primally Pure Blue Tansy cream ($40), which is loaded with jojoba oil for additional nourishment.
[Editor's note: Retinol shouldn't be used by those who are pregnant, considering getting pregnant, or nursing. Please consult with your licensed provider before use. And, as always. talk to your licensed provider before starting any new treatment.]
It's Brimming With Antioxidants
Even if your skin is not sensitive or acne-prone, blue tansy can still give it a significant boost. The ingredient is chock full of antioxidants — which help to protect skin from environmental damage.  "[These antioxidants] support skin regeneration at a cellular level, increase radiance, and even out skin tone," O'Conner explains.
It Can Give You a Zen Escape
If you're attracted to skincare that smells like a spa, it's worth noting that blue tansy has mild aromatherapy benefits. "It has a floral and slightly fruity scent, which can help calm your mind and boost your mood," O'Conner believes. (Incidentally, she credits our increasingly stress-filled lives as a reason aromatic, essential-oil infused skincare seems to be spiking in popularity lately).
 Try a balm like May Lindstrom Skin® Blue Cocoon ($180), which envelops skin in the soothing scent and supreme softness. A little bit goes a long way, so consider it an investment for the long-term.
 As O'Conner sums up: "The word is finally out, Blue Tansy works — and it works wonders." Go on, tell your friends.
 Some products were gifted to the author for the purpose of writing this article.
 Allergan® may receive commission for purchases made through links in this article.
Product prices may vary from the time this article was written.