It is raining in New York City. When I arrive at Nina Davuluri's apartment, she greets me warmly as if I am an old friend (never mind that I am a relative stranger; dripping NYC rainwater on her floor). Her glossy black hair is half done and her skin looks impossibly luminous. Inside, her abode is fittingly cozy: holiday lights (despite being two weeks from Thanksgiving), a spicy aroma wafting from an autumnal candle, a dog bed where her rescue pup, Dobby, usually curls up. "He's on vacation — staying with my mom," she explains, gliding back to a corner where a stylist finishes her hair for our shoot.
Not only is Davuluri ethereally beautiful, but she is also incredibly driven. Since becoming the first Miss America of South Asian descent, the 29-year-old  has started her own skincare brand, Aavrani®; created a social media campaign highlighting diversity awareness; and traveled the globe to promote women's empowerment in the workplace.
After she snaps a few (stunning) shots, Davuluri joins me on her couch. We chat — about her natural skincare line (editor's note: it's good), as well as some topics that are beyond skin deep.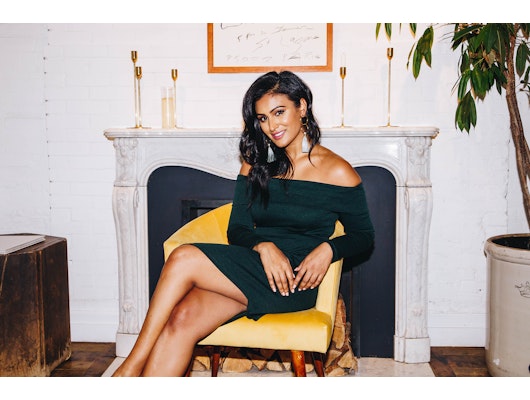 Joslyn Blair
On her journey to becoming Miss America
Spotlyte: What inspired you to compete in Miss America?
Nina Davuluri: I started competing initially for scholarship money. I earned a little over $90,000 in scholarship money through the Miss America organization. Because of that money, I was able to graduate debt-free. Every young woman who competes is required to be in college or be pursuing a higher education.
[Secondly], I grew up watching Miss America and noticing that there was no one who really looked like me. I didn't have blonde hair, I didn't have blue eyes. I think the closest person I had in representation was Vanessa Williams. Ironically, she was Miss Syracuse, and I was Miss Syracuse; and we were both two historic Miss New Yorks and historic Miss Americas. I definitely fangirled when I met her!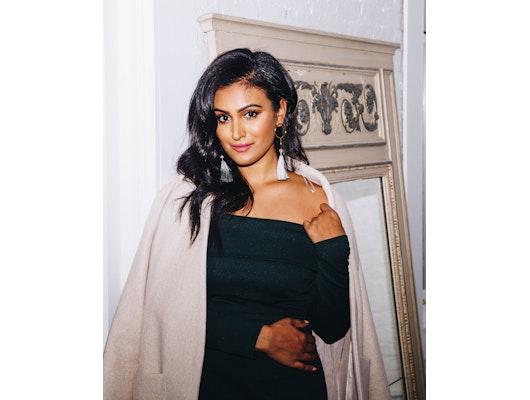 Joslyn Blair
On how far diversity in beauty has come — and how far it has to go
Spotlyte: How did it feel to be the first woman of Indian descent to win Miss America?
ND: I wanted to be the first South Asian to win the title because there was such a lack of diversity. It was really about reaching out to that young girl who I knew was watching Miss America the night I win, and for her to say, "This year, Miss America looks like me." As nice as it was that I won — and of course it was a dream that came to fruition — it really was about all of us.
Do you think there is still a lot of work to be done?
ND:
Oh, my goodness, yes. The night I won, I received a lot of xenophobic comments. I was called a terrorist, Miss 7-11. As it is, I think I took it as an opportunity to really educate and to grow my platform and start a campaign called
Circles of Unity
. I didn't just wake up as Miss America and was like, "Okay, I'm going to be the poster child for diversity now." It was truly something I had experienced my entire life, but advocated for officially now for six years.
Spotlyte: Can you tell us a little bit about Circles of Unity?
ND: It was a social media campaign that I started. I asked everyone to tweet me their thoughts, videos, pictures — and also 'gram them, of course — of what they think it means to be culturally aware. [I also asked them to share] something about their culture. I've experienced people who were like, "I'm pretty [boring]. I don't have anything to share." And I've said, "Yes, you do! Everyone has something — even if it's as simple as a family tradition. That's something you should be sharing."
Spotlyte: How has your Indian heritage affected your approach to beauty and skincare?
ND:  [My heritage] definitely played a huge part. And growing up, I used to do DIY masks. Turmeric was such a staple in our household.
Spotlyte: How would you use it? Just mix it with water?
Yes! [But] if you do a DIY turmeric mask at home, it can leave a yellow stain [on your skin] for almost 24 hours! And so I would have to plan, like, "okay, do I have an event? Am I going to be on a flight?" [When] formulating the
Aavrani Glow Activating Exfoliator
($70) it was essential to have all the benefits of turmeric but to take out that yellow stain.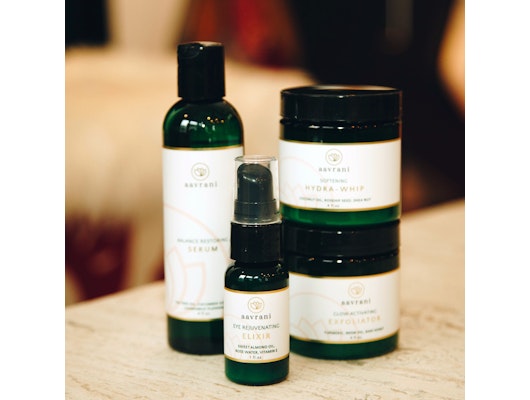 Joslyn Blair
Spotlyte: Noted! Any other ingredients that made an impression on you growing up?
ND: Coconut oil was a huge one. My grandmother would always put it in my hair. And there was a time when I really was adverse to those ingredients. I remember when I was in school, if I went with coconut oil, [my classmates] would be like, "Oh, your hair is so greasy."
Spotlyte: How did you react to those types of comments?  
ND: Bullying is a very real thing that unfortunately continues to happen, even more so today. [At the time,] I wanted what everyone else was using at school. I remember begging my mom to buy me an astringent that would sting and burn when you put it on your face. [It was bad] but it was the thing in middle school.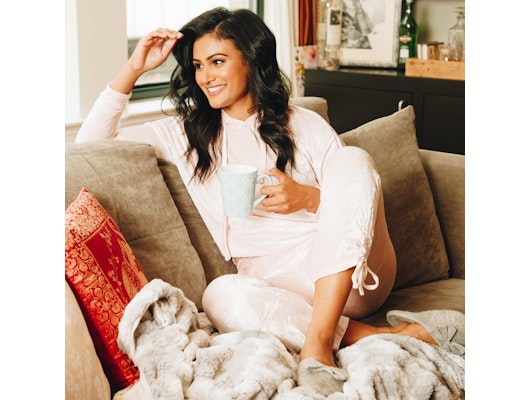 Joslyn Blair
Spotlyte: Tell us a little bit about your personal skincare routine, and how you discovered what works for you?
ND: When I was Miss New York, I actually had a wonderful skincare sponsor, [but] unfortunately I had an allergic reaction to one of the ingredients that they were using. That was probably the most obsessive I was with my skin. In preparation for Miss America, I just remember thinking, "I can't believe I don't even know what I'm using on a daily basis."
And so [I focused on] really going back to clean ingredients — using ingredients that I knew worked for me. And a lot of them were Indian inspired . . .  the turmeric, coconut oil, neem, and almond oil [that] were really key in my routine.
Spotlyte: What would you say to natural skincare naysayers?
ND:  [Natural ingredients] really do work. Also, you're not going to see a miraculous difference overnight [with any skincare]. And that's just the truth. It really [requires] consistency. Skincare now is so much more encompassing of lifestyle and health. There's so many key aspects of your diet, fitness, and lifestyle that plays into skincare, and how you really have to glow from the inside out.
Joslyn Blair
Spotlyte: Do you remember the aha moment in deciding to actually make
Aavrani
into a luxury brand?
ND:  Yes. I've had a couple, because this has been something that has really been of interest to me in a lot of ways. Turmeric is in almost every single Indian dish, as is coconut oil. So we have had these benefits for years — it was time to really be able to showcase them in a luxury format and say, "Hey, this actually works."
On feeling the need to "prove" herself
Spotlyte: As a pageant winner, did creating a beauty brand just seem like the next logical step?
ND: I remember thinking, "If I start a beauty brand, is that going to diminish my message?" I worked very hard to be a speaker and advocate. Sometimes, I walk into a room and there's already a certain stereotype of who people might think I am. So for me, that was the struggle that I had.
Spotlyte: How did you overcome that feeling?
ND: I realized that I was putting limitations on myself. I can do both [have a skincare brand and be an advocate].
Spotlyte: You mentioned glowing from the inside out. What other things do you like to do in terms of lifestyle to get luminous skin?
ND:
Oh, my gosh, so many things, but definitely [drinking] water. I notice a difference. I'm traveling almost every week in some way, shape, or form. If you're on a flight, you need more water. I think everyone is jumping on the
in-flight skincare routine
, which is a very real thing!
Spotlyte What about nutrition?
ND: I think a lot of your eating habits play in to it. I've transitioned to mostly plant-based eating. I was in Bordeaux two months ago on a sisters' trip, and I was like, "I'm going to have wine and cheese." So I can't say I'm 100 percent [plant-based] all the time, but majority of the time — I would say that 80/20 is what I try to live by. I've definitely noticed a huge difference in my skin.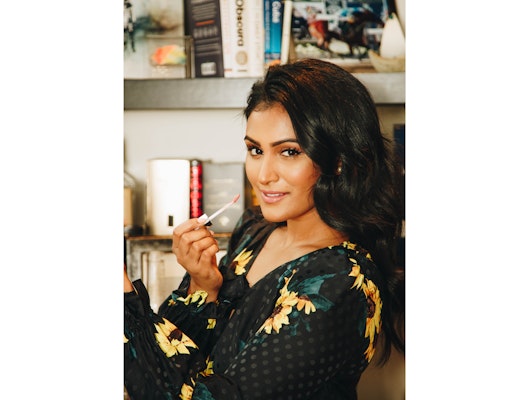 Joslyn Blair
On making "I" Beauty a thing — and what that means to her
Spotlyte: Your skincare brand seems to view skincare as a ritual — not a chore. Was that an intentional choice?
ND:
As women in general, we are stretched so thin in so many different ways. [At
Aavrani
] we are actually coining the term "I beauty." Of course, it's Indian inspired, but more than that — [it's about] self-care, self-love, and creating this movement around that. With our careers, lives, families, we so often forget to take care of ourselves or even consider "I." Creating that movement is definitely a huge part of
Aavrani
.
On her personal beauty and skincare routine
Spotlyte: As far as other things for your skin, do you like facials or laser, is there anything else that you swear by?
ND: I haven't gotten a facial in a long time, but I try to at least get one every couple months. But nothing fancy. I've learned simple is the best. Until I really feel a need for something, I don't want to necessarily try it just to try it.
What I'm really looking into is laser hair removal, particularly for my face. I've had it on my body, and I've really enjoyed it, especially having dark hair and Indian skin and all of that. But my face is something that I want to be more cautious about.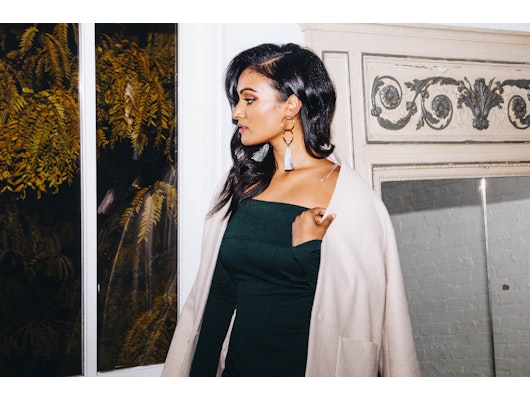 Joslyn Blair
Spotlyte: You love good skincare; would you also consider yourself a makeup person?
ND:
Yes, I'm totally a makeup person! I had a lesson with
Makeup by Mario
[Mario Dedivanovic] before I went to Miss America. It changed my life. He is amazing and just has such an eye. The hardest thing for me is to find a makeup artist who understands different skin tones. Mario introduced me to some great products.
Spotlyte: Such as?
Spotlyte: Why did you decide to create a skincare brand instead of a cosmetics brand?
ND: I love [both] skincare and makeup. [Deciding which to do] was also [about] tackling this idea of what natural beauty is. In India — and in many developing countries within South Asia — skin lightening is a billion dollar industry. The lighter skin you are, the more beautiful you're considered.
People use bleaches, toxic chemicals, and treatments — it's just crazy to me. Especially within India, the lighter your skin is, unfortunately, ties to how successful you are. It's a very deep-seated issue within our culture. I'm considered [to have] very dark skin, and I'm very proud of it. This underlying movement needs to happen with a beauty brand that speaks to my generation and younger generations. Hopefully we are creating that movement.

The morning after I won, there was an international headline that said "Is Miss America too dark to be Miss India?" And I remember thinking, "Well, I don't want to be Miss India, but that being said, why is this still so pervasive?" When someone succeeds, we automatically critique them on their beauty standards. And we're not recognizing or acknowledging them for their achievements. I know that the Miss America aspect kind of opens that door, but there are many other facets to it.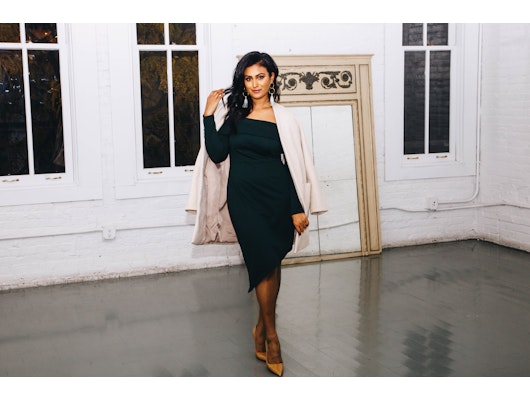 Joslyn Blair
Spotlyte: Have you ever felt the need to "prove" yourself because of the Miss America stereotype?
ND: Every day, yeah. I've gone into meetings where I've chosen not to mention it. I've left it off of my resume. It's unfortunate because it is such a great program. I gained so much from it, and I wouldn't be here without all of it.
Spotlyte: Had you not entered Miss America, what do you think you would have done instead?
ND: I think I would have probably been in medical school. My life certainly took a lot of turns. At the end of the day, Miss America has gotten me into certain rooms, for sure . But I've always had to prove that I belong in that room. Understanding who you are, what you want to do, finding that, and being able to prove yourself within that realm is really important.
Spotlyte: How would you define yourself?
ND: Definitely a speaker and advocate. Entrepreneur. I feel like I've been even building my own brand through Miss America, and then after finding my brand and then starting a brand, it's been something I've loved. I've loved the creative process behind everything, too.
Allergan may receive commission for purchases made through links in this article.