I've visited many doctors' practices throughout my lifetime, but just once have I sat down in a clinician's office only to leave feeling like I just spent my time meeting with a friend — or even a sister. The professional to earn that distinction? Dr. Yoon-Soo Cindy Bae, associate physician at the Laser & Skin Surgery Center New York® and Clinical Assistant Professor at NYU.
The 30-something board-certified dermatologist has a bedside manner that not only puts her patients at ease, but makes them laugh — even when she's approaching their faces with a needle. (Trust me, I've seen this first-hand!) As it turns out, laughter is part of Dr. Bae's self-care philosophy. Here, she shares more tenets of her credo when it comes to treating your complexion, the importance of SPF, and how her skincare regimen has changed since having her daughter (spoiler: it hasn't).
Spotlyte: How did you first become interested in skincare?
Yoon-Soo Cindy Bae: This is so cliché, but when I was a teenager, I struggled with acne. All the women in my family practiced the multiple-step Korean skincare routine, but that was the norm.
Spotlyte: When did you decide to become a dermatologist?
YB: During medical school, when I encountered disfiguring scars in the hospital after skin cancer surgery. From that moment, I became fascinated with dermatologic procedures, especially those that restore patients' confidence.
Spotlyte: What is your advice to anyone that wants to pursue a career in dermatology?
YB: Work hard, study hard. If you really want to do it, be persistent and you will get there.
Spotlyte: What is the most rewarding part of your job? What is the most challenging part?
YB: The most rewarding aspect is the immediate gratification from procedures like filler injection, and [treating] cancer utilizing Mohs micrographic surgery or excision. The most challenging part is helping to educate my patients who get confused with all the marketing and misinformation pervading online.
Spotlyte: What skincare products do you put on your face every day and why?  
YB: Sunscreen, antioxidants, and a retinoid. Why? Prevention and self-preservation. I'm currently washing with Cetaphil® Extra Gentle Daily Scrub ($18 for two tubes), then applying SkinCeuticals® C E Ferulic ($166) followed by iS Clinical® sunscreen. Sometimes I will use Elta MD® tinted sunscreen ($29) as well.
[Editor's note: Retinol shouldn't be used by those who are pregnant, considering getting pregnant, or nursing. Please consult with your doctor before use.]
Spotlyte: Do you have a thorough evening regimen?  
YB: At bedtime, I wash with Neutrogena® salicylic acid cleanser ($20 for three), then use a pea-size amount of Differin® gel ($12) all over my face followed by SkinMedica® TNS Essential Serum® ($225) with Alastin Skincare® eye cream ($85). Once a week, I use a chemical peel, usually salicylic acid. And I also alternate with Neostrata® AHA Face Cream Plus 15 ($50). It depends on the season, too — when it is colder, I will use a thicker moisturizer like La Prairie® Skin CaviarTM ($235).
Spotlyte: What skincare ingredients do you really believe in?
YB: Sunscreen daily, because scientifically, we know what UV rays do to the skin — damage DNA, which can cause skin cancer. It also causes skin aging. I always tell my patients to Google "truck driver skin" to see what the sun is capable of. Many patients ask me about anti-aging and I tell them sun protection is key.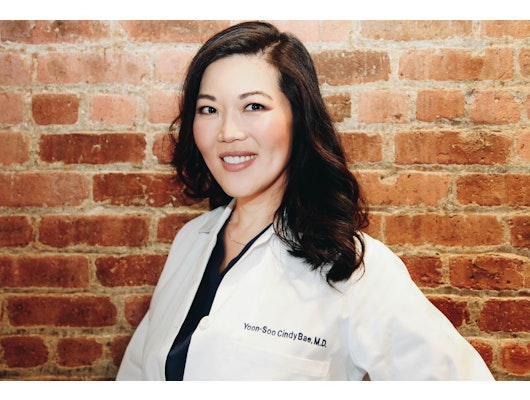 Joslyn Blair
Spotlyte: What is the top piece of skincare advice you'd want to share with our readers?
YB: Please wear sunscreen daily, regardless of what activities you do or do not do. Many of my patients tell me, "but I am indoors all day." I have to remind them they got indoors by way of being outdoors. Also, sunlight through windows and reflection all count.
Spotlyte: Have you tried cosmetic injectables? If so, when did you start, why did you start, and where do you do it?
YB: Yes, I started as a resident because I wanted to try it — especially if I was going to administer it to my patients, I wanted to know how it felt and what to expect. With injectable wrinkle reducers, I treated my glabella and forehead. With filler, I tried it many years ago in my cheeks — to also be able to experience it, like my patients.    
[Editor's note: Injectable wrinkle reducers temporarily smooth the look of moderate to severe wrinkles in certain areas of the face, including the forehead, frown lines, and crow's feet. Injectable filler is a temporary treatment that adds volume to areas of the face such as the lips, cheeks, and laugh lines. Like any medical treatment, both injectable wrinkle reducers and injectable fillers have potential risks and side effects. Talk to a licensed provider to see if they're right for you. And learn more by chatting now with a trained aesthetic specialist.]
Spotlyte: What are common misconceptions about injectables? What is the truth?
YB: That you "won't look like yourself," but this is more of the exception [than the rule]. Therefore, it is important to communicate with your dermatologist and develop trust.
Spotlyte: What other treatments do you get done (laser, facials, etc)?
YB: I try to laser my face (specifically, Fraxel®) for rejuvenation every few months, as well as perform chemical peels on myself. I have also performed laser hair removal on my body, which is a game changer!
Spotlyte: You're a new mom — how has your skincare regimen evolved with parenthood?
YB: My skincare has not really changed. There is no excuse to become lax with our skincare regimen. If you don't take care of your skin, who will? There are products I have avoided due to pregnancy, but overall, I continue my regimen and add new products as I receive them to sample and try.  
Spotlyte: When you have limited time for self-care, how do you treat yourself?  
YB: I try to definitely pamper myself once in a while by getting full body massages. In addition, I try to work out (particularly run) and eat well. Part of self-care is also surrounding yourself with your friends and having a good laugh.
Spotlyte: If you weren't a dermatologist, what would you do?
YB: I would be a filmmaker/director.
Spotlyte: When do you feel your most beautiful?
YB: When I am happy and healthy.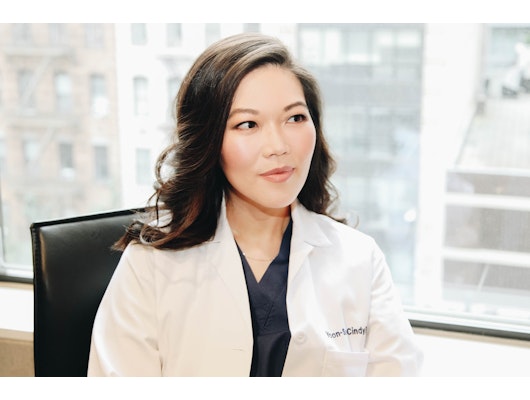 Joslyn Blair
Allergan may receive commission for purchases made through links in this article.
SkinMedica is an Allergan-owned skincare line.