Chances are, you remember the exact moment you spotted that very first forehead wrinkle. You looked in the mirror, ready to apply your makeup, and there it was, right in the middle of your forehead. Whether or not to fight forehead furrows is your call. But if you decide to take on the fight, take note of these at-home and in-office treatments. Below, seven ways to camouflage, soften, and smooth those unwanted lines.
iStock / Vladimir FLoyd
In-Office Treatments
There are several options for in-office treatments to deal with forehead lines. Injectable wrinkle reducers are FDA-approved to temporarily treat moderate or severe wrinkles (more on that below). Others can otherwise help improve the appearance of the skin in that area.
Injectable Wrinkle Reducers
This injectable treatment combats moderate to severe forehead wrinkles. "Injectable wrinkle reducers prevent our nerves from signaling our muscles to contract," says NYC-based dermatologist Dr. Joshua Zeichner. "Without the signal, [muscle activity is reduced] for several months at a time."
[Editor's note: Injectable wrinkle reducers are used to temporarily smooth the look of moderate to severe wrinkles in certain areas of the face such as the forehead, frown lines, and crow's feet. They should not be used more frequently than every three months. Like any medical treatment, they have potential risks and side effects. Be sure to talk to a licensed provider to see if they're right for you. Have more questions? Chat with our team of trained aesthetics specialists now.] 
Lasers
"There are a variety of skin-resurfacing lasers that can improve the appearance of lines and wrinkles, but my workhorse laser is the Fraxel®," Zeichner says. "The laser works on a small area of the face, punching microscopic holes in the skin, creating a control wound, and taking advantage of the skin's ability to heal itself up with new healthy collagen. By treating only a fraction of the skin surface, Fraxel can provide results with much less downtime." Learn everything you need to know before getting a fractional laser treatment like Fraxel, then read more about different types of skin lasers, here.)
HydraFacials
You may have heard of the pore-sucking, glow-boosting HydraFacial®, which works to cleanse, plump, and regenerate the skin with stimulating ingredients and a gentle peel. (Read our Editorial Director's review, here.) For instant wrinkle-smoothing results, try the HydraFacial Dermabuilder add-on, which uses a blend of peptides to help address fine lines and other texture concerns.
"The Dermabuilder has skin-smoothing results that last for a few days, making it the perfect pre-event treatment," says Jane Ruffo, the esthetician at Omni Aesthetics in Oakland, NJ.
At-Home Options
You may not be ready (or have the time!) to try one of the in-office treatments above. If so, no need to despair. There are still things you can do from the comfort of your own home.
Retinol-Packed Products
Whether it's prescription or over-the-counter, retinol is a must-have in your wrinkle-fighting arsenal. The super-powered ingredient — a derivative of vitamin A — works to speed up cell turnover and skin renewal in order to fight — and prevent — wrinkles. Try the Elizabeth Arden® Retinol Ceramide Capsules ($84) — the powerful-yet-gentle formula pairs skin-smoothing powerhouse retinol with ceramides to ensure skin is nourished, not stripped. Plus, the treatment is encapsulated in single-dose ampoules, so you'll know exactly how much to apply every time.
[Editor's note: Retinol shouldn't be used by those who are pregnant, considering getting pregnant, or nursing. Please consult with your doctor before use.]
iStock / Andrey Popov
An At-Home Microcurrent Treatment
There's a reason celebrity-favorited estheticians swear by microcurrent treatments. "Microcurrent is capable of facial stimulation, sending soft, gentle waves through the skin, tissues, and down to the facial muscles," explains NuFace® co-founder Tera Peterson. The result: smoother, tighter, and more lifted-looking skin.
Thankfully, you don't need to be an esthetician (or book an appointment with one) to reap the rewards of microcurrent. At-home devices like NuFace make it simple to DIY the treatment yourself. Peterson recommends using her brand's tool for five minutes a day, every day, for maximum results.  
A Really Tight Ponytail
There might be a reason why ponytails are a go-to hairstyle for celebrities gracing the red carpet. With enough grip, a super-tight style can pull the skin on the forehead back, giving the illusion of an instant facelift. Just don't rely on this handy trick too regularly — it could cause undue stress to your hair follicles and even cause hair loss over time.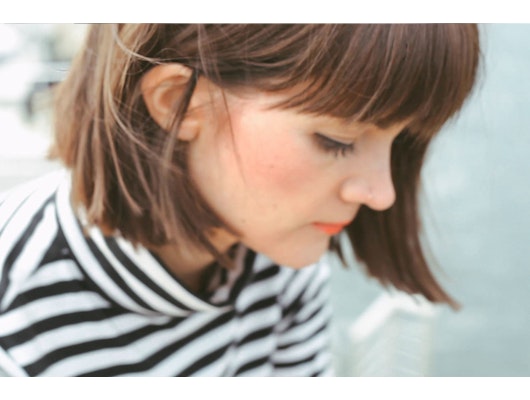 iStock / Treasures & Travels
Bangs
If you're looking to effectively hide any forehead lines but also need a fairly low maintenance option, try a new hairstyle instead. With the right fringe, you'll flatter your face and hide forehead lines. Just make sure to find a stylist you trust to make the chop, and have a few inspiration photos on hand when you do. After all, if you're aiming for bangs a la Zooey Deschanel's, you don't want to leave the salon looking like Winona Ryder's character in Beetlejuice.
Some products were gifted to the author for the purpose of writing this article.
Allergan® may receive commission for purchases made through links in this article.