For some, trying medical aesthetics treatments for the first time can be nerve-wracking. Not because of a fear of the procedure itself — but because of concerns of what others might say. Here, an anonymous New Yorker trying her first injectable wrinkle reducers tells writer Maria Del Russo why she waited to tell her husband about her treatment.
I grew up in a world where being "natural" was the way to go. My mom is 70 years old and hasn't done anything. (She is such a perfectionist about everything that I don't think she ever trusted anyone to touch her face.) But about two years ago, I started noticing that a lot of people I knew were getting injectable wrinkle reducer treatments.
I have one of those faces where I get the big, horizontal lines across their forehead. (My dad definitely has one of those, too.) Plus, I've always had side-swept bangs, and when I started to grow them out, I noticed the lines more. It was around this time that I began considering my options, including medical aesthetic treatments.
---quiz start
---quiz end
Interestingly enough, my husband's mother, who I'm close with, does all of this stuff. She gets filler, Fraxel® (a fractional laser resurfacing treatment), and injectable wrinkle reducers. Because my husband grew up with a mom who was open about trying medical aesthetics, I thought he'd be fine with me trying it. I'd floated the idea of injectable wrinkle reducers to him, and he told me it was ridiculous. "You look great," he'd say. "Don't put that in your face. You look fine." So I knew he wasn't really on board.
[Editor's note: Injectable wrinkle reducers are used to temporarily smooth the look of moderate to severe wrinkles in certain areas of the face such as the forehead, frown lines, and crow's feet. They should not be used more frequently than every three months. Like any medical treatment, they have potential risks and side effects. Be sure to talk to a licensed provider to see if they're right for you. Have more questions? Chat with our team of trained aesthetics specialists now.]
One day, my boss was having an injectable wrinkle reducers "party" at her apartment with this woman who was a nurse practitioner. She assists a very fancy Upper East Side doctor, and also had a side practice where she did injectable wrinkle reducer treatments. If you got enough women together for a party, you'd get a discount.
[Editor's note: Not all experiences are the same. We recommend seeking out a licensed provider and having your treatment administered in a doctor's office, clinic, or medispa. Injectable wrinkle reducers should also not be used more frequently than every three months.]
Someone who I trusted vouched for this provider, which was important to me. But the cost was also a huge factor. My husband and I do share a bank account, so I couldn't just hide a $500 charge. For those reasons, I thought that this party might be a good place to experiment with it.
The day of the injectable wrinkle reducers party was the Kentucky Derby, so my boss had positioned it as an "injectables/Derby" get-together. I decided to tell my husband that she was having friends over for the Derby, and that it was just a girl's thing. But the funny part was that I had a little bit of guilt. I was a good girl in high school, and I have a guilty conscience for no reason. I was feeling like I was doing this crazy thing and that no one knew.
I wound up texting my mother-in-law to unburden myself and to let her know all of the details. (She was super supportive, which was nice.) Even better, I thought the price was reasonable, which made me feel less guilty. I also felt like I had someone who knew about it — so my nerves were settled.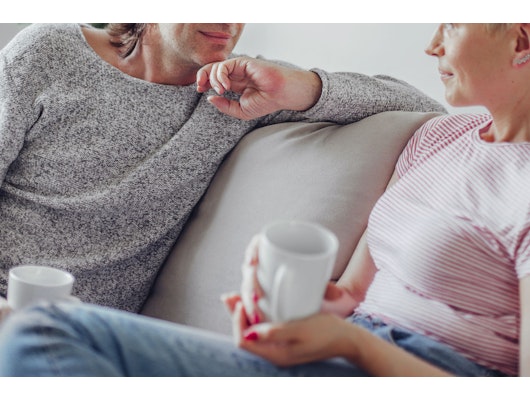 Stocksy United / Studio Firma
When the nurse did it, she wound up giving me several shots in my forehead. She told me that once the treatment took hold, I would still able to move my eyebrows, but I wouldn't be able to scrunch my forehead all the way to where I had lines. After the treatment,  I didn't want my husband to ask why my face was all bruised, because then I'd have to tell him what I did.
[Editor's note: Consult with your doctor before taking any medications before or after your injectable wrinkle reducer treatment.]
So, I went home and acted totally normal. After several weeks, the injectable wrinkle reducers kicked in. I was still able to make expressions! I was super happy with my results. But the guilt in me was starting to rear its head, and I felt like I'd lied to my husband.
One night, a few weeks after I'd gotten the treatment, my husband and I were sitting on the couch. And I turned to him and said, "I have to tell you something." And he looked at me and said, "OK," very nervously. So I asked if he'd noticed anything different about me, and he assumed I'd had my hair cut. He had no idea.
But I just blurted everything out. I told him about the injectable wrinkle reducers party, that I'd told his mom, and that it wasn't permanent, so he didn't have to worry . . . and didn't it look smooth? I word-vomited the whole thing. He just rolled his eyes, and was like "Really? You lied to me about that?" But I explained to him that I wanted to prove to him that the results can be subtle "And look," I said. "It's been a [few weeks], and you haven't even noticed." He laughed, and then asked me how much this new habit was going to cost us. It was totally fine.
Despite all this, my husband doesn't think I have to do these kinds of procedures — no matter how many times I try to explain it to him. He's a little judgey on that piece of it, and I think a lot of men are like that, in a way. There's this stigma around these kinds of things. He also just worries about cost, because I'm spending money on something he doesn't see as "necessary." He doesn't understand it.
But now, he doesn't really care. I've gone in for more injectable wrinkle reducer treatments, and when I tell him, he's like, "You know I hate this topic. Why are we talking about it?" So it's just kind of resignation on his part. It bothers me that he's not on board, but I understand why he isn't, and I feel comfortable continuing to do it anyway.
There are all kinds of relationships out there. I didn't feel comfortable keeping this from my husband. But I definitely don't think that a woman should feel obligated to tell her partner about procedures like this if she doesn't want to. It really just depends on your relationship, and there's no right or wrong way to go about this. This is what worked for me, but that doesn't mean it should be the "rule" for everyone else.
[Editor's note: While this person had a positive experience at an injectables "party," not all experiences are the same. We recommend seeking out a licensed provider and having your treatment administered in a sterile, clinical setting.]