In a world where one is always charged extra for guacamole, you might think that a skincare product comprised of 70 percent avocado would cost a small fortune. But thanks to the new Glow Recipe Avocado MeltTM Sleeping Mask ($45), you can slather the green goodness all over your face for under 50 dollars.
In my opinion, the product is on track to become as buzzy as the brand's Watermelon Glow® Sleeping Mask ($45), which, as skincare buffs may recall, Glow Recipe could hardly keep in stock. Like its pink predecessor, the new avocado mask is housed in a beveled glass jar that's pretty enough to leave sinkside.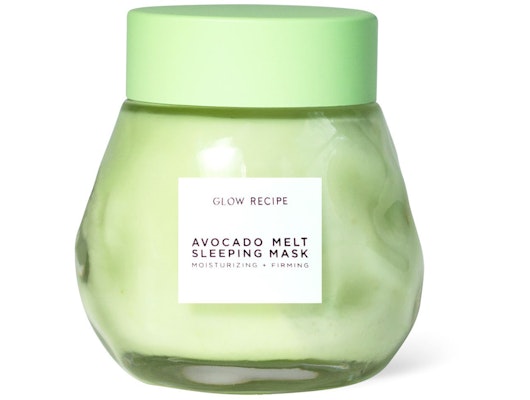 I wouldn't say the formula smells like guac, per se, but I would agree that it has a certain zesty freshness that's unique to avocados. Pair that with its creamy, cool texture, and this stuff is a joy to apply. That said, its sensorial splendor is merely the garnish atop a highly effective skincare product. Prepare to reveal petal-soft skin, courtesy of an unexpected, yet wonderful mix of avocado (rich in good fats), honey (a humectant and antibacterial ingredient), and PHA.
No, that last one is not a typo. Rather, PHA is a category of acids popular in Korea and is beginning to appear in skincare around the globe, according to Glow Recipe Glow founder Christine Chang. Short for polyhydroxy acid, PHA is gentler than the other skincare acids. According to NYC-based dermatologist, Dr. Joshua Zeichner, the ingredient works to loosen dead skin so that it can naturally shed and reveal a glowy, fresh face underneath. Combine that with intensely nourishing avocado and honey, you have a recipe for glowing success.
To use it, you have two options: a quick treatment or an overnight mask. The first requires an ample dollop of product; enough to cover the face in a thick layer. Wait 10 minutes, rinse off, and prepare to experience seal-like softness. As with many acid-spiked skincare products, expect this stuff to tingle. And don't be alarmed if your skin is slightly pink post-use (it's a small price to pay for the impending suppleness). Since it's so mild, this masking method can be used a few times per week.  
For the overnight alternative, apply a fingernail-sized scoop in a thin layer right before you hit the hay. Rinse off in the AM, and expect skin that's so darn velvety, it hardly needs much additional moisturizer for the day ahead. (Truly.) The nightly method can be used — well, every night. This is because it only requires a small amount of product, and should therefore not over-sensitize skin.
Personally, I'm a fan of the overnight method — though I'd recommend globbing it on if you're in need of a quick skin refresh before a night out. Ultimately, it's a choose-your-own-adventure kind of mask. Just don't eat it.
Dr. Joshua Zeichner is a paid Allergan® consultant.
The Glow Recipe Avocado MeltTM Sleeping Mask was gifted to the author for the purpose of writing this article.
Allergan may receive commission for purchases made through the link in this article.