From scrubbing them to slicking them with balms, our lips generally enjoy a lot of pampering care. But sadly, we tend to neglect the skin surrounding our lips until it's etched with vertical lines. "Lines around your mouth casts subtle shadows," explains permanent makeup artist Dominique Bossavy, which can make them look darker and deeper. 
To help improve the look of these frustrating lines, we've looked into five different methods that can improve the appearance of the areas around your pout. Read on!
Microneedling
Microneedling— a treatment which punctures the skin to create micro injury and spur collagen production — has gained popularity as a solution to wrinkles, laxity, and even acne scars. The treatment can also drastically improve the appearance of the area around the lips, particularly when combined with a radiofrequency laser.
According to Dr. Ava Shamban, microneedling stimulates new collagen formation, thereby plumping up the skin around the lips. Moreover, Shamban takes advantage of post-microneedled skin (which is susceptible to deeper product absorption) by applying super-concentrated anti-agers to the area, such as vitamin C.
Another option is a DIY device such as the GloPRO®Lip Edition ($187). The device may not spur collagen production in the way that an in-office treatment would, but it does create microchannels for anti-aging products to absorb more easily. The result: smoother-looking lip lines around the mouth.
Lasers
Fractional lasers help to resurface skin — which, in addition to tightening sagginess, can also drastically fade sun spots around the lip area. For these reasons, Dr. Shamban recommends fractional lasers for the lip area as well as the entire face. (Read about one writer's experience with fractional lasers, here.)  
Incidentally, though the technology used for laser hair removal  is totally different, it still could help! The treatment can permanently reduce unwanted hair that could be detracting from your overall lip look. (After all, most of us would prefer a fuzz-free upper lip.) Read more about laser hair removal here.  
Temporary Lip Liner
As we age, many of us find that a good lip liner becomes increasingly necessary to create the appearance of full, even lips. This is mostly because our vermilion border — i.e. the natural outline of our lips — fades over time. As a result, our once-pink lips may blend into the surrounding skin. While standard lip liner is an option, One solution is semi-permanent tattooed lip liner. It's exactly what it sounds like, but you probably won't find it on the menu at your local tattoo parlor. According to Bossavy, who is one of the pioneers of the technique, "a bright, crisp border makes your lips stand out and improves the overall appearance of the lips and lip area." We can't disagree with that!
Injectable Filler
Over time, deep lines (known as smile lines) often form around the mouth, almost creating a parentheses-like appearance. If you want to reduce the appearance of these moderate to severe lines, know that you have an option that can improve their look instantly: temporary injectable filler. It can last between six months and two years, depending on the product used.
[Editor's note: Injectable filler is a temporary treatment that adds volume to areas of the face such as the lips, cheeks, and laugh lines. Like any medical treatment, it has potential risks and side effects. Be sure to talk to a licensed provider to see if it's right for you. Have more questions? Chat with our team of trained aesthetic specialists now.]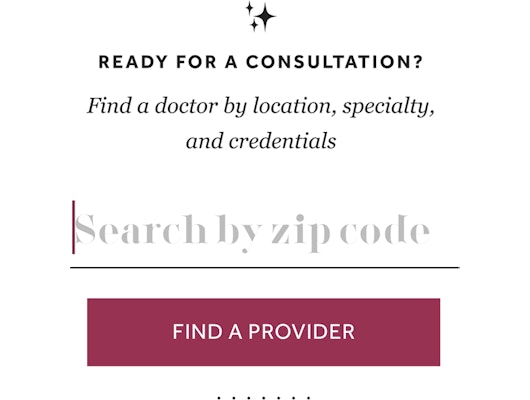 Chemical Peels
This is a wide and varied category of treatments, and includes everything from deep in-office procedures with days of downtime to at-home options that you can do before heading to work. We're particularly fans of any treatment that features glycolic acid. This alpha-hydroxy-acid is derived from sugar cane, and helps exfoliate the area and promote cellular turnover. That means you could see everything from smoothed-out fine lines, reduced hyperpigmentation, and even firmer skin.
For an at-home pick, we're longtime fans of the Dr. Dennis Gross Alpha Beta® Extra Strength Daily Peel ($88 for 35 treatments), which contains glycolic as well as salicylic, mandelic, lactic, and citric acids, plus retinol for an extra boost. We recommend that you consult with your dermatologist on the best in-office option for you. 
[Editor's note: Talk to your doctor before starting or stopping any new treatment, medication, or supplement.] 
Sophie Wirt is an Allergan® employee. 
Some products were gifted to the author for the purpose of writing this article.
Allergan® may receive commission for purchases made through links in this article.
Product prices may vary from the time this article was written.