If you or a friend are in search of cutting-edge skincare that truly works, then it's worth perusing the offerings of SkinMedica®. From blue light protection to skin-rejuvenating elixirs, the brand offers myriad hardworking products that are sure to make everyone on your list glow this holiday season. Read on for eight of our favorites, below.  
 
For the Tech-Obsessed Friend  
2018 was the year skincare aficionados started buzzing about blue light — i.e. the light that emanates from your phone, laptop, and TV screen. Tech isn't going anywhere anytime soon, but skincare is catching up: The LumiviveTM System ($265) is proof. The two-step ritual contains a day serum (in addition to a hardworking, revitalizing night serum) that protects the skin from the harmful effects of blue light. Consider it the gift of safer selfies.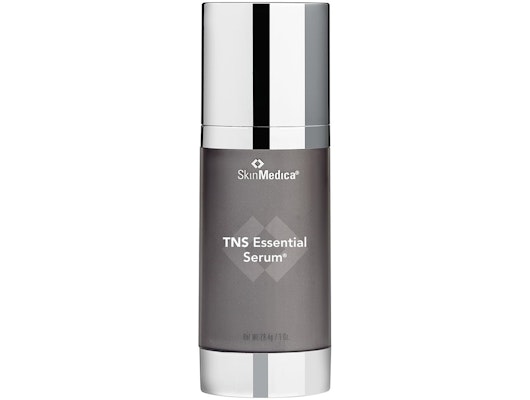 For the Overachiever
The boss lady, super mom, or heroic husband in your life deserves a skincare product that does (almost) as much as they do. The TNS Essential Serum® ($281) is just that, thanks to growth factors, vitamins C and E, plus hyaluronic filling spheres, rejuvenating peptides, and specialty brightening ingredients including alpha-arbutin. It only takes a single pump to cover a multitude of skincare needs and go about a busy day.

For the Social Media Savvy Friend
Glow, luminosity, dewiness — whatever you call it, hydrated skin will always be in style. This is especially true for the digital age, where most of us have some skin (literally) in the selfie game. The SkinMedica HA5® Rejuvenating Hydrator ($178), which contains five different forms of hyaluronic acid, provides a fasttrack to hydration. (Read our senior beauty editor's review, here.) Not only does skin look immediately luminous, but the formula maintains steady hydration levels throughout the day — so your friend will be photo ready whenever the opportunity strikes.  

For the Surf, Sand, and Sun Worshipper
Tanning seemed cool — until sun damage showed up years later in the form of hyperpigmentation. Luckily, the SkinMedica Lytera® 2.0 Advanced Pigment Correcting System ($285) is proven to address UV damage by fading the appearance of dark spots and fine lines. Your former beach buddy will thank you for this one.

For the New Parent (or Anyone Else Who Doesn't Clock in Enough Sleep)
Our eye sockets are veiled with ultra-thin skin, which explains why this area is prone to crinkling, wrinkling, and sagging — especially when we're not getting enough shuteye. For your pal who believes they always look tired, give them gift of a brighter eye area with the SkinMedica TNS Eye Repair® ($102). The formula contains growth factors and peptides to smooth the appearance of the area around the eyes plus vitamin C to brighten. Plus, the jar has a sleek, almost decorative appearance.

For the Jetsetter
When you're traveling, your skincare is only as good as its ability to get through TSA. The SkinMedica Everyday Essentials System ($475) is armed with sub-3 oz. packaging of some of the brand's most coveted products: TNS Essential Serum®, HA5® Rejuvenating Hydrator, Retinol Complex 0.25, and Mineral Shield with SPF 35.  

For the Grooming-Resistant Guy in your Life
Let's face it: there are still some men who have yet to discover skincare (let alone quality skincare). The SkinMedica regiMEN System ($180) gives guys a taste of some seriously effective skincare. Specifically: Recalibrate Age‐Defying Treatment, HA5® Rejuvenating Hydrator , Facial Cleanser, Essential Defense Everyday Clear Broad Spectrum SPF 47/PA++++ Sunscreen. Once he realizes what he's been missing, he's sure to continue taking care for years to come.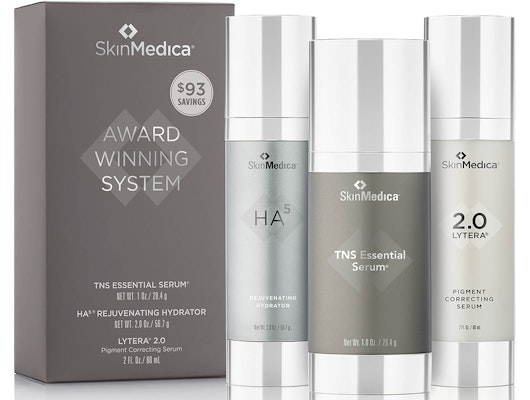 For the Skincare-Devoted Friend
There are two types of people: those who consider skincare a chore, and those who consider it a ritual. The latter is sure to appreciate a step by step skincare set packed with three of SkinMedica's most revered formulas: HA5® Rejuvenating Hydrator, TNS Essential Serum®, and Lytera® 2.0 Advanced Pigment Correcting System. In short: the SkinMedica Award Winning System ($499) is brimming with the best of the best.
Product prices may vary from the time this article was written.
Some products were gifted to the author for the purpose of writing this article.
Allergan® may receive commission for purchases made through links in this article.
SkinMedica is an Allergan owned product line.
Sunburn alert: The AHA/BHA Exfoliating Cleanser and AHA/BHA Cream in Lytera® 2.0 Advanced Pigment Correcting System contain an alpha-hydroxyl acid (AHA) that may increase the skin's sensitivity to the sun and particularly the possibility of sunburn. Patients should use a sunscreen, wear protective clothing and limit sun exposure while using these products (or this system) and for a week following.
 IMPORTANT: SUNSCREEN IS REQUIRED TO OPTIMIZE AND MAINTAIN THE RESULTS OF USING THE LYTERA® 2.0 PIGMENT CORRECTING SERUM.
 SkinMedica® Total Defense + Repair Broad Spectrum Sunscreens (SPF 34, SPF 34 Tinted, and SPF 50+), Essential Defense Broad Spectrum Sunscreens (Everyday Clear SPF 47, Mineral Shield Tinted SPF 32, and Mineral Shield SPF 35), and SkinMedica® TNS Ultimate Daily MoisturizerTM Broad Spectrum SPF 20 Sunscreen are over-the-counter drug products that are formulated and marketed pursuant to the FDA's governing regulations set forth at 21 CFR § 352.
 The PA rating system is used in Japan to classify UVA protection and is not an FDA requirement on sunscreens sold in the U.S.