Few beauty treatments are such a true investment as getting your hair colored. You're spending actual hours — and often upwards of hundreds of dollars — in the name of more dimensional, vibrant strands. As that's the case, wouldn't you want to protect your investment? Instead, many of us are making legitimately costly mistakes, fading our color faster and washing money down the drain.
To ensure we're taking every measure possible to extend the lifespan of our dye, we tapped three experts: Spoke & Weal co-founder Christine Thompson, celebrity stylist Kendall Dorsey, and NYC master haircolorist Stephanie Brown. They laid it all out for Spotlyte, revealing the weak points in your hair routine from beginning to end. From the color you choose to the products you use, keep reading to see how you could be sabotaging your own strands.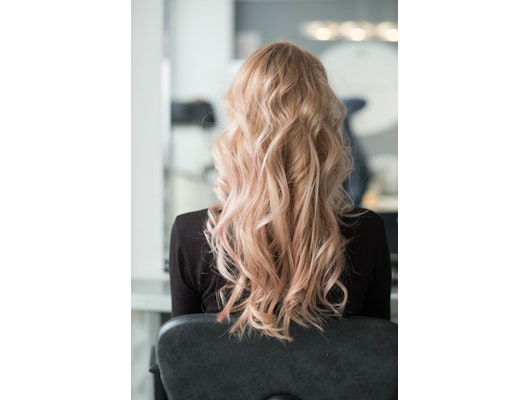 Stocksy United / Aleksandra Jankovic
Prepare Your Hair Properly
Before you lay back and let your colorist do all the work, there are a few steps you should take to help promote lasting color. All of our experts agreed that the healthier and more nourished your strands are, the longer the dye will last. A deep conditioning treatment or hair mask plays a big part here (but we'll get to that in a moment).
In anticipation of masking, though, you'll need to make sure there's no build-up of any kind on your hair or scalp. After all, you don't want the dye to cling to any grime on your strands instead of the strands themselves. Wash your hair a day or so before your appointment, but be judicious in what you use to cleanse. Dorsey advises using a clarifying shampoo for this (he likes Paul Mitchell® Clarifying Shampoo Three, $12), while Thompson recommends a de-mineralizer. This type of product (try the popular Malibu C Hard Water Wellness Remedy, $44 for 12 packettes) helps purify hair by removing mineral build-up caused by washing with hard water.
Once your hair is fully cleansed, add in some nourishment. Brown likes Olaplex® Hair Perfector No. 3 ($28) and the Ouai Treatment Masque ($32 for eight treatments), but notes that a DIY deep conditioner works well, too. Try slathering your strands with coconut or avocado oil. All that conditioning allows the natural oils in your hair to offer some scalp protection. (That's a good thing — otherwise, the dye or bleach could irritate your skin.) It is also recommended to not wash your hair within 24 hours before your appointment.
Another way to ensure your hair is healthy going into your color appointment is to simply have it cut. "If your hair is dry and damaged, or just in need of a cut, your hair color will not look its best," notes Brown. "Color could either take too much or not at all." You don't want to waste all that time and money in the salon on a new look only to have your split ends foil the results.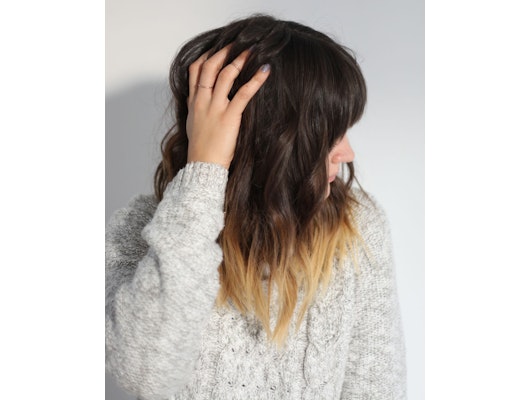 Stocksy United / Treasures & Travels
Choose Your Color Wisely
Fading is a real issue, but there are workarounds. Dorsey recommends staying within two shades (either lighter or darker) of your natural color to achieve the best results. And if you're hoping to live out any Jessica Rabbit fantasies with a red dye job, you're also facing a lot of return visits to the salon.
"Those not naturally born with  ginger hair might want to rethink making the leap [to red] if they like to keep things low-maintenance," warns Dorsey. "The red color molecule is larger in size than others and as such, it does not penetrate the cortex [the core of the hair strand] as deeply as other colors do." Translation: the dye sits more on the surface of each strand, so it is more likely to wash out.
Brown agrees that is easy to observe the fading in red hair faster than other shades, but doesn't necessarily agree that it actually fades faster. "Blondes get lighter typically, brunettes get lighter or brassier, but if red gets lighter, it makes a big difference, because the vibrancy becomes muted," says Brown. But either way, expect a lot of upkeep if you want a radiant red.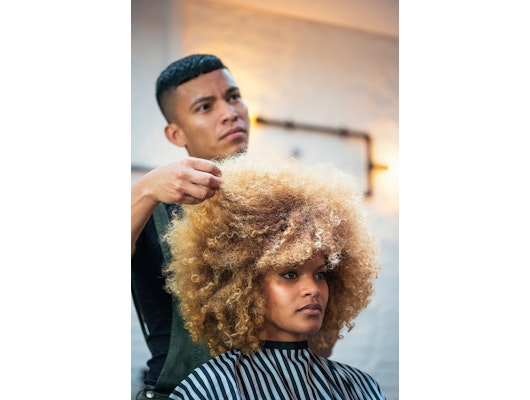 Stocksy United / Santi Nunez
Find a Stylist You Trust
Unless you are an actual hair professional, it's ill-advised to color your hair yourself — and it's just as important to seek out a skilled colorist when you select a salon. Whether it's DIY or done in a pro's chair, improper dyeing techniques can create damage, says Thompson.
"Often, people at home (and occasionally in salons) will pull the same color they are using at the root through to the ends," she says. "The same color that is formulated for the root is not always OK for the rest of the previously-colored hair. This can end up creating damage and damaged hair fades more quickly!" Spend time researching a reputable colorist — if you're not sure where to start, look to popular hair brands like AvedaTM , Cutler, Bumble & bumbleTM, and more to see if they have trained professionals in your area.
Wait to Wash
You might think that once you're out of the salon, you're free to live your life as usual — just with better-looking hair. That's only kind of true, especially if you were planning to wash your hair when you got home . . . or even at some point in the next few days.
"If possible, I tell all my color clients to wait at least three days before washing," says Dorsey. "It takes around that time for the cuticle of the hair to fully close and 'trap' the color molecule." Brown notes that prolonging a wash will help a single process color or gloss last longer, but for highlights, avoiding shampoo is important because it will help moisture return to the bleached strands.
If spending several days with dirty hair sounds like one of your personal nightmare, there are some product options to help you survive. "I am a strong believer in dry shampoo if you can get away with it," says Thompson. She suggests pairing your favorite formula (we like Klorane Dry Shampoo With Oat Milk, $20) with Aveda ShampureTM Thermal Dry Conditioner ($31). This will ensure your scalp stays oil-free but your ends stay moisturized, creating balanced hair nirvana.
When you do finally wash your hair, use the coolest temperature you can stand. "Warmer temps open up the hair cuticle, allowing your expensive color to rinse out," warns Thompson. "Room-temperature will still get your hair clean without washing color out." (More on this topic later.)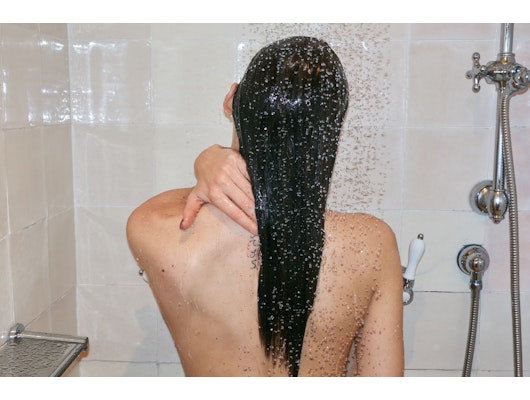 Stocksy United / Guille Faingold
Read Product Packaging
Just because your go-to shampoos and conditioners claim to be color-safe doesn't mean they truly are. You've likely heard this before, but absolutely avoid sulfates at all costs. "Sulfates are a cheap detergent used to help shampoos lather, but they dry your hair out and strip your color," says Dorsey.
He also notes that alcohol may appear in your favorite formulas — especially those that claim volumizing benefits and styling products — which is a no-no. "Just like alcohol-based skincare products will dry your skin out, alcohol in hair products will pull the moisture and color out of your hair."
Brown also recommends ditching your clarifying shampoo for the time being (for good reason — it's designed to aggressively cleanse your hair!), and Thompson advises avoiding baby shampoo. As gentle as it sounds, the latter won't be kind to your color due to its naturally higher pH level. This makes it less irritating to a baby's scalp, but a lower pH level (Thompson recommends products from 4.5-5.5 pH or lower) will preserve color. Learn more about the pH of your scalp and other body parts here.
Style With Care
You already know that overly hot water is bad for your hair. If you live in an old building or in a part of the world with hard water (over 85 percent of the United States is affected by hard water!), that will also affect your hair. "Hard water causes mineral buildup," explains Thompson. "This is not good for pre-color or post-color care — it can affect the colors tonal values, the reflective quality of the color, the way hair processes color." If this is a major concern for you, consider investing in a filter for your shower, like the T3 Source Showerhead Filter ($150). It'll remove minerals and chlorine from your water to help preserve your strands.
You should also avoid heat when it comes to your favorite tools. "Heat is an oxidizer," says Brown. Too much of it will either expedite fading or change the color (like make it brassy). "Just try to heat style as little as possible — if you can get away with air-drying, do that." Limit hot tool use to every other day at most, and "always use a protectant! Always!" says Thompson. "Any product is a buffer between heat and the hair shaft, something is better than nothing." She adds that it's essential to evenly distribute whatever product is being used, ensuring that there is "no hair left behind."
If you don't have a heat protectant in your arsenal, Brown has recommendations for you in spades, including Living Proof® Restore Perfecting Spray ($29), Color Wow Kale Cocktail Bionic Tonic ($10), FlawlessTM by Gabrielle Union Blow Dry Cream ($19), and IGK Call Time Styling Primer ($27). "These all offer protection, moisture, and help strengthen," she explains.
The last step before styling is to double-check the temperature of your hot tools. Dorsey shares that most devices reach temperatures that are too hot for chemically-treated hair. "350 degrees is a safe bet, but try not to go above 370 degrees," he says. Otherwise, you risk seriously damaging your color.
If you opt to air-dry, you do still need to use a bit of caution. According to Dorsey, you shouldn't use a towel to take extra moisture out of your hair before you let nature do the rest. "Towel-drying hair can actually rough it up, dry out the ends and fade color," he warns. "Opt for a t-shirt or microfiber wrap instead – it is much gentler on your hair and will keep your color intact longer."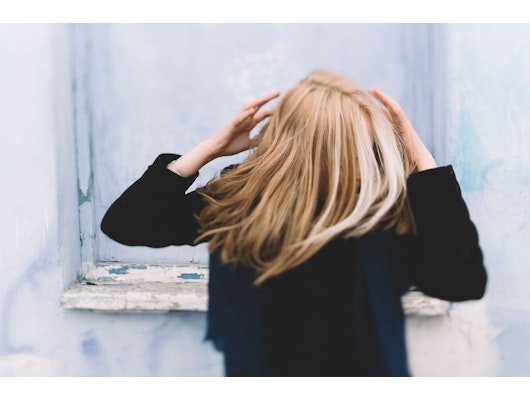 Stocksy United / Alexey Kuzma
Save Your Strands
Heat isn't the only foe of lasting hair dye — UV is, too. If you're lucky enough to spend plenty of time outdoors, you should use a thermal protectant (Thompson likes Aveda Sun Care Protective Hair Veil, $29) or a wide-brimmed hat, but both in tandem would be ideal. And if that outside time involves a dip in a pool or ocean, you need extra protection. Brown recommends wetting down your hair with cool water, then slathering on a conditioner or oil to add an invisible safety net to your style.
Ultimately, though — as is the case with many aspects of beauty — maintenance is key to extending your new look's lifespan. Regularly pampering your hair with a protein treatment, like the ÉvolisTM Professional PROMOTE Treatment Mask ($40), will help restore strength and repair any damage to your hair. (Remember: healthy hair holds color longer.) Dorsey notes that you should only use this bi-weekly, as overuse could cause your dye to rinse out with your deep conditioner. "My tip to avoid this is by applying to dry hair and then rinse out with lukewarm water," he says. (Are you sensing a theme here when it comes to heat?)
You could also treat hair to an occasional at-home gloss, which will help seal and maintain color, as well as add tons of shine and dimension. Try one of Brown's favorites, which includes Shu Uemura Color Lustre Shade Reviving Balm ($58), and John Frieda Clear Shine Luminous Color Glaze ($12), to amplify your look and protect your investment. Hey — having great hair isn't always easy, but it's definitely worth it.
Allergan may receive commission for purchases made through links in this article.