Sally Steele may just be the Miranda Priestly of the beauty industry. Like Priestley, Steele is a fictitious (yet plausible) antagonist and "scary boss" in a fast-paced environment. But instead of exploring the goings-on behind a glossy magazine, Lindsay Jill Roth's debut novel, What Pretty Girls Are Made Of ($6), unveils the salacious inner-workings of a beauty brand, dubbed Steele Cosmetics Studio. Modern cosmetics brands may be cruelty-free, but as we learn from protagonist Alison Kraft's experience, working for one is often not.
I read the book about a year ago. It made me laugh, cringe, and appreciate working with the wonderfully badass women I've personally encountered in the beauty industry. After devouring the book, I immediately Googled Lindsay Jill Roth and went down an internet rabbit hole to figure out whether Sally Steele's character is based on a real person — to no avail.  What I did learn is that Roth, a 37-year-old new mom, has an impressive résumé and a true love for the beauty world. Roth currently runs a production company, RIZ Productions, out of New York City and London. Previously, she worked on many prestigious shows, including Larry King Now, Haylie Duff's The Real Girl's Kitchen®, The Grammy Awards®, the US OpenTM, and more. Oh yeah, and she also had a stint in beauty — which inspired her first book. (She teased that a second one is in the works!)
Here, we chatted with Roth on her accomplishments, her low-maintenance makeup routine, and the skin serum she never leaves home without.
Spotlyte: Tell us about your inspiration for What Pretty Girls Are Made Of?
Lindsay Jill Roth: When I worked in the beauty industry [at a cosmetics company] many years ago, I would find myself telling stories about my days to friends and family that sounded like movie scenes. The makeup company setting and these stories loosely inspired my fictional novel, What Pretty Girls Are Made Of.

As a producer and writer, I'm a storyteller. So when I had the opportunity to bring to light a tale that took place behind the scenes of the beauty industry (an industry that hasn't yet been exploited in print or on screen), it felt right to write it as a novel before bringing it to television.  
Spotlyte: Can you give us any clues as to who Sally Steele is? Dying to know…
LJR: Sally Steele is every boss, friend, family member, or colleague who has ever made you doubt yourself and question your self-worth; that friend who struggles [to be happy for you] when you succeed. She's the person who can really make your life hell, but who you'll be grateful to for [inadvertently] giving you confidence and life lessons that help shape who you become. And she's someone in your life who influences how you decide to lead, do your job, be a boss, or even parent — by [inspiring you to] do the opposite! We've all had an SS in our lives in some capacity.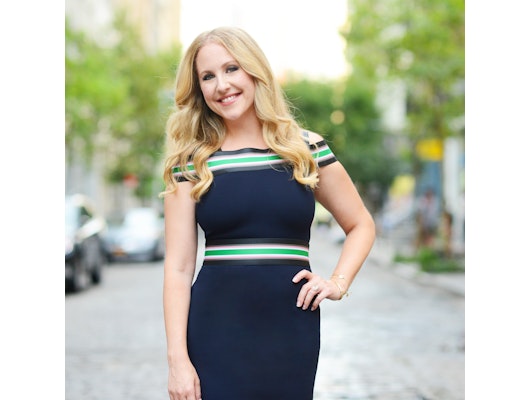 Spotlyte: Do you think the beauty industry as a workplace has improved at all? Is there a need for books like this, during a time when people won't accept being treated poorly?
LJR: I haven't worked in the beauty industry for almost a decade, so I'm not sure; but I know from family and friends that there are, sadly, abusive people with high-power positions in many industries. Hopefully, today, men and women who are abused, compromised, or made to feel uncomfortable are better able to speak out about their treatment.
Spotlyte: We know you love beauty — you wrote a book about it! What's your skin and beauty routine like in general?
LJR: I absolutely love skincare. Years ago, before I could afford to splurge on brand products, my bathroom looked like Jennifer Aniston's character's bathroom in Friends With Money — samples everywhere. Learning about new ingredients and being able to try new products has always excited me. Right now I'm really into Babor® products. They are clinical-looking, effective, and fun to apply — especially what's in the little ampoules.
Spotlyte: Walk us through your go-to products:
LJR: Here's my current skincare routine (not in order):
Doctor Babor Refine RX Detox Lipo Cleanser ($49): I love how silky this feels on my skin while also getting it clean.
Doctor Babor Refine RX Rebalancing Liquid ($45): When I'm in the mood, it feels great on my face!
Vintner's Daughter® Active Botanical Serum ($185): It's a gift to the skin! Worth the expensive price tag, especially if you're splurging on only one product.
Doctor Babor Refine RX Glow Bi-Phase Ampoules ($50) or the Collagen Serum ($155) followed by the Lifting RX Collagen Cream ($155): This is the luxurious part for me. Both products always feel super hydrating.
Clarins® Multi-Active Jour SPF 20 ($54): a must for me.
Goldfaden MD® Sun Visor Ultralight Oil Free SPF 30 Mist ($60): I appreciate how light and airy this product is while still giving me coverage. I end up using it all over my upper body.
Alastin Skincare® Renewal Retinol .25 ($55): Using a Retinol product makes me feel like I'm proactively tackling the fine lines I'm starting to develop. This product doesn't make my skin red or peel, and it's easily layered with my other skincare products.
Dove® Dermaspa Goodness ($15): This body oil leaves you velvety without feeling greasy and the smell is yummy.
Spotlyte: What about makeup?
LJR: My makeup routine is quick and simple, and I wear so much less than I used to. I recently found photos of myself from high school in the '90s and the brown-toned lip liner makes me cringe! Now, I use Laura Mercier® Radiance Foundation Primer ($38) and concealer (either Charlotte Tilbury® The Retoucher ($35) or La Prairie® Light Fantastic Brightening Eye Treatment ($85) for treatment plus coverage). Then, I brush my brows with a dry disposable brow/lash wand, very light powder application with a retractable brush (Charlotte Tilbury Airbrush Flawless Finish Setting Powder, $45). I discovered a Jill Stuart® quad blush compact while filming in Tokyo, and it's the most perfect flushed pink for my cheeks. Finally, I apply Maybelline® Lash Sensational Mascara ($7 to $18). I used to spend so much money on designer-brand mascara but find that this one makes my lashes look like extensions and cost so much less! When I'm pumping up my look, all I do is "tightline" Laura Mercier Cake Liner ($25) in navy or purple, a little highlighter to the insides of my eyes, and that's it!
I find that less is more with makeup, and spending time on my skin and skincare is worth it. People often comment on how smooth and even my skin is. And I've discovered that the perfect nude lip gloss for many skin tones is Clarins Instant Light Natural Lip Perfector in 06 ($26). For a dash of pink, I use Charlotte Tilbury The Duchess Lipstick ($34).
Spotlyte: Has your beauty routine changed since becoming a mom?  
LJR: Yes! The amount of time I now have to do things for myself is vastly reduced, as many parents and caregivers will certainly understand. Whenever I can, I really try to take a few minutes for myself every evening for my beauty routine. And trust me, many evenings, jumping into bed with a full face of stale makeup from the morning seems more appealing than losing five minutes of sleep. But shutting the bathroom door, lighting a candle, taking a bath or shower, and pampering myself helps me to focus, tune out the noise of the day, and sleep better at night. And my skin is also better for it.
What I haven't compromised is my weekly blowout. As a curly girl who wears her hair straight, I always find time for it. When I'm in London, I have an incredible stylist named Yvette, who comes to my home. Those 30 minutes in the chair with Yvette make me feel so much better for the week. In New York and when traveling, I am a Glamsquad® devotee.
Spotlyte: Beauty advice for new moms?
LJR: For those new moms reading this, please don't freak out when your hair starts to fall out after giving birth. It varies in degree for each woman (and some are lucky enough to not see clumps by the shower drain), but it does even out in time. And if you're worried about it, there are products to help and doctors who specialize in all kinds of hair loss. Also, continue to take prenatal vitamins (if you have any left over) after giving birth. Your hormones are regulating and your body is in a constant state of depletion, so any little extra boost helps.
[Editor's note: Talk to your doctor before starting or stopping any new treatment, medication, or supplement.]

Spotlyte: What is the first thing you put on your skin in the morning? And last?
LJR: I read somewhere that it's very drying to wash your face in the morning and evening. This made sense to me as my skin errs on the dry side, so I just splash water on it in the shower [in the morning]. The first product I use on it is either Babor Rebalancing Liquid or go straight to Vintner's Daughter Active Botanical Serum. Oh my goodness is this serum a gift for my skin! When I travel, I'll often simplify my routine and just take that and moisturizer. The last thing I put on before bed is lip balm. I have a rotating stash that I leave on my night table as I hate waking up in the morning with dry lips.
Spotlyte: What cosmetic aesthetic (if any) treatments have you tried? What was your experience like? Which ones do you want to try?
LJR: This summer, I went to my dermatologist in NYC and told him that it was finally time to start some proper face treatments. In my mind I was thinking a peel or laser treatment of some kind. I was turning 37 and wanted him to take a really good look at my face and skin, and do something proactive anti-aging with it. He said that I should use a vitamin A/retinol cream and that my skin doesn't yet need lasers, fillers, or other injectables. But I was ready to take the plunge!
Spotlyte: What about med spas?
LJR: In terms of a proper med-spa, I am hoping to treat myself to a med-spa this spring. There are ones that supposedly give you the kick in the butt that your body needs, medically and food-wise. And I'd really like that immersive, focused experience. Perhaps when I finish the last draft of my next book, this will be my reward!
Spotlyte: What is your approach to skincare and treatments?
LJR: I am a firm believer in doing whatever you need to make yourself feel good. If it's about skincare treatments, [booking] makeup artists, or [buying] cosmetics — do it. If it's about curling up with a good book or going on a hike with your dog, and that's what makes you feel vibrant, do that!
Spotlyte: Talk to us about your book title...
LJR: My book is about figuring out what makes you feel beautiful. Pretty, young, hot — they are all such subjective words. They are in the eye of the beholder. Whatever that perception is to you (hopefully not just influenced by unrealistic ideals) is what I think people should aspire to — though, I hope it's more than just blowouts, lasers, and manicures. In my mind, it's about finding those specific gems that uniquely make you look and feel your best and unleashing them for unbridled confidence.
Spotlyte: You have beautiful blond hair. Tips for maintaining the color?
LJR: I have a great colorist who [specializes in] blondes. Highlighting is definitely an art! I deep condition when I can. During the warmer months, I often put coconut oil in my hair. I then let the sun take care of the rest.
Spotlyte: My favorite hair products right now:
LJR: Brazilian Blowout® Acai Brazilian Dry Oil — it's not greasy and it smells delicious! Also, Oribe® Gold Lust Dry Shampoo.
Spotlyte: If you were not a successful author, what would you do?
LJR: I'd be a top 10 tennis player!
Spotlyte: What is your mantra or what is a piece of inspiring advice you swear by?
LJR: Since pregnancy and being a parent for the past 11 months, I've learned firsthand that there are many things out of my control — babies really do have a mind of their own! And then life and work happen. So I remind myself to go with the flow, and control what I can. Also, stay present as new, wonderful things happen daily in a child's first year of life. I laugh a lot this way, notice the little things, and when I leave my phone in another room while playing with my son, I'm a much more present parent. I really try to not be so hard on myself and do the best I can as a businesswoman, wife, and mother — always.
Product prices may vary from the time this article was written.
Allergan® may receive commission for purchases made through links in this article.