Whether it's a blackhead or an angry cyst, concealing a pimple is like being stuck in quicksand — the more you struggle, the worse it gets. While it might be tempting to spackle layer after layer of heavy concealer on top of a blemish, doing so will actually make it more noticeable (which is kind of the opposite of what you were going for).
And, just like not all pimples are the same, how you effectively cover them up will vary depending on what type you are dealing with. Rather than throw your hands up in frustration and attempt to use your hair as a shield, check out our handy concealer cheat sheet. We asked a dermatologist and celebrity makeup artist to share their secrets to erasing every type of blemish — read on for their tips and tricks.
Pre-Makeup Prep
While you may not be able to get rid of a blemish completely, you can make it easier to cover up by reducing the inflammation and minimizing redness. Dr. Ted Lain, an Austin-based dermatologist, suggests using a DIY treatment the night before. "To help decrease inflammation and redness quickly, consider using a honey and aspirin paste," he says. "Crush an aspirin tablet and mix with manuka honey, apply a small amount to the blemish, and cover with Band-Aid. Wash off in the morning, then use concealer."
Not the DIY type? He suggests looking for overnight treatments made with proven acne-fighting ingredients. He likes Proactiv® Emergency Blemish Relief (2 for $40), made with five percent benzoyl peroxide so it [most likely] won't irritate your skin; Mario BadescuTM Drying Lotion ($17), which features pimple-shrinking salicylic acid and sulfur; and Neutrogena® Light Therapy Relief ($20). This device uses the "bacteria-killing, anti-inflammatory properties of red and blue light for a chemical-free alternative to a traditional blemish eraser."
As for your daytime product, he recommends a lightweight moisturizer with vitamin B3 (we're partial to Eve Lom® Daily Protection SPF 50 Moisturizer, $90, and Paula's Choice® Moisture Boost Hydrating Treatment Cream, ($29) to take down the swelling and redness.
And, while it might feel tempting to try to pop it in an effort to get rid of it, you'll only make it harder to hide — scabs have the double whammy of redness and dryness. So, don't do that.
Skin prep is always important pre-makeup application, but for those with breakouts, it's absolutely crucial — especially when it comes to hydration. "Most people with acne-prone skin think that moisturizers are the enemy," says Ashleigh Ciucci, an NYC-based makeup artist, "but properly hydrated skin is balanced skin. If you skip the hydration step, you're tricking your skin into thinking it's thirsty so it creates more oil." That's the last thing your complexion needs.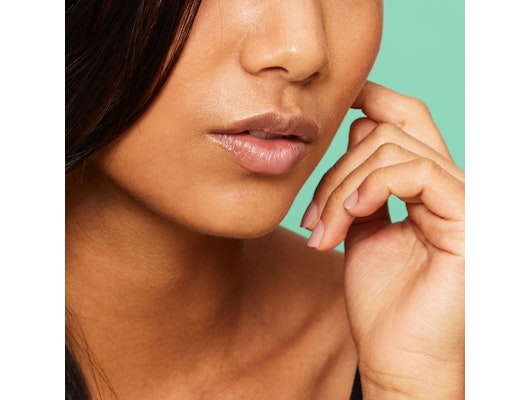 Stocksy United / Leandro Crespi
Comedones
As mentioned before, the type of blemish you are dealing with is going to make a big difference as to the method you use to conceal. Comedones (more commonly known as blackheads) are clogged pores that haven't yet been infected with acne-causing bacteria. That means there's no real redness or swelling, rather, the issue here is blackheads make your pores look much larger and create a bumpy texture. According to Ciucci, the challenge is to target a very small spot without using heavy makeup that will potentially clog the pore even more.
Fortunately, she's got a nifty trick to try. You'll need a lightweight, yet full-coverage creamy concealer (she likes Make Up For Ever® Full Cover Concealer) in two shades — one that matches your skin tone and one that's two shades darker. "The texture choice is so that it doesn't further sink into your pores," she explains, "and the color choice requires thinking outside the box; if you cover something dark with something light, the darkness is veiled not concealed." In other words, the darker color camouflages the spot, while the light color makes them look like your natural skin tone.
Ciucci notes that she's normally not a fan of primers, however "an oil-free prep step can help fill in the gap between your clogged pores and your concealer." She likes Hourglass® Mineral Veil Primer ($54) because it evens out skin's texture without being heavy or thick. "Use a pencil brush like MAC® Cosmetics #219 Synthetic Pencil Brush ($25) to apply a dot of your darker concealer, tapping with your ring finger to blend," she says. Set the concealer with a tiny amount of translucent loose powder, then apply your matching shade with a small fluffy brush (try MAC #224 Synthetic Tapered Blending Brush, $32). "It will diffuse the edges of your first concealer shade and match the spot to your skin." After you set again with loose powder, you are good to go.
Pustule
When your clogged pore gets inflamed, it turns into what's known as a pustule: A red bump with a visible white head that's filled with pus and oil. This particular blemish type is slightly more complicated — it's a raised, red bump that's ultra-delicate. Ciucci cautions, "The primary concern with whiteheads is our innate desire to pop them. Not only will this cause scarring, but a popped zit is harder to cover up than a fresh zit. If you gotta pop, pop at night." But, try really, really hard not to pop it. (If you must, learn how to pop a pimple according to a dermatologist here.)
Due to its raised texture, Ciucci says you'll want to look for a drier cream concealer as it will grip the oily bump better and provide the most effective coverage. NARS® Cosmetics Soft Matte Cream Concealer ($30) is a solid choice as it is oil-free, lightweight, and full coverage.
In order to make the concealer stick on better, you'll want to "dry" the whitehead by applying a toner or dusting on a loose powder first, says Ciucci. Note that there's a fine line between drying and dried out — if your blemish is flaky or has dead skin on it, concealer is just going to glom on to the flakes and won't spread evenly or smoothly, making it look even more obvious. Your skin should be hydrated, but not greasy.
"Use that soft and fluffy MAC #224 brush to stipple your concealer onto the spot, dab with your finger to blend, and set with loose powder," says Ciucci. "If the spot is still visible, repeat the concealing and powder steps."
Cyst
A cystic pimple can usually be found on your jawline or neck and (in most cases) is a result of hormonal fluctuations. It's one of the most painful blemishes and is characterized by its red, swollen appearance. Cystic acne is deeper under the surface of the skin than your average pimple, so there's no whitehead. Cysts tend to be much larger and will last quite a bit longer than other blemishes.
Because of their size and severity, it might be tempting to load on layers of concealer, but Ciucci says to resist the urge. "The reality is, the more product you add, the more texture you build — and the more attention you call to the imperfections," she notes. Instead, look for a product "that packs a punch with pigment but has a lightweight texture. A richly pigmented liquid concealer will give you the coverage you want without the bulky finish." She recommends Lancôme® Teint Idole Ultra Wear Camouflage Concealer ($31)  — it has an expansive shade range with rich pigment payoff that still feels natural on the skin.
One big mistake many people make is trying to make their concealer do the heavy lifting. When your skin is broken out, trying to spot conceal won't give you the coverage you need unless you apply multiple coats, which will almost always look unnatural and obvious. Instead, find a good foundation that will complement your cover-up and make it easier to camouflage blemishes. "Use your concealer for details and your foundation for the big picture," explains Ciucci. "See what your foundation can do for you first before you go for your concealer."  
Grab a lightweight yet powerful foundation (Becca® Ultimate Coverage 24 Hour Foundation, $44, comes to mind) and use a beautyblender® ($20) to stipple it on through your T-zone, paying close attention to where your skin is broken out. "You'd be surprised how much ground you can cover with an even application of a good foundation," says Ciucci.
After you've got an even, natural layer of foundation, dust translucent powder on your problem areas — Ciucci says this will help the concealer stick better. Use a flat stiff brush (she likes MAC Cosmetics #242 Synthetic Shader Brush, $25) and gently tap the liquid concealer on top of blemishes. Dab your blending sponge on top to diffuse the concealer and follow again with loose powder. If you want more coverage, Ciucci says you can repeat the process, but only if you truly need it.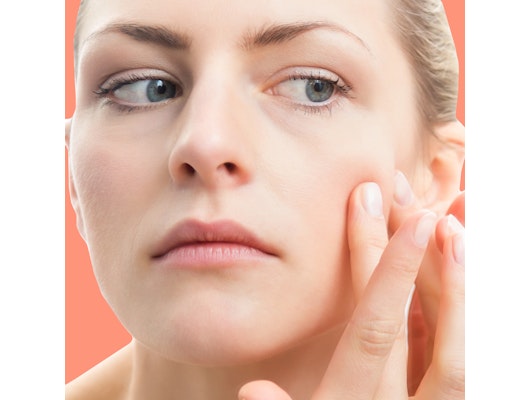 iStock / Yulia-Images
Post-Inflammatory Erythema
Also known as PIE, this is the redness that is left behind post-blemish. It can linger for days, weeks, or even months for some unlucky people. The (somewhat) good news with PIE is that it's a pigment issue — as long as you didn't pick at it, the texture should be smooth.
"You're dealing with covering discoloration rather than covering bumps," says Ciucci. "Therefore you can use a richer, creamier, and more pigmented product. You'll find that a little goes a long way when using this kind of formula."
Ciucci notes that with PIE — actually, for all types of blemishes — you might be tempted to use the same products on your whole face, when the reality is you only need to use them on the actual issues. "Allow the areas of your skin that are clear to shine by using natural finishes all over and then zero in on pigmented spots by using products that provide more coverage," she explains. That way, your skin will look more like skin, rather than patches of heavily-applied concealer.
Her hands-down pick for this type of concealing is cult-favorite MAC Cosmetics Studio Finish Concealer ($22). She explains: "It's the granddaddy of cream concealers not only because it comes in 23 shades and covers almost any imperfections, but also because it has an SPF 35 which is essential in ensuring your discoloration doesn't get worse." That's something that can happen if you don't protect your already-damaged skin from the sun. (Of course, you should always wear sunscreen every day, but having it in your concealer is a nice bonus!)
Again, as with other blemishes, you want to keep skin "happy and hydrated." Make your foundation do the bulk of the work, applying with a blending sponge to ensure the most even, seamless application. Use your fluffy brush to sweep concealer over those discolored areas. Tap the brush where you need more coverage, advises Ciucci, and follow up with loose powder.
"The key here is to avoid the areas of your face that don't need that extra concealing," notes Ciucci. "It can be tempting to conceal everywhere, but remember, if the bulk of your discoloration is on your cheeks, let your more pristine forehead look its most natural."
Pimples come in all shapes and sizes, but with the right tools in your arsenal, you can erase any type of blemish — no matter how angry or vindictive it may seem. Breakout? What breakout?
Dr. Ted Lain is a paid Allergan® consultant.
Some products were gifted to the author for the purpose of writing this article.
Allergan may receive commission for purchases made through links in this article.