Wellness is having a moment. In fact, it has trickled down to not only the products we ingest, but also what we are applying topically. Products that were once tucked away next to granola at the health food store have become mainstream. Brands like RMS Beauty® prove that natural cosmetics can be just as sexy as their more conventional counterparts, but the verdict on natural hair care seems significantly murkier.
Frankly, it's harder to create a fabulous natural shampoo than, say, a pigmented natural lipstick. This is partly because chemical ingredients — like sodium lauryl sulfate,  gives shampoo its lather. And lather makes up the very DNA of what we consider a satisfying shampoo. For this reason, "there is a misconception that 'clean' products don't work as well as synthetics," says Fabian Lliguin, the founder and CEO of Rahua® by Amazon Beauty®, Inc. "However, with the right combination of natural ingredients, this is not an issue."
What is an organic haircare line?
The words "natural" and "organic" are as nebulous as they sound: "To date, there is no US regulation on what constitutes natural and organic in personal care products," Lliguin explains. "It is up to the consumer to do their homework and read ingredient labels which reflect what's in the bottle."
According to celebrity stylist and SheaMoisture® Brand Ambassador, Diane C. Bailey, "natural shampoos typically contain plant and herb extracts, as well as beneficial sea botanicals and fruit and vegetable oils." Specifically, she says, these ingredients contain vitamins, minerals, and fatty acids, which work to nourish hair naturally.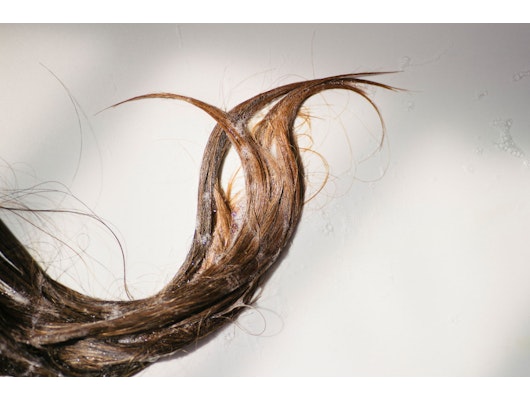 Stocksy United / Alita Ong
Which ingredients should you avoid if you're looking for a natural shampoo?
It's important that natural ingredients make up the majority of the formulation. "If the majority of the product is full of chemicals, particularly if they come up first in the listing, then it's probably safe to say that it isn't "clean," says Lliguin. Parabens, phthalates, and sulfates are also no-gos in the realm of natural shampoo.
Bailey cites ingredients like artificial coloring, sulfates, parabens, phthalates and propylene glycol as disqualifiers when you're looking for a truly natural shampoo. "It's vital that we read the labels to be aware of these potentially harsh ingredients," she says. Sulfates in particular, she says, can decrease scalp moisture and leave hair dry as a result.
Identify your hair type
A seemingly obvious — yet often overlooked — first step is to determine what your hair type needs. "This will help you get the desired results you are looking for," Lliguin says. "Ask yourself: Is your hair oily? dry? color treated?" As with conventional shampoos, natural formulations offer different formulas for different results.
If your hair is dry:
"Look for a natural shampoo with natural, organic oils in it to replenish moisture," says Lliguin. He touts Rahua Hydration Shampoo, which relies on rahua, morete and sacha inchi oils to help to hydrate hair and lock in moisture. Oils and butters are generally good go-tos. Another option, The EvolvhTM Moisture Shampoo (26), is spiked with oils of sunflower seed and safflower oils.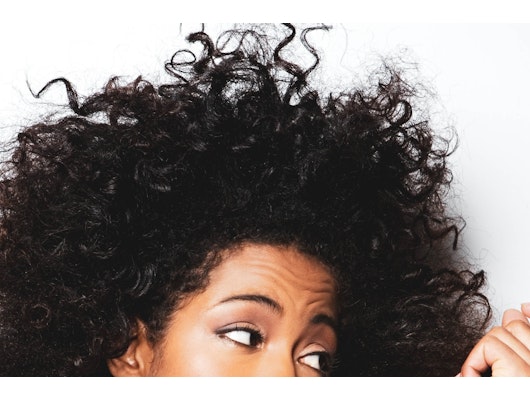 iStock / Leonard Mc Lane
If your hair is curly:
"This hair type requires a shampoo that gently cleanses, moisturizes and detangles," Bailey notes. "Curly hair needs natural moisturizers to lightly coat the hair shaft while cleansing the hair and scalp, as well as reducing frizz." Look for ingredients like shea butter and coconut oil, which can lock in moisture and prevent hair from becoming dry.
If your hair is coily/natural:
"This hair type is very fragile and needs an ultra-moisturizing, detangling shampoo to gently cleanse the hair and scalp," says Bailey. Additionally, she recommends using a large-tooth comb to detangle the hair during the second lather. Bailey is also a proponent of using co-wash, a lather-free conditioning cleanser used in between shampooing to cleanse. She recommends the SheaMoisture Coconut & Hibiscus Conditioning Co-Wash Cleanser. "It's loaded with reparative coconut oil, which is rich in fatty acids, and hibiscus extract, with a high antioxidant content," she says.
If your hair is thin:
"Fine or thin hair is often fragile and breaks easily," notes Bailey. "Look for shampoos infused with sea botanicals, to strengthen and hydrate these delicate strands." (Try The Seaweed Bath Co.® Moisturizing Argan Shampoo, $10.)
If your hair is color treated:
Color-treated hair is often fragile and dehydrated, Bailey notes. "To enrich the color and to keep the hair nourished, [use] a soothing gentle shampoo that does not strip the color." According to Lliguin, it's important to look for ingredients that will support the longevity of your hair color. Steer clear of sulfates, which can strip color prematurely (and are found in many conventional shampoos).
If you're looking for a luxurious lather:
If you're skipping SLS (sodium lauryl sulfate), Lliguin cites naturally-derived coco betaine (which comes from coconut oil) as a component for achieving a fluffy lather. The ingredient is the backbone of many Rahua products, as well as other natural shampoos.
Some products were gifted to the author for the purpose of writing this article.
Allergan® may receive commission for purchases made through links in this article.