In our series Behind the Curtain, we get the scoop on the routines, careers, and more of those working so hard behind the scenes to make celebrities look stunning. Here, Lauren Napier, creator and founder of Lauren Napier® Beauty gives us a peek into her beauty world.
Some people are fortunate enough to discover their passion early on, and — if they're lucky — are able to maneuver their way through both their personal and professional lives with that enthusiasm as their anchor. For Lauren Napier, hers began as a love for putting makeup on. However, it morphed into founding a beauty brand inspired by taking it all off.  
Napier developed her panache for painting faces thanks to her roots. She was inspired by the flashy showgirls of Las Vegas (her birthplace) and the southern flair of a Texas (where she grew up). Like other beauty experts, she first worked as a makeup counter artist for MAC® Cosmetics. This role eventually connected the dots to various editorial opportunities. Soon she found herself working on projects for magazines like Vanity Fair, Vogue, and Essence, and TV sets such as the Today Show, Late Night with Jimmy Fallon, and Saturday Night Live.
Throughout all this experience, she observed that for all her clients, removing makeup was just as satisfying and empowering as wearing it. This inspired her eponymous brand, Lauren Napier Beauty, a line of skin-enhancing cleansing wipes. She's also on a mission to give women of color entrepreneurs a bigger spotlight in a crowded industry. Below, she shares more about her second act, her own personal skincare routine, and why she's so focused on embracing the beauty of clean, natural skin.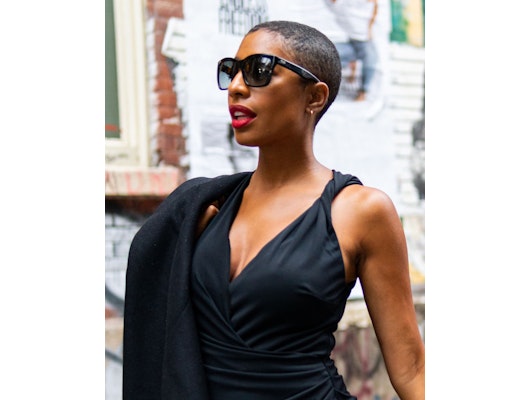 Rasheed Ingram 
Spotlyte: When did you first become interested in beauty?
Lauren Napier: I became interested in beauty very early on. I was born in Las Vegas and raised in Texas. I was heavily influenced by the dazzling showgirls and cocktail waitresses, but I would be remiss if I didn't mention the glamour that surrounded me in the 1990s in Texas. I loved RuPaul and Julia Roberts, Sug Avery [in The Color Purple], and Diana Ross. A brunette Madonna in "Like A Prayer" and the evil Ursula in the Little Mermaid. Ursula — she had short hair and red lips — I was enamored. There were so many images in the '90s that influenced my interpretation of beauty.
Spotlyte: What made you decide to go from putting on makeup as an artist to focusing on taking it off?
LN: This is my favorite question! No matter whom or where I've worked, I always found the unique beauty possessed by a bare face and clean skin. I watched the talent, everyday women, and A-list celebrities feel their best, grounded, and at peace once they removed their makeup. This is a feeling we can all relate to, because it feels so good. Lauren Napier Beauty's desire is that women and men feel comfortable, confident, and beautiful with and without makeup. There is beauty in taking it off.
Spotlyte: Do you think that people neglect the skincare part of beauty?
LN: I don't believe people intentionally neglect the skincare segment of beauty. I think that it's easier to understand that a bold lipstick brightens your face versus the complications of understanding skin, skin types, and beyond. It's just faster since we are all lacking time. I developed Lauren Napier Beauty to help ensure anyone using it would have a fast-acting, three-in-one skincare routine that will cleanse, nourish, and hydrate in under 60 seconds.
Spotlyte: Tell us a bit about your perspective on inclusivity in the beauty business, particularly as it relates to women of color.
LN: The wave of color that splashed over the recent September and November 2018 magazine covers is an indicator that the publishing and advertising industries have taken notice. The case must be made that diversity and inclusion is happening, but can no longer be a one way street. While beautiful ethnic faces are now representing products owned and operated by predominantly white conglomerates in order to sell to the masses, it is now time to integrate brands owned by women of color into the same business space.
Black women are the fastest growing entrepreneurial demographic in the country. African-American buying power [is on track to be recorded at] $1.5 trillion [by 2021], not to mention the $1.2 trillion annual [purchasing] power of the Latin community, and the $986 billion spend in Asian-American communities. Brands that appeal to diverse consumers are growing, and the advertising and messaging is paying off. People of color want to see each other win and want to support brands that reflect their likeness. The takeaway: Respond to the needs and feedback of black shoppers. Women of color aren't just on the pulse of what is cool, we are cool's lifeblood. I want to see black-owned brands in luxury spaces. The question remains: are we welcome in these spaces in a position other than the sales floor?
Spotlyte: What has been some of the biggest challenges you've faced while making the transition into entrepreneurship?
LN: I believe access to capital has been the biggest challenge. I launched my business with a tax refund and an American Express card. Everything else has come directly from my hard work and hustle. I wonder where Lauren Napier Beauty would be today if I'd launched with the same backing as some of my industry contemporaries. I want to be clear that I don't begrudge any one brand, but it's hard not to occasionally wonder. I am so proud of where I have taken Lauren Napier Beauty in four years — it's exceptional.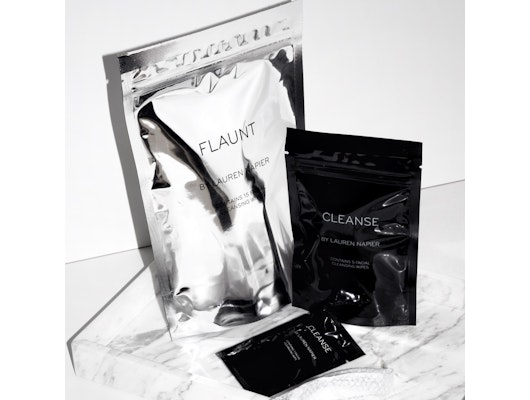 Sofia Honekman 
Spotlyte: With a product line that focuses heavily on bearing our natural beauty, what's your stance on cosmetic injectables?
LN: I encourage women and men to do what is healthy and what makes them happy. I won't make a personal judgment on the choices of others.
Spotlyte: Have you ever done any other cosmetic procedures, like laser treatments or any body treatments?
LN: I have never had any work done. I think if I want to make changes, I will. This is why I do not criticize others. You just never know.  I love a good wax and body scrub. I have had laser teeth whitening and acid peels to brighten my skin after a long winter.
[Editor's note: Talk to your doctor before starting or stopping any new treatment.]
Spotlyte: What's your daily skincare routine (both day and night)?
LN: In the a.m., I use Mario BadescuTM Enzyme Cleansing Gel ($24), [and] FLAUNTTM by Lauren Napier ($23 for 15) as a makeup prep to cleanse. I hydrate with Agent Nateur® Holi(oil) ($120) and Mario Badescu Caviar Night Cream ($22) — even in the day. I want to look effortlessly luminous.
At night, I start with a pearl-sized amount of Natura Bisse® Vitamin C Scrub ($69) and Kiehl's Since 1851® Cucumber Herbal Conditioning Cleanser ($24). I will follow up with CLEANSE by Lauren Napier® ($20 for 15)  to cleanse around my eyes and to remove stubborn eyeliner. It's infused with chamomile and aloe, so it's incredibly gentle around the eye area. I will use the Natura Bisse Diamond Mask ($112) to tighten my skin if I've had a doozy of a day. After removing the mask, I use a CLEANSE by Lauren Napier wipe once more, then moisturize with Beneath Your Mask® Face Oil ($60). I also drink a glass of water before bed.
Spotlyte: What are your don't-leave-home-without-them beauty favorites (makeup or skincare)?
LN: CLEANSE by Lauren Napier, Armani® Eyes to Kill Mascara ($32), and MAC's® Ruby Woo matte lipstick ($19).  
Spotlyte: When was the last time you went to bed with makeup on? How'd you feel when you woke up?
LN: I went to bed with makeup a few weeks ago. I woke up next to takeout, so it was absolutely unintentional. I felt pretty grubby that morning.
Spotlyte: You've shared some of your personal health struggles on social media. How have those experiences impacted your beauty philosophy and perspective on beauty?
LN: While I have never had breast cancer, I have had many breast health issues. I had my first lumpectomy at age 15. I have been in a many breast cancer centers [with] breast specialists and watched women (and men) experience the difficulties, losses, and triumphs associated with breast cancer. It is daunting, but we must always care for ourselves.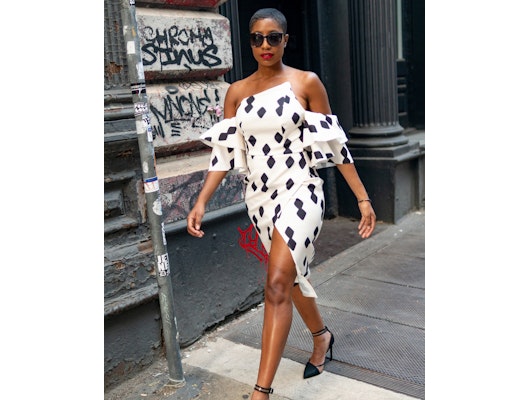 Rasheed Ingram 
Spotlyte: You have amazing shots of yourself on social media. What's your secret to nailing the right poses and taking great selfies?
LN: I try to avoid selfies. I checked, there are only five on my profile in one year!  If I am scrolling through a page that is full of selfies, I get a little grossed out. We live in a world that is being reshaped by narcissism. When I take pictures, I try to make it interesting. I am always happy to share life on the go. I run a business so it is of interest to people. My tip: know your angles outside of the selfie, know your body, elongate. I went to the school of America's Next Top Model. I think Tyra would approve!
Allergan may receive commission for purchases made through links in this article.