"I was always interested in cosmetics because I get bored easily," says plastic surgeon Charles Boyd, MD. "It's always different. "No two noses are the same, no two eyes are the same."
That ability to recognize individual nuances could be the reason that Dr. Boyd has become one of the most in-demand surgeons in the country. In addition to maintaining three offices in his native Michigan, he frequently travels to Miami to treat patients, speaks at conferences around the globe, and embarks on an annual trip to Kenya to perform pro-bono cleft palate surgeries. (Along the way, he also managed to get his MBA, open a spa in New York City, sit on the board of several art museums, and raise five daughters.)
Some might say it's Dr. Boyd's friendly smile and a "patients-first" treatment philosophy that keeps him in such high demand. "My mother was a psychologist, so I see half of what I do as psychology," he says. In addition to psychology, art and travel serve as (seemingly unrelated) fountains of inspiration for Boyd's work. "Art helps cultivate a spatial understanding and a three-dimensional eye," he explains. "And travel is one of the most helpful things to me to understand how patients differ [depending on where they live]."
The techniques he has learned — in addition to his ever-growing number of millennial patients — was front of mind when opening his newest location in Detroit. He is committed to addressing his clients' immediate and long-term concerns. "I was one of the first people in the country to have the SkinCeuticals® D.O.S.E. machine," he says. "It's like bespoke medicine; it's customized, individualized skincare. I think that's where we're going." And while he definitely notices trends like increased interest in lips or jawlines, it's more about what works for the patient themselves. "My biggest thing is proportionality and facial balance," he says, "by just doing a few little things."
This same philosophy applies when he's addressing his own routine. He doesn't believe in overdoing it — instead, he favors technological treatments that cut down on daily maintenance and address multiple issues in one go. After all, he can't drag dozens of products with him around the world. Below, Dr. Boyd spills his skincare routine, the innovations he predicts will be the next big thing, and how we can all look better on an airplane.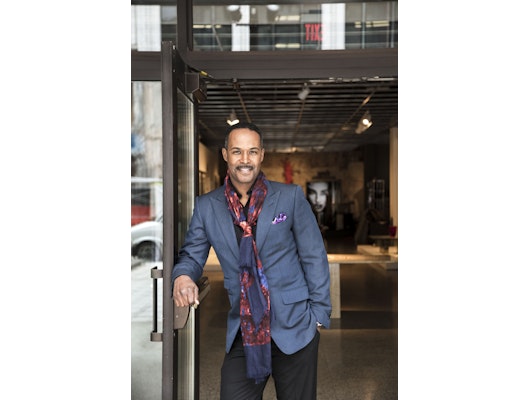 Courtesy
Keep It Personal
"My personal routine has changed over time. I've always wanted something simplistic; I'm not a nine-steps-in-the-morning kind of guy. I'm not very oily, so I use a gentle cleanser. [I like] the  Skinceuticals Gentle Cleanser ($34). I always want a good [retinoid] product for thickening collagen and reducing lines and wrinkles. [However], living in Michigan and being on airplanes [so often can make] my skin really dry. I've made my own custom formulation of the Skinceuticals D.O.S.E. and I'm really excited about it. I was able to combine an emollient base with a [retinoid]. [The formula also] helps prevent brown spots.  
Brown spots are a big issue [for people with deeper complexions]. [Hyperpigmentation is the] number one reason someone with skin of color goes to a dermatologist."   
[Editor's note: Retinol shouldn't be used by those who are pregnant, considering getting pregnant, or nursing. Please consult with your doctor before use.]
SPF For All
"Sunscreen is essential for everyone. I always say to use an SPF 30 or higher for your face. There's not one particular [formula] I recommend. If it's a patient who has rosacea or redness or is a darker skin tone, I'll recommend a tinted sunscreen. The issue I've had in the past with my skin tone is it looking chalky, but some of the new clear ones are great." (Editor's note: Try Supergoop!® Unseen Sunscreen, $32.) 
The Shaving Issue
"For African American patients, razor bumps and ingrown hairs are a huge problem. It's something that I'm working on [solving] as I develop my own skincare line. I've been working on products for about a year now. I don't have a razor bump problem myself unless I grow my hair out. It is an issue with curly hair in general, no matter who you are.
I'll recommend laser hair removal for problem areas for women and men. If men want to have a beard, at least do your neck area. It makes a huge difference." (Learn more about laser hair removal for men here.)
Technological Advancements
"I have had a Fraxel® laser on my body to reduce a scar and it was highly effective. I recommend lasers and light-based treatments to my patients a lot. Especially as we get older, some type of laser or radiofrequency device [is good] for tightening skin. I notice the same thing in myself as I do in patients: the neck is a really difficult proposition. When you start to get laxity in the neck, it's a hard place to treat. Devices for tightening the neck and tightening skin are really going to be the future.
I'm also doing a lot of threads now to address this. These are small threads all over the face to build and stimulate collagen. You have these in-between patients who are starting to get laxity around the mouth and they need more than what you can do with fillers but not enough for a facelift. It's been big in China for years and the procedure takes [30 to 90] minutes in the office with no downtime."  
Cosmetic Injectables
"I've had injectable wrinkle reducers and [injectable] filler. I don't do it to myself; it's just more than I can handle. I think of filler a little differently [than most]. It's really about understanding . . . where we lose volume and restoring it. The danger is [in] going overboard."
[Editor's note: Injectable wrinkle reducers temporarily smooth the look of moderate to severe wrinkles in certain areas of the face, including the forehead, frown lines, and crow's feet. Injectable filler is a temporary treatment that adds volume to areas of the face such as the lips, cheeks, and laugh lines. Like any medical treatment, both injectable wrinkle reducers and injectable fillers have potential risks and side effects. Talk to a licensed provider to see if they're right for you. And learn more by chatting now with a trained aesthetic specialist.]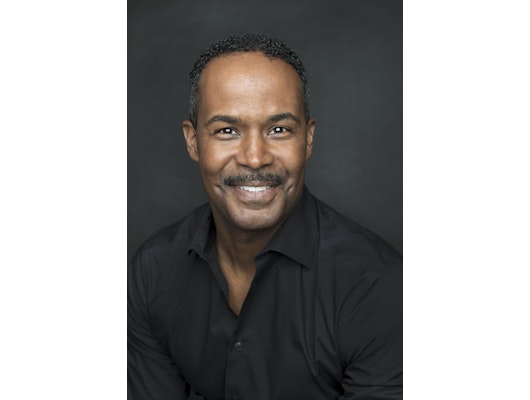 Courtesy
Hair of the Future
"The next thing I'm going to try will be Platelet Rich Plasma (PRP) to maintain and restore hair loss. I've been doing it on patients for about a year and it's only going to get bigger. It's simple, it's easy, and it really works, especially when paired with microneedling on the scalp. PRP is something you can't start early enough. It's another preventative measure. I've seen it really make a difference in patients..., both male and female.
Tackling Travel Breakouts
"I always hydrate. We don't moisturize enough, particularly on planes. Even if you have a spritz for your skin, that's super important. I'm also a big proponent of sleeping, resting, and even getting natural sunlight. It's really about allowing yourself time to heal.
Nutrition and diet play a big part too. If I get a breakout, I always think about what I'm eating before I treat it. It's interesting how much it affects your skin. Diet and nutrition make a huge difference in skin health. When I recently had a breakout, I went into a whole juicing thing to detox and it cleared it up. I also use Skinceuticals Blemish + Age Defense ($91) to dry it up overnight."
Dr. Charles Boyd is an authorized seller of SkinCeuticals products, and he is also a paid Allergan® consultant.