Dry shampoo sits high up on the list of hair game-changers of the last decade. But in the natural hair community, there are full-on debates regarding its use. After all, it's a product meant to cleanse the scalp of oil and boost texture on dirty hair — what happens when it's applied to hair that already tends to be drier and coarser?
Those who are co-washing (read: cleanse only with conditioner) may believe that dry shampoo will suck even more moisture out of hair than traditional cleansers, but that's not necessarily the case. According to Dr. Amy McMichael, Professor and Chair of the Department of Dermatology at Wake Forest Baptist Medical Center, everyone can make good use of dry shampoo with limitations.
"'Dry shampoo' is really a misnomer," Dr. McMichael points out. "There is really no shampoo or true cleanser in the product. It usually contains silica or starch ingredients to absorb the oils that are produced by the scalp." Instead of cleansing, dry shampoo products tend to help to minimize the feel of greasiness of the hair and cover any odors that the hair and scalp may have.
If you'd rather get rid of any grease or odors the traditional way (with wet washing) and are staunchly against using dry shampoo, you may want to reconsider. McMichael says that shampooing your hair with water too often can cause it to get dehydrated, because it's stripping away your scalp's natural oils. The ultimate message here is that it's not ideal to rely solely on dry shampoo or wet washing: there needs to be a balance.
"I recommend using dry shampoo less than one to two times weekly, and washing hair [fully] every one to two weeks depending on the texture," says Dr. Michelle Henry, Clinical Instructor of Dermatology at Weill Cornell Medical College. She warns that using dry shampoo excessively could cause scalp inflammation and potential hair loss, so don't use it as a substitute for a thorough cleanse. It's also important to know that if you have any inflammatory scalp conditions (like psoriasis or seborrheic dermatitis), using a dry cleanser might exacerbate the situation, so consult with a doctor to decide if it's right for you.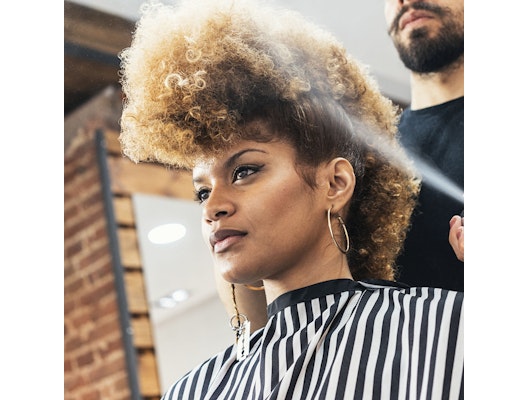 Stocksy United / Santi Nunez
For many with dark, textured strands, the challenge of finding the right dry shampoo is due to the residue it typically leaves behind. While you absolutely shouldn't be using anything with talc (there are concerns it's linked to certain types of cancer), other ingredients, like starches, can cast a white film on hair as it absorbs oil from the scalp.
Luckily, many dry shampoo formulas have come a long way and are now truly invisible, but it can come down to trial and error when choosing the right one for your hair type and color. We're fond of R+Co™ Spiritualized Dry Shampoo Mist ($28), because it comes out of the bottle in a fast-drying, residue-free spritz.
Application technique is also key to avoiding any chalky buildup. "With kinky hair and darker strands, it is important to use a spray technique that reduces a thick application," says Henry. She advises holding the bottle a few inches from the scalp to prevent it from concentrating on the hair in patches.

Another issue with application is that the directions on most dry shampoos don't really work for textured hair. They typically advise spraying the formula, then brushing it through after a few minutes — but brushes and curly hair often don't mix (unless you want poofy, fuzzy curls). McMichael has a solve.
"Folks with curly hair can still get oily scalp or sweaty scalp from exercising or later in life, hot flashes," she says. "To allow for an increase in time between washes, the products can be used directly on the scalp by parting the hair, rather than just spraying the product directly on the hair shafts."
You can also seek out a formula packaged with a nozzle tip, like Taliah Waajid™ Refresh and So Clean™ Dry Gel Shampoo ($10), which makes it easier to apply and get it right to the scalp (or under protective styles!). It also contains avocado, peppermint, and witch hazel that refresh the scalp.
Remember as you experiment with dry shampoos that it's key to balance the use of these products with thorough wet washing. "If the scalp is not cleansed with real cleanser frequently enough, and sweat, oils, and dirt build up, the hair may not be as healthy," warns McMichael, who notes that using dry shampoo too often (without a proper cleanse in between) can lead to buildup and cause drying of the hair shaft. Ultimately, that might lead to hair breakage, so treat your strands with care.
Consider seeking out an especially nourishing formula like Cantu® Apple Cider Vinegar Dry Co-Wash ($9). While it uses tea tree oil and apple cider vinegar to help detox the scalp, it also features shea butter to ensure your hair won't get overly parched. And of course, limit your use of dry shampoo to twice a week maximum. But as long you carefully balance dry and wet cleansing, dry shampoo might be your new protective styling assist.
Some products were gifted to the author for the purpose of writing this article.
Allergan® may receive commission for purchases made through links in this article.
Product prices may vary from the time this article was written.