Between clocking in overtime at the office, barreling through traffic to get to barre class on time, and catching up with friends over cocktails, finding time to replenish your beauty must-haves can feel like a burden. Who honestly wants to spend their precious free time sifting through the seemingly limitless array of options and reviews on Amazon in order to find their next purchase?
While options are generally a good thing, an overabundance can prove overwhelming when it comes to beauty shopping. In an attempt to streamline your next shopping spree, we asked dermatologists to share what they believe to be the best moisturizers on Amazon. From sunscreen-infused formulas to the perfect night cream, keep reading to find your new favorite.
Slather on Some SPF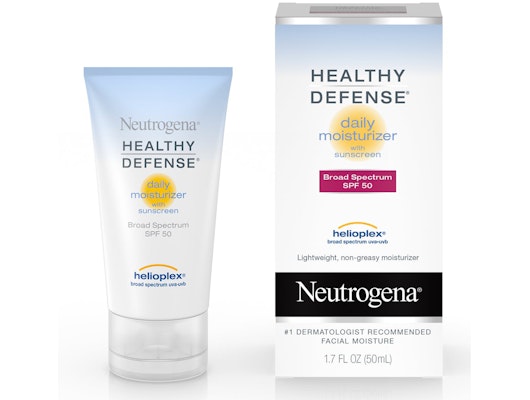 Sunscreen isn't just for the summer — it's an everyday staple. If you're prone to skimping on SPF, consider a moisturizer containing UV protection. Dr. Michele Farber of the Schweiger Dermatology Group in NYC favors Neutrogena® Healthy Defense® SPF 50 with Helioplex ($24 for 2). "It is a lightweight option that [protects] against UVA/UVB [rays]," she says. "[It] also has antioxidants."  Additionally, it absorbs quickly and allows for smooth makeup application. Adds Dr. Dr. Maryann Mikhail: "This is a lightweight, easily spreadable moisturizer that is non-comedogenic, meaning it does not clog pores."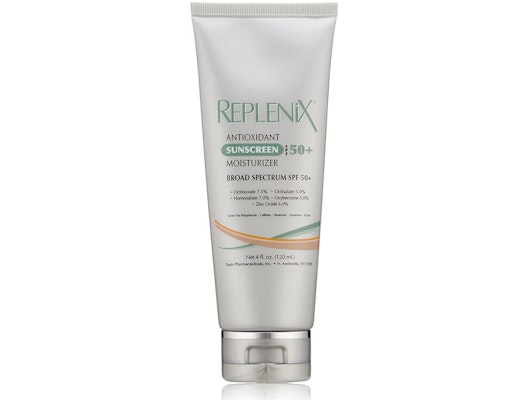 For skin that's acne-prone or sensitive, NYC-based dermatologist Dr. Patricia Ceballos  recommends Replenix® Antioxidant Sunscreen Moisturizer SPF 50+ ($32). In addition to its impressive level of SPF, the formula is non-comedogenic and boasts a bevy of antiagers — including silymarin from milk thistle, bisabolol from chamomile, and green tea polyphenols to fight free radicals.  "It includes the antioxidants, powerful humectants, [and]  combination mineral and chemical sunscreens," Cabellos reiterates.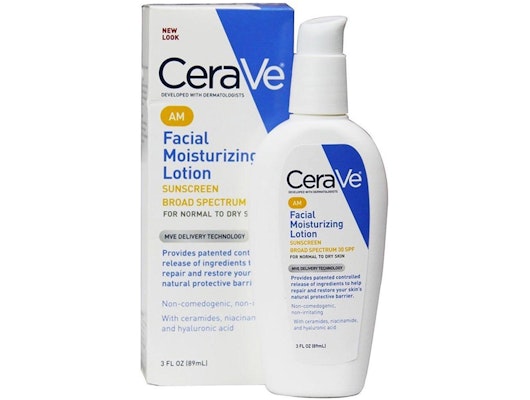 For skin that's particularly parched, Dr. Debra Jaliman, Assistant Professor of Dermatology of Icahn School of Medicine at Mount Sinai, suggests snapping up the CeraVe® Facial Moisturizing Lotion AM with SPF($13). " [Thanks to] ceramides and hyaluronic acid, [this formula] helps deeply moisturize and plump the skin," she says. (Read more about hyaluronic acid here.) Additionally, it's packed with niacinamide, "a potent antioxidant with numerous benefits, [including] improving the appearance of enlarged pores and [thwarting] dullness," Jaliman notes.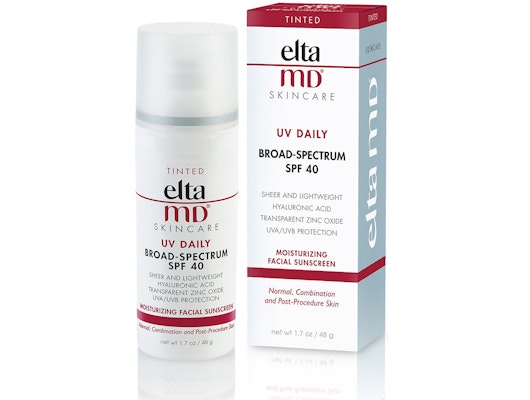 Dr. Panta Rouhani Schaffer of Gramercy Park Dermatologysm admits she's obsessed with Elta MD® UV Daily Facial Sunscreen ($27), saying, "It is easy to apply and is an easy, fast way to start your morning routine."And she's not the only one head over heels for the formula either, as Ceballos also adores its ability to balance its ultra-hydrating ingredients like hyaluronic acid with its UV blocking properties.
 "It has zinc oxide and octinoxate sunscreens and also vitamin E which acts as an antioxidant, thereby reducing the harmful effects of harsh climates, smoke, environmental pollution, and any UV radiation which may filter through to the skin," she says.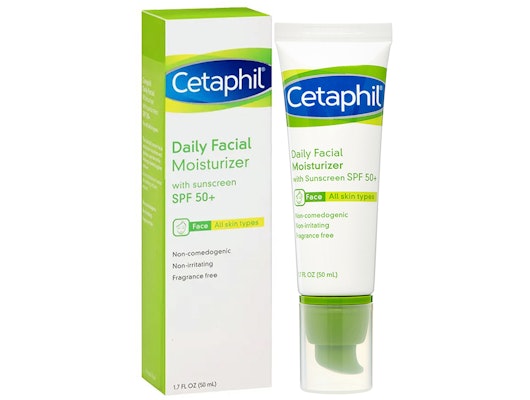 Cetaphil® consistently produces some of the most effective, gentle, hypoallergenic, non-comedogenic moisturizers on the market," declares New Jersey-based dermatologist Dr. Alexis Young. Case in point: the brand creates some of the most widely-recommended formulas for patients with serious skin conditions and sensitivities. Young's pick is Cetaphil Daily Facial Moisturizer with SPF 50+, which contains five UV filters like titanium dioxide, which she notes provides highly effective broad-spectrum photoprotection. The formula is deeply nourishing for up to eight hours, thanks to barrier-protecting ceramides. For these reasons, Young says it should be a core product in everyone's daily skincare routine.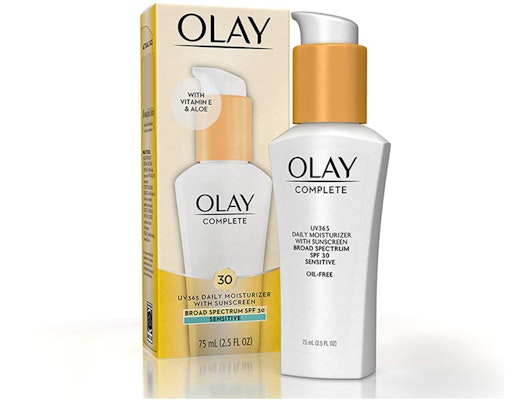 While some moisturizers with SPF tend to feel greasy on skin, the Olay® Complete Daily Defense All Day Moisturizer with SPF 30 ($26) glides on skin without that added shine. According to Ceballos, it contains soothing aloe, niacinamide, and caffeine, which all work to calm inflammation as well as antioxidant vitamin E tocopherols and camellia sinensis (aka green tea extract) to repair any environmental damage we might incur as we go about our day.
While she admits she prefers all-mineral formula, she loves how this bottle doesn't skimp on the skin-saving sunscreen ingredients. "Olay Complete combines both zinc oxide and chemical sunscreen ingredients; however, it is still a very popular and effective facial moisturizer and sunscreen," she says.
Nightly Nourishment
The need for moisture doesn't disappear once the sun sets — it actually increases around the time we're getting ready for bed. It's also prime time for applying any anti-aging or acne-fighting ingredients, as our skin works to repair any damage we might've sustained during the day. Talk about getting your beauty sleep!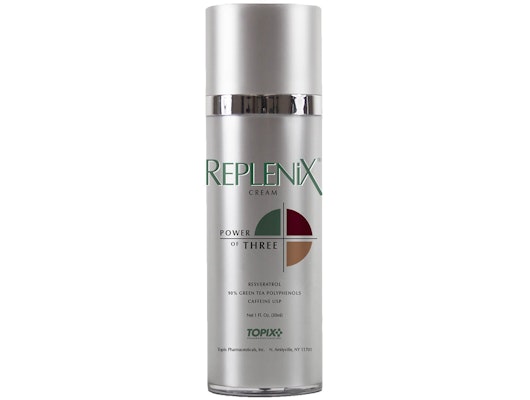 Ceballos can't praise the Replenix Power of ThreeTM Cream Moisturizer ($90) highly enough. Similar to its daytime counterpart, this the overnight formula contains an array of antioxidants, including green tea polyphenols and resveratrol. Additionally, it's loaded with a host of humectants, like squalane and hyaluronic acid, for deep hydration. Lastly, this cream is ideal for sensitive skin, thanks in part to soothing cucumber extract and the fact that it is fragrance-free, Ceballos notes. "[And] it's non-comedogenic!"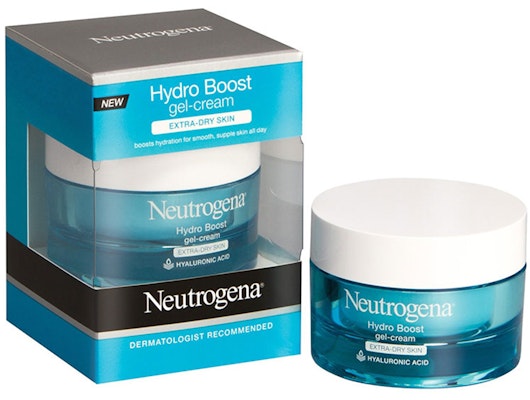 Drier skin types need every drop of hydration they can get. The Neutrogena Hydro Boost Gel-Cream ($19) has it in spades. The hyaluronic acid-heavy formula deeply moisturizes and plumps up the skin's surface. Dr. Young is such a fan, she's shared it with her inner-most circle: "My entire family uses this product now!" she proclaims. "The product does not feel thick or greasy, is well-tolerated without irritation, and is non-comedogenic, so it will not clog pores."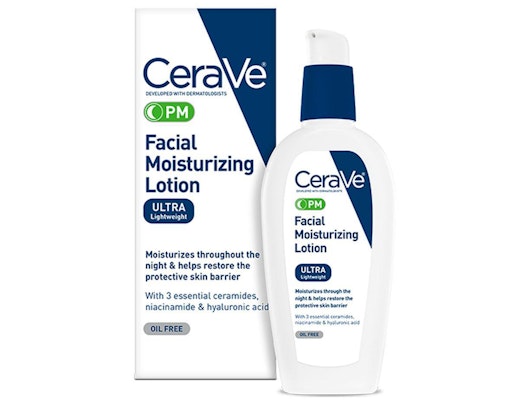 One of the most beloved moisturizers among the pros we spoke with is the CeraVe PM Moisturizing Lotion ($23 for 2). Both Mikhail and Farber praise its mega-moisturizing formula that doesn't feel leave skin feel weighed down or extra slick. "One of my favorite moisturizers is [the] CeraVe moisturizing cream," Farber proclaims, "It's full of hydrating ingredients to repair the skin barrier, like hyaluronic acid and ceramides." Mikhail mentions how its ingredients are  gentle enough for most skin types, even those with serious skin conditions and sensitivities. "It contains niacinamide (vitamin B3) which can help reduce redness and breakouts," she says. "It is fragrance-free and is even suitable for sensitive skin types."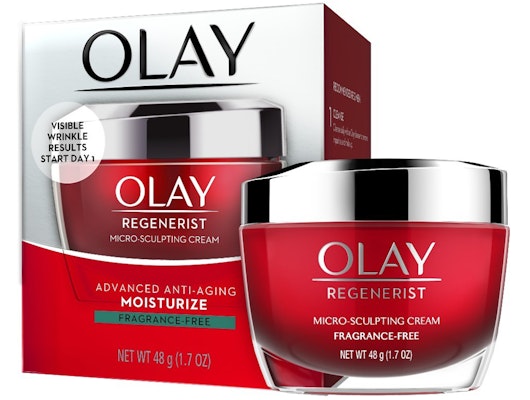 If you're serious about scoring smoother skin, Ceballos suggests stocking up on the Olay RegeneristTM Cream Moisturizer ($25). "This popular moisturizer has peptides to rejuvenate and replenish the skin's collagen, hyaluronic acid,  vitamin E, and niacinamide (vitamin B3) which has soothing anti-inflammatory properties," she notes. This powerhouse combination starts working in as little as one night, which means that you can wake start waking up to firmer skin, stat.  
 Product prices may vary from the time this article was written.
Some products were gifted to the author for the purpose of writing this article.
Allergan® may receive commission for purchases made through links in this article.