In this series, Top 11, influential people with share 11 ways they take care of themselves including beauty, skincare, and aesthetics. Knowledge is power!
If you were to ask some of today's top celebrities to share their biggest secret to glowing skin, it wouldn't be a product — it'd be a person. That person is Shani Darden. The esthetician has worked on the complexions of Jessica Alba, Kelly Rowland, and Emmy Rossum (to name a few), and many who have had their faces in her hands claim that she has the power to transform skin.
Darden's passion for improving the health and beauty of skin started approximately in middle school. That's when she started experiencing skin sensitivity and eczema, and having grown up in a smaller town (Plattsburgh, New York), it was a production to get her skin checked out. "I used to get weird rashes, so I'd make my mom take to me to the dermatologist," Darden tells Spotlyte. "It was always such a big deal because we were in such a small town. We had to go to Burlington, Vermont, which was an hour away just to see a dermatologist." She adds, "I was just very into it."
The interest in taking care of her own skin quickly evolved into DIYing her own treatments ("I was already making masks") and then taking care of others' complexions. She started by working as a receptionist at multiple spas as she trained for her esthetician's license, then once she received it, worked under dermatologist Dr. Erma Benitez.
"After that, it just kind of . . . all sort of happened," says Darden. She moved from spa to spa throughout Los Angeles, eventually opening her own clinic and even starting her own skincare line. (Of course, her famous clients — and other beauty experts in their circles — are all fans. During another interview, celebrity stylist Ursula Stephen gushed to Spotlyte about Darden's Retinol Reform® serum.)
Of course, someone who treats skin for a living is bound to have an incredible complexion, and Darden does. Some of it is due to that there are only two people touching her face (herself, and Carin McGraff, an esthetician who trained Darden and now works with her). But the biggest reason that because she believes in putting the work in, which she says is essential to a quality skincare routine. "I think a majority of people want to look good as long as they can, or forever," she notes. "In order to achieve that, you really have to be on it — it's got to be something you put some time into."
Below, find the 11 products that Darden relies on to achieve her luminous, glowing skin.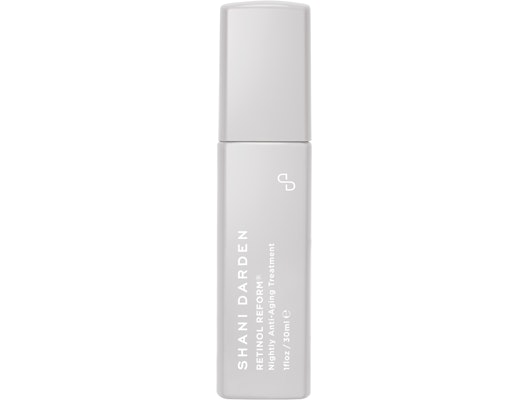 Retinol (Two Kinds!): My favorite [products] would be my retinol products (Resurface by Shani Darden Retinol Reform, $95 and Texture ReformTM Gentle Resurfacing Serum, $95). They're just easy to use, meaning you're not going to have a lot of the downtime that you can have from a prescription retinol. They're for almost any skin type. Retinol boosts collagen in your skin, it helps with fine lines and wrinkles, pigmentation, acne. For me, it's kind of like all in one. I would prefer never to live without a retinol. Texture Reform is a retinol palmitate, so it's more gentle."
[Editor's note: Retinol shouldn't be used by those who are pregnant, considering getting pregnant, or nursing. Please consult with your doctor before use.].
Gauze: "I use gauze to wash my face. I use it for toner. It's just kind of like my favorite thing — I can't live without it."
Cleanser: "There's one I use by iS Clinical® ($42) — I'm for a gentle cleanser. That's pretty important."
Toner: "I don't use a toner daily, and I don't always think that people need one daily. It's a choice if you want to use one or not. Mine (Daily Toning Essence, launching December 1) has sake in it — it's really good for all skin types, but it helps to absorb oil."
Sunscreen: "I am in love with SuperGoop!® Everyday Sunscreen ($19). I love the SuperGoop! line in general — they just dedicate everything to all sunscreens and I really love that."
LED Light Therapy: "I have a panel that I use in the office for my clients, and then I also have the DéesseTM Mask ($2,300). Using LED is one of the best things for your skin as far as anti-aging [red], and great for acne [blue]. In treatments, I use red and blue."
Hyaluronic Acid: "The one I'm currently obsessed with is by Dr. Nigma. It's called Serum No. 1 ($185), and I think it's one of the best hyaluronic acid serums out right now. I have a bunch of products that I love and I put on rotation, but I really love her serum because it's just extra moisture. For someone that needs extra they can use it under their moisturizer, and for people that are oily, they can use it alone."
Beauty Supplements: "I'm into Lumity® ($115, four-week supply). There's three for the morning, three for night. I think they make such a difference [in your skin] when you start using them. It's important that we start treating our skin from inside and outside, and it just makes sense that you find a good supplement for your skin. "
[Editor's note: Consult with your doctor before taking any supplements.]
Antioxidant: "I use different ones — all of the ones I use are from iS Clinical. Right now I'm using Pro-Heal Serum® ($88), which is vitamin A, C, and E. The E makes it a little bit more hydrating. It's important to use a vitamin C product in the day to protect yourself from the sun and from pollution."
Lip Gloss: "It's so sticky; it's literally my favorite thing — it's the Chanel® clear lip gloss ($30). It's honestly all I wear, because I don't really wear makeup. I buy so many of them!"
Allergan may receive commission for purchases made through links in this article.