Getting any part of your body waxed can be a true ordeal, especially for those of us who have an unimpressively low pain tolerance. So if you experience breakouts in the area that was treated after overcoming all that discomfort, it can easily be a deterrent  from booking another appointment. To figure out why these post-wax blemishes happen and — more importantly — how to prevent and treat them, we consulted with the experts. Dermatologist at Manhattan Dermatology Dendy Engelman, MD, and dermatologist at Schweiger Dermatology Group, Tara Rao, MD, share their tips to getting rid of these frustrating bumps once and for all.
Moisturize and exfoliate prior to getting a wax.
Your first line of defense in your war against post-wax breakouts is preparing your skin — thus both Engelman and Rao advise thoroughly moisturizing and exfoliating before your appointment. "Exfoliating the area before will smooth skin texture and buff away dirt that may be clogging your pores and causing flare-ups," says Engelman. She likes to use a body scrub, like the First Aid Beauty® Cleansing Body Polish ($14), to reduce any flakiness while also thoroughly cleaning the skin.
However, if you typically use retinol as your main exfoliating resource, Rao recommends that you steer clear — it could oversensitize the skin. Furthermore, you should skip waxing altogether if you have been treating the area with prescription-strength retinoids. That's because when you get waxed, the wax removes both the unwanted hair and your top (dead) layers of skin. But if you're on tretinoin or other more heavy-duty formulas, the wax could also remove some of the live, healthy skin, too. (Yikes.)
[Editor's note: Retinol shouldn't be used by those who are pregnant, considering getting pregnant, or nursing. Please consult with your doctor before use.].
You should also be aware that certain areas are more likely to break out post-wax than others. Rao says that the face, underarms, and genital areas of the skin tend to be more prone to irritation following a wax session. Expect to tackle blemishes in these zones more than in an area like the legs.
Ask about the wax itself and the technique used.
Unsurprisingly, slathering on hot wax and ripping it off can cause some irritation, but you could allay a good deal of it by talking with your esthetician before your treatment. Rao says to inquire about the heat of the wax (it should not be scalding) and the ingredients of the post-procedure gel being used (if you have sensitivities to certain ingredients, this is especially important).
She also recommends a slower wax removal than the rip-off-like-a-bandaid method to decrease the chances of breaking out. "For some people, self-peeling wax that is removed more slowly than cloth-based rapid removal is more gentle and less likely to lead to irritation," she says. (FYI: Self-peeling wax is typically referred to as hard wax, while cloth-based rapid removal goes hand in hand with soft wax.) Your solution may not be as simple as switching types of wax; but if you're prone to breaking out after your appointment, then it's worth calling ahead and asking what your esthetician uses.
Be wary of ingrown hairs — they're the biggest culprit for post-waxing breakouts.
You already exfoliated before your treatment — which can help prevent ingrowns — but waxing itself can cause them, too. According to Engelman, those red bumps are the main cause of post-waxing breakouts. "It disrupts the superficial epidermis when the hair is pulled from the follicle," she explains. "When the skin regrows, it can grow over the follicular opening and cause hairs to grow underneath the skin. This can manifest as red bumps and can get infected, causing a flare-up."
She also notes that waxing makes the skin more vulnerable to things that can clog pores, such as bacteria, dirt, and grime. (Remember, you just took a few dead layers off with your hair, so the fresh, healthy skin is exposed!)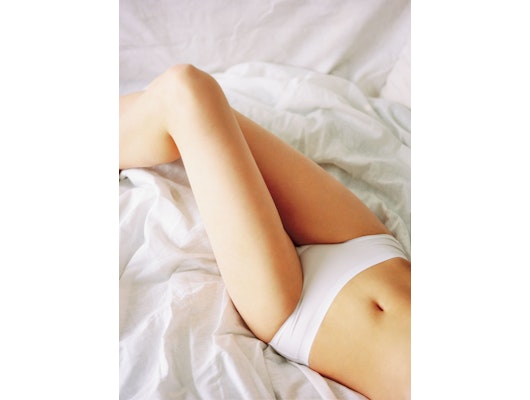 iStock / Tijana87
Continue to moisturize after a wax.
Afterwards, you must make sure your skin stays hydrated. "Moisturized skin will be more pliable and hair will grow out easily," says Engelman. She advises using an in-shower oil and then apply lotion immediately after you shower to lock in moisture — before you even start your standard skincare routine. "The glycerin in the lotion helps to bind to water molecules, which not only gives a supple feeling, but softens the skin barrier," she explains. We're especially fond of L'Occitane® Cleansing and Softening Almond Shower Oil ($42) — it smells like dessert! — and Cetaphil®  Moisturizing Lotion ($16), which is designed to be super gentle on all skin types.
Still got a breakout? Don't pick!
Just as you would deal with any acne that appears on your face or body, you must not pick at it. Engelman says that not will only doing so make it worse, there's a chance you might cause an infection. Instead, she suggests a chemical exfoliant with ingredients such as apple cider vinegar, acetic acid, and retinol to break down the skin cells above the hair to help clear the blemish up.
 "The anti-inflammatory properties of apple cider vinegar soothe irritated skin," shares Engelman. "Retinol exfoliates the top layer of the skin, the epidermis. This will be effective in loosening the skin over the ingrown hair, as it will most likely be under the first layer."
 You can try DIYing your own apple cider vinegar treatment, but as far as retinol goes, we're fond of the InstytutumTM Triple Action Resurfacing Peel ($79). Along with retinol, it contains salicylic acid to help clear out pores. Rao also recommends trying an aloe-based gel or ice pack, which can help soothe irritated skin.
We hope that with these tips in your back pocket, you won't give up on waxing altogether if you otherwise love your results. You're now equipped to prevent and treat future blemishes. Here's to smooth and clear skin!
Some products were gifted to the author for the purpose of writing this article.
Allergan® may receive commission for purchases made through links in this article.