The most frequently-asked question of most first-time cosmetic injectable patients is "what will the results look like?" To get an in-depth understanding of the entire experience — and the effects — of a medical aesthetics appointment, we bring you Under the Needle: a look at an individual's journey from beginning to end.
If you met Crystal Sullivan, 39, I bet you'd never know she got lip filler. (For the record, I see her everyday, watched her get the treatment done, and still can't notice that much of a difference other than her lips looking subtly fuller.) The head of partnerships and revenue for Project MoonwalkerTM, an AllerganTM-owned venture in New York City, has been getting injectable wrinkle reducers for years; and though she considered trying injectable filler, it wasn't until this summer that she committed to it.
After reading about Alchemy 43℠ and learning more about injectable lip filler, she decided to get her lips done on a trip to LA.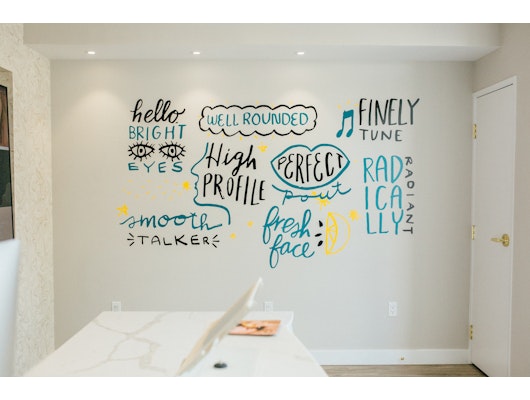 Emily Malan
If you're considering lip filler, Alchemy 43 founder Nicci Levy has advice. "Ask questions when you want to augment lips more," she says. "Do you want definition? Do you want the body of lip larger? You can't change the shape of your lip or get someone else's shape, but you can define yours differently."
Here, Sullivan shares her experience from the consultation to the "settled" results for what it was like. And yes, she is honest about the pain.
[Editor's note: Injectable filler is a temporary treatment that adds volume to areas of the face such as lips and cheeks via hyaluronic acid. Injectable wrinkle reducers smooth the appearance of moderate to severe wrinkles on places, such as the forehead, frown lines, crow's feet. As with any service, talk to your provider about the risks and benefits.]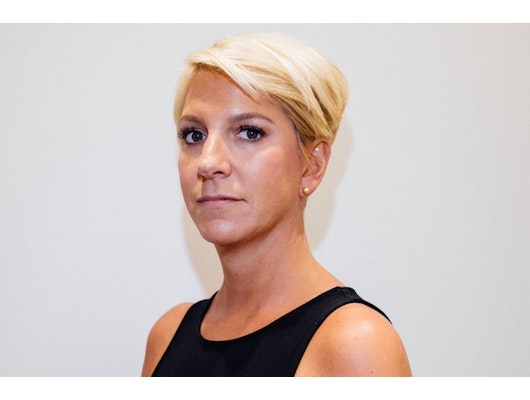 Emily Malan
Goals:
Crystal Sullivan: "I have been getting injectable wrinkle reducers for at least five years. I now get them in my forehead, glabella, and crow's feet. But I had not tried filler. The reason I did it was because I was curious. I have a very small upper lip and I wanted more volume.
Consultation:
CS: "Jack Carbonel (an aesthetics consultant at Alchemy 43) asked me what my goals were, and I explained to him what I was looking for — a more defined cupid's bow. I love wearing lipstick, but I hate having to outline outside of my lip to have a fuller lip. My goal was to have a fuller lip without looking overdone. I didn't want anyone else to notice the change — besides me. And it's interesting, because they didn't.
Related: If You're Concerned Injectable Filler Will Permanently Stretch Your Lips, You Need to Read This
I explained that I wanted my lips to be soft and subtle. I showed him photos of what I was looking for — of people who I wanted to emulate. He explained to me the difference between the products and types of filler. And I chose the one that would give me the result I was looking for — that softness.
I have a low threshold for pain, so I wanted to know what they could do from a numbing perspective and how long it would last. I asked if he could compare the injection to something else. He had it done [himself] so he described it. I was nervous and he made me feel at ease."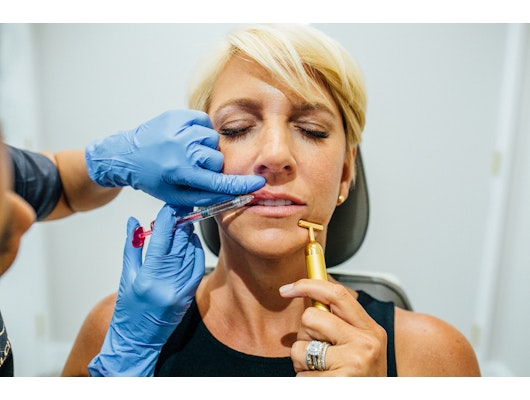 Emily Malan 
Procedure:
CS: "They applied an numbing cream on the area for about 10 minutes, and it worked. I felt numb, like I was at the dentist.
The upper lip was more painful than the lower. I could feel the filler going in, and I could feel the immediate result of my lip feeling fuller. I liked that I could hold the mirror so she could show me what it looked like before it got swollen, so I could make the decision for whether I wanted to add more or not.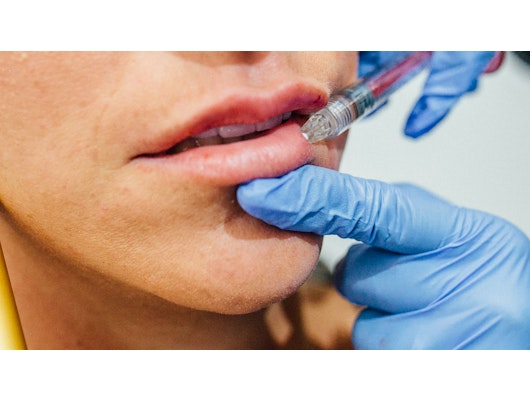 Emily Malan
I don't want to scare people, but it did hurt. But I also have a low threshold for pain. Looking back on it, it did not hurt as much as I anticipated. On a pain scale during the injection it was an 8/10 for me."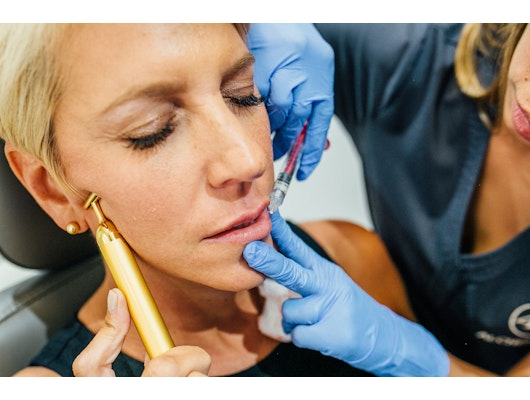 Emily Malan
[Editor's note: Results vary from person to person, so talk to your provider about the expected level of discomfort from filler.] 
Immediate Results: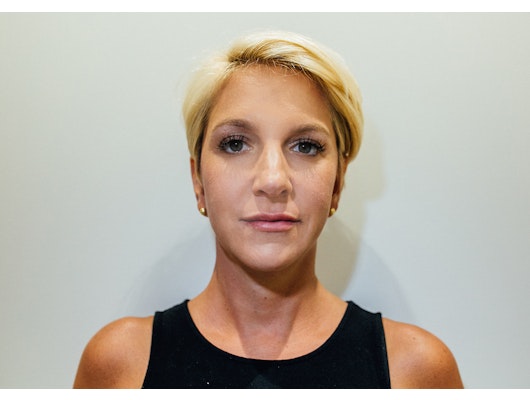 Emily Malan
CS: "The first two days after the treatment, it felt like my lips had a heartbeat of their own. They were tender to the touch. I felt like I looked like Donald Duck. I saw swelling, bruising, and redness. But I also knew it was not going to be long lasting [Editor's note: swelling typically lasts a few weeks", though individual experiences may vary.], so I was not freaked out. I also had a bruise above my lip that went away in a day. It sort of felt uneven in my mouth, though it didn't look it. So I gently massaged it — as instructed — and it went away in few days.
The esthetician who prepped me, Jack, set my expectations. He front loaded everything I was going to see, so I wasn't scared. Had he not given me that info (that it would settle in a few days), I would have been freaked out. I trusted what he said and it happened exactly as he said it would. He did a great job."
[Editor's note: Talk to your provider to make sure you're informed about the right post-care plan for you.]
---quiz start
---quiz end
Results After One Week:
CS: "After I got it the first time, I wanted to go back for more. Although I was surprised by the swelling, I liked it. I got used to my lips being larger, so when the swelling went down, I wished they were larger and I had gotten more. I haven't gone back yet.
I am extremely happy with the results, because I got exactly what I asked for. I don't see fine lines in my lips. It does not feel tender anymore, and I can still feel some unevenness on the inside but you don't see it. I would do it again in a heartbeat, that's the truth."
3 Weeks After: