"You are what you eat" isn't an empty phrase that parents feed to their children to get them to eat their vegetables (though it helps!). Not only is it an accurate statement, it encompasses the idea that beauty is truly a holistic process. "I absolutely believe in beauty from the inside out," celebrity chef Cat Cora says. "I practice that every day."
Cora — a judge on ABC's upcoming cooking competition Family Food Fight and head of many philanthropies aimed at promoting healthy nutrition — runs her restaurants (WW Freestyle Cafe in Brooklyn, Cat Cora's Kitchen®, and Ocean by Cat Cora to name a few) and her life on clean, healthy food. "This philosophy is my platform and always has been," she says. "We are going to change the message here in America and make nutrition a number one priority in what we put in our bodies."
She's also a proponent of putting nutritious items on her body: the chef is a proponent of DIY beauty treatments that incorporate kitchen essentials. We got a chance to talk with Cora about all things food and beauty, from her Greek family's use of olive oil to why nutrition is more important than ever. Keep reading to discover what she has to say.
Spotlyte: You grew up in Jackson, Mississippi. How did Southern culture influence how you define beauty?
Cat Cora: I got to live that tomboy, grit, rough-and-tumble kind of life playing sports, having two brothers, and building forts in the woods. But I got the debutante style as well; I was in pageants and a cheerleader. I believe all of that can be beautiful. I believe a woman can be casual with a sweater and a pair of jeans and be chill, and then can put on a red dress and walk the red carpet. I love that I learned that in my childhood.
Spotlyte: Are there any beauty and/or skincare tricks or traditions that have been passed down through your Greek family? If so, what are they?
CC: Greek heritage is such a beautiful culture. They have some of the most beautiful skin in the world — from that sun and extra virgin olive oil. Extra virgin olive oil is really the secret. I've learned so many regimens from my aunts and grandmothers — like putting olive oil on your hands and body. Even drink it to get it inside you. All of those antioxidants make for a great elixir.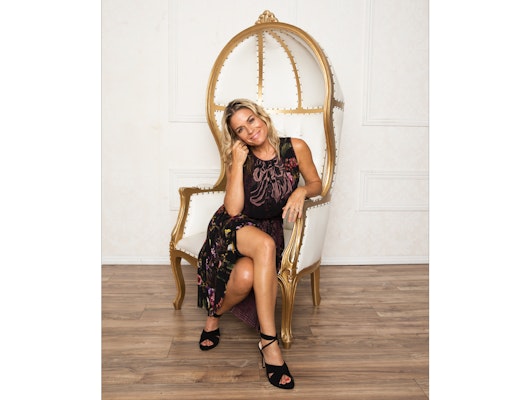 Chris Shelley
Spotlyte: Do you ever do any beauty DIY treatments with food items (like avocado masks, coconut oil treatments, etc.)? If so, what are they?
CC: I love to make masks that are delicious for my face. I'll take ingredients like avocado, coconut, lemon, and olive oil; shaved cucumber, oatmeal, banana, coffee, milk, yogurt, honey, cocoa powder; or papaya, honey, and egg white.
 Spotlyte: You often are on TV for your work. How has that influenced your beauty routine? Are you more invested in makeup and skincare because of it? Do you feel more pressured to look a certain way because of it?
CC: I think there's always a pressure [of looking a certain way on TV], but I've always been someone who's had a beauty regimen of some kind. I've always taken care of my skin really well. For me it's always important, whether you're on camera or not, to take care of your skin.  I always wash my face everyday and moisturizing heavily so that you get moisture in your skin. My go-to products include The Body Deli® Melon Foaming Cream Cleanser ($28), Kona Skin Care® Vitamin C Serum ($60), and ValmontTM DetO2xTM Cream ($260).
Spotlyte: What is your stance on cosmetic injectables? Do you think a stigma is attached to them? If so, what can be done to get rid of that?
CC: I don't have any judgment at all. I just think women need to research it really well; there are a lot of things that haven't been tested. Just make sure what's being put into your body has been tested because your body is a temple. But at the end of the day, for women, it's their body and it's their face. They want to look their best, and I'm all about empowering women. 
[Editor's note: Injectable wrinkle reducers temporarily smooth the look of moderate to severe wrinkles in certain areas of the face, including the forehead, frown lines, and crow's feet. Injectable filler is a temporary treatment that adds volume via hyaluronic acid to areas of the face such as the lips, cheeks, and laugh lines. Like any medical treatment, both injectable wrinkle reducers and injectable fillers have potential risks and side effects. Talk to a licensed provider to see if they're right for you. And learn more by chatting now with a trained aesthetic specialist.]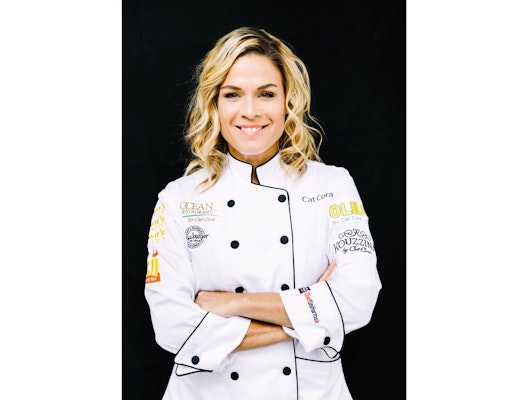 Aramark
Spotlyte: You founded Chefs for Humanity, joined former first lady Michelle Obama in her Chefs To Move Schools campaign, and have done a lot of other philanthropic work. Why do you think good nutrition often gets ignored? What can we do to help?
CC: There are several reasons. First, there are billions spent on marketing around high fat, high calorie foods and drinks in celebratory ways in our country. There is also nutrition science out there that has confused consumers. We still have an issue with nutrition as a whole; [healthy food] on average is more expensive than cheaply-made foods with artificial flavoring, preservatives and ingredients we cannot even pronounce.
 I suggest supporting local farmers and restaurants in your community that sources sustainable ingredients, cooks clean healthy foods, or has menu selections that promote health and wellness. Buy sustainable products when you can, especially fish. Be a voice and support initiatives in your community or on a federal/state level that help challenge lawmakers to regulate things like soda machines in school and support replacing them with water and healthy alternatives.