When you think of the phrase "permanent makeup," it likely evokes disturbing images of tattooed lipstick and badly-drawn brows from the '90s. But in 2018, it means something totally different, thanks to a new innovation called the "BB Glow Facial," otherwise known as semi-permanent foundation.
I came across the treatment by way of an email from Glo Skin and LaserTM in New York City. When I read the website's promise that it was "perfect for people who love the whole 'my skin but better look,'" I knew I had to give it a try.
[Editor's note: Treatments such as the BB Glow Facial have not been clinically studied or reviewed by the FDA. If you decide to try it, there may be risks and side effects. As always, talk to your doctor first before starting any new treatment.]
Zoe Weiner
To put it in simplest terms, the BB Glow Facial involves microneedling a pigmented vitamin serum from Russia into your skin to give it a sort of "lit-from-within" glow. "It is a very natural and subtle way to get the perfect skin tone look without having to apply makeup daily," Saime Demirovic, owner of Glo, explains. "During each session, microdroplets of BB cream [the vitamin serum] are implanted into the skin just above the dermal layer." The results can last for six months to a year.
Unlike typical tattooed makeup, the serum's pigment particles are said to be much smaller. "They are not dense the way tattoo pigment is, and will not change or alter the color of your skin," says Demirovic. The treatment consists of two sessions (which costs $400 total). During each appointment, you'll increase the density of the pigment in your skin, thus achieving more coverage. The website claims the treatment delivers "light to medium" coverage and that it can soften the appearance of hyperpigmentation, rosacea, blemishes, and even dark circles.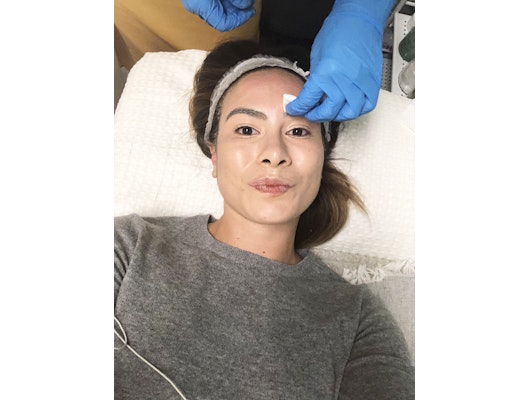 Zoe Weiner
Though it supposedly may improve the look of breakouts, I was worried about the serum clogging my pores and causing pimples. However, Demirovic assured me that  wouldn't happen. "Makeup that sits on top of your skin and covers your pores will cause pore congestion and breakouts," she explains. "The serum contains microscopic particles and the skin simply absorbs it, thus not clogging the pores. It will actually give your skin the illusion of less pores as the serum fills in the pores from within the skin."
Eager to experience this for myself, I hopped up onto a treatment table for my treatment, which began with a 20-minute numbing session. (This was necessary — after all, my face was about to be prodded with needles.) Once I was effectively desensitized, we got to rolling. I found the procedure to be entirely painless, and it took about 45 minutes for Demirovic to cover my whole face. She was diligent about making sure everything was even, which meant there was a strange-and-slightly-scary moment in which my eyelids were being microneedled.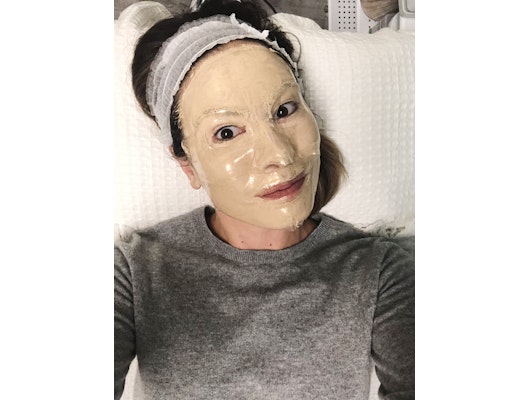 Zoe Weiner
Once that was done, Demirovic had me sit with a hyaluronic acid mask on for 20 minutes, which she said would ensure the pigment was totally sealed into my skin. After all this time on the table, I was a new, permanently BB-ified woman.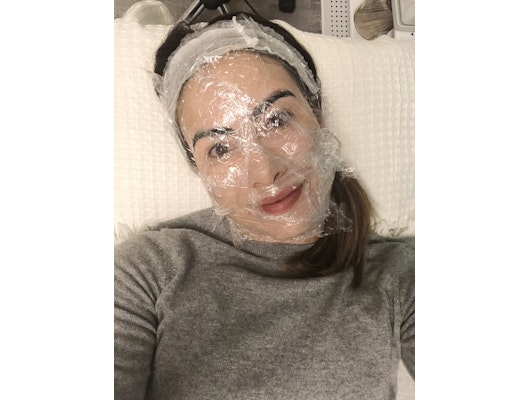 Zoe Weiner
When I first walked out of the treatment, I was quite stressed about the fact that my face looked like it was coated in foundation. As someone who wears only a light coat of tinted moisturizer on even my most glammed-up evenings, the thought of walking around with a permanent full face of makeup seriously scared me. But after a few hours, my skin seemed to absorb the serum and I was left with a radiance that looked like it was coming from beneath the surface. The acne scarring that has lived on my cheeks since high school became nearly invisible, which is a total game changer.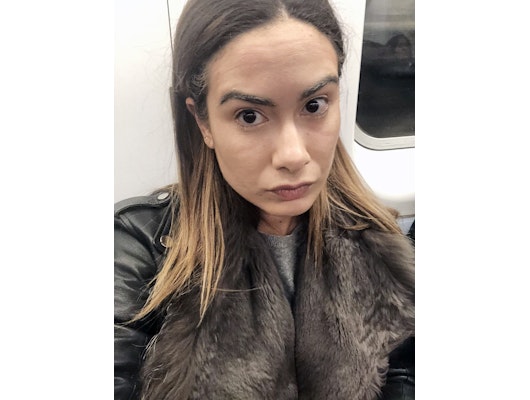 Zoe Weiner
I will say that the commandment not to wet my face for 24 hours after the treatment felt near impossible (which was part of the aftercare, along with avoiding sun exposure for a week afterwards). I'm also convinced that rule was to blame for the deep, cystic whitehead that popped up on my upper lip two days post-treatment. Since the rest of my skin looked so gorgeous, though, I didn't actually care as much as I normally would about the blemish.
I've now had semi-permanent BB cream under my skin for two weeks now, and since that one pimple, my face has been completely imperfection-free. Furthermore, I haven't put a single swipe of foundation on my face since I got the treatment. It's saved me a ton of time in my morning makeup routine, which now only requires a few dots of concealer over my more prominent acne scars to walk out the door looking flawless.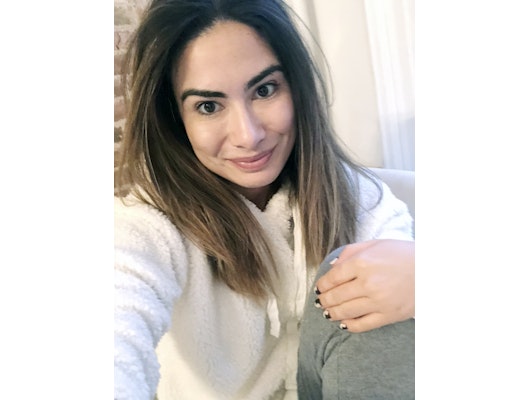 Zoe Weiner
And makeup isn't the only thing I've cut back on in my post-BB Glow life. Demirovic advised that I should keep my skincare routine minimal for the first few days after the treatment (waiting 72 hours before using skincare products).
As a result, my usual 10-step regimen has now been cut down to a gentle cleanser and Neutrogena® Hydro BoostTM Gel-Cream ($16). I'd been nervous about my skin getting dry without all my extra products, especially with the seasons changing, but I was pleasantly surprised — shocked, even — at how hydrated it's been.  
But as much as I've loved the results of my BB Glow Facial, the verdict is still out on whether or not this new treatment is safe. "If the semi permanent BB cream is designed similar to those that are used topically, I strongly advise against using it in combination with a microneedling device," warns NYC-based dermatologist Dr. Joshua Zeichner. (He also notes that it's unclear what, exactly, is actually in the serum that's used in the BB Glow treatment).
"Microneedling devices create tiny channels in the skin. In doing so, they can help enhance absorption of topically-applied products through the outer skin layer," Dr. Zeicher notes. "However, only products that are designed to be injected in the skin should be used along with microneedling."
It's also important to be aware that products designed to be used topically could be harmful when they penetrate deeper into the skin than they are supposed to. "Potential reactions include skin allergies, irritation, and significant skin inflammation, which in some cases can become a chronic problem, [however, since there is no clinical data to go on, we can't rule out more severe side effects]," he says.
If you are still interested in trying the treatment for yourself, there are a few other factors to keep in mind. Currently, the pigment only comes in three shades — light, medium, and dark — which can be mixed to match your exact skin tone. But if you fall outside of the shade range, for now you're out of luck.
As someone who has yet to have any negative side effects from the treatment — and who now wakes up with a glow that used to be achieved by a $150 primer-foundation-highlighter combination — I've gotta say I am all for the 2018 take on permanent makeup.  
Treatment was gifted to the author for the purpose of writing this article.
Allergan may receive commission for purchases made through links in this article.