Whether you keep constant tabs on the beauty habits of your favorite Real Housewives, or your best friend has a smoothed-out forehead, there's a good chance you've heard of injectable wrinkle reducers by now. But in case you haven't, wrinkle reducers are temporary treatments injected into the skin to help reduce the appearance of moderate or severe lines in areas like the crow's feet, forehead, and the glabella (commonly referred to as the "elevens"). More and more people (including celebrities!) are getting candid about injectables, and that isn't surprising to us. You'd be hard pressed to find someone who wouldn't like the idea of smoothing skin, even if only for a little while.
And a "little while" is key, because you'll likely need regular injectable wrinkle reducer treatments to help fight those annoying lines. Dr. John Diaz, MD, FACS, a board-certified plastic surgeon in California, explains, "injectable wrinkle reducers are used to minimize muscle movement, which reduce the lines and wrinkles on the skin over it." Adds Dr. Joshua Zeichner, dermatologist and Director of Cosmetic & Clinical Research in Dermatology at Mount Sinai Hospital in New York City, "Wrinkle reducers work by preventing your nerves from sending signals to your muscles so they don't contract and fold overlying skin. Neurotoxins prevent the signals from being released from the nerve endings . . . If the signal is not released from the nerve, it can't signal the muscle."
[Editor's note: Injectable wrinkle reducers should not be used in the same area more than every three months.]
However, injectable wrinkle reducer treatments are temporary — they don't last forever. So by helping to reduce the activity of the muscle creating those lines, the appearance of your lines will look smoother for some time, but the wrinkle reducers will eventually wear off.
Injectable wrinkle reducers are used for moderate to severe wrinkles, so if you see those type of lines on your face, you might be a candidate. On average, you can expect to pay around $400 to $600 for injectable wrinkle reducers. That said, it's important to note that prices will vary depending on how many areas you treat and your geographical location. Also, there are risks to the treatments, as well as benefits, so be sure to talk to your licensed provider about whether they're right for you.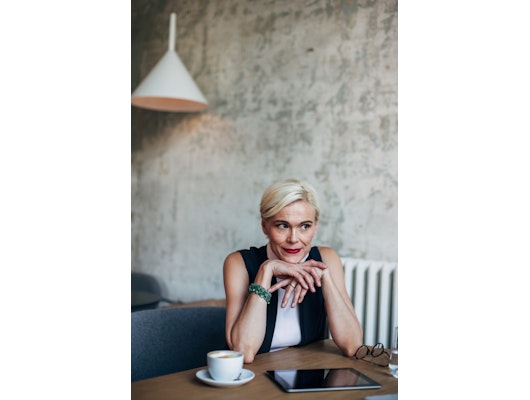 Stocksy United / Studio Firma
After injectable wrinkle reducer treatment, you may begin to see results in one to two days, with additional smoothing over the following week, and peak results in one to two weeks. Because injectable wrinkle reducers do not last forever, it's important to plan for regular follow-up appointments.  
It's also important to remember the experience of getting injectables can vary from person to person, including the amount of time they will last, as well as potential risks or side effects. The more you share with your licensed provider during your consultation, the better.
---quiz start
---quiz end
[Editor's note: Injectable wrinkle reducers are used to temporarily smooth the look of moderate to severe wrinkles in certain areas of the face such as the forehead, frown lines, and crow's feet. Like any medical treatment, they have potential risks and side effects. Be sure to talk to a licensed provider to see if they're right for you. Have more questions? Chat with our team of trained aesthetics specialists now.]