Celebrity hairstylist David Lopez's roster of clients is enough to make anyone jealous. After all, Ashley Graham, Chrissy Teigen, Kristen Stewart, Hailey Baldwin, and even Kelly Kapowski herself (ahem, miss Tiffani-Amber Thiessen) are all on it. But this beauty pro isn't content to simply stand behind the chair: Lopez is on his way to becoming a full-fledged celebrity himself.
He actually prefers the term "beauty expert." Though his bread and butter is still styling the coolest girls around, he's expanded his horizons: he uses his own social media to share his own personal grooming routines and talk extensively about his obsession with all things beauty. What started with a blog called Groom and Comb has transformed into a full-on social media movement, where he speaks openly about what it's like to be a gay man of color in an industry traditionally built upon speaking to (mostly white) women.
It hasn't been an easy ride. Lopez was born in Puerto Rico into a military family, so he moved frequently. "I had such a hard time in school socially that hair was my escape," he says. That openness really makes him stands out. Equally comfortable in front of QVC television cameras as he is behind the chair or on social media, he delivers an infectious blend of humor, honesty, and positivity.
On a recent fall afternoon, we met up with Lopez to talk about his life in beauty, his styling secrets and — of course — his extensive personal routines. Below, he spills everything about his favorite products, how beauty helped him find himself and how everyone can use a little makeup (even dudes).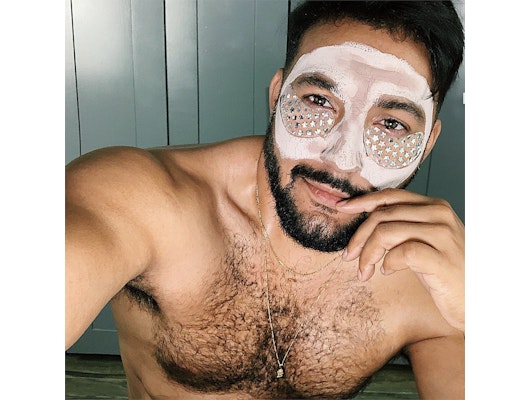 Courtesy
Spotlyte: How did you get started in beauty?
David Lopez: There wasn't a time where beauty and self care wasn't a focus in my life, or my family's life. I'm Puerto Rican — in Latin culture it is very normal to take care of your skin, take care of your teeth, iron your clothes before you go out . . . you present yourself well. My mom would get a blowout every week and she loved putting on makeup. I loved seeing the way it made her feel.
Hair was the first thing. I would play with my sister's dolls and my mom's hair. I was around 12 when I asked my mom if I could blow dry her hair with a round brush. I was pretty good at it for being 12! It became a standing appointment with us every Friday. I'd wash her hair and blow dry it and try different products.
I remember there was a conversation in high school with my grandmother and she said, "you should just go to beauty school," but I thought, "no, I want a real job."  I wanted to be an actor. I moved to New York when I was 18. I was doing hair in the dorm. All of a sudden, I was highlighting people's hair and people were paying me $5 to flat iron their hair. [But] even then, I thought it wasn't a real job. Then I dropped out of school, and was waiting tables and bartending, and I finally decided I would go to beauty school.
Spotlyte: What was your first job in beauty?
DL: I got a job at Cutler Salon℠. I started working front desk there while I was still in school. Then, I got put on the assistant roster — I was assisting the most junior of the senior stylists. One day, I did a blowout in front of Rodney (the owner) and he looked over at me and said "You're my assistant now."
That threw me into a world of fashion that I had not been introduced to. All of a sudden, I was at Fashion Week. I was like, "holy sh*t, this actually exists." I didn't know anything about anything, I was so sheltered and new. I had so much to learn — I soaked it all in. I paid my dues, worked very hard, and learned a lot from Rodney.
I left without a job lined up and I ended up working at DevaCurl®. I worked the front desk, so I had time to work on photo shoots. Everything started clicking into place, Transformers-style. I met with an agent and by the time I signed with them, I had already gotten a contract with a hair tool company on my own. Video and social media were starting to bud and I was very comfortable on camera, so I started to do more things like that.
Spotlyte: Your popular Instagram account isn't just about hair. How did that come about?
DL: As my social media was growing, I was getting a lot of questions about my skin. Because I had such bad acne in high school, I love skincare. I just decided to share. I thought, "I don't want to just do hair for the rest of my life, this is not enough for me." I needed to figure out what to do next.
[So] I started my blog called Groom & Comb. I created a men's section, a women's section, a general self-care section. It has since evolved. I had to start getting over these self-made constructions of how I was seen on social media. I always wanted to be seen as masculine, cool, and stylish, [but] that's not fully me. I thought that no one could ever know that I wear concealer, or that I am a little bit overweight sometimes and have to work really hard to be in shape. Doing the blog helped me get over that fear.
Spotlyte: Was putting yourself out there on social media scary for you?
DL: I know what it's like to feel like you're the only one who has a certain issue. I know what it's like to be the other. There was a moment where I did a "get ready with me" post about how to get a glow as a man of color. I got all these messages from other men of color — Latino men, black men — who said they'd never heard anyone talk about their skin. I thought, "Oh, there's a space to continue having this conversation." So I just went full on . . . I started sharing it all.
When I decided to be more myself, I was surprised — the type of people who responded to it were the type that I never thought would. The perception we have of people is so different from what they are in reality. For a long time, I wanted to be all things to all people. When I'm honest, people connect emotionally to me. They feel comfortable, happy, and positive, and that's what I want.
Spotlyte: What's your beauty philosophy?
DL: A question that I ask is "how do you feel good?" Learn what your skin and hair does best, and learn to enhance it. Always enhance and optimize versus trying to change something — you shouldn't feel like you have to change. Work with what you have!
Spotlyte: What's your favorite thing about your job?
DL: I like making people feel like the best version of themselves. Even someone like Ashley Graham — I love when I do her hair and she says, "I love what I feel like right now." I love seeing my work out in the world. I love talking to people and getting information out there in a friendly relatable way.
Spotlyte: What's the most common hair advice you give to all your clients?
DL: I always remind people that hair is a fabric and you should treat it like the most precious fabric you've ever owned. If you wouldn't wash that shirt or dress every day, you shouldn't do that with your hair. People are just thrashing their hair around. My one thing is switching to a naturally-derived detergent in your shampoo, like saponified beet sugar or saponified coconut, or just going to something that is sulfate-free. I like SheaMoisture®, [most of] its shampoos are sulfate free, or Devacurl Low-Poo® ($22).
Spotlyte: You love makeup. What's one of your best makeup tips?
DL: Skin prep is key for makeup. It makes or breaks what your skin is going to do throughout the rest of the day. Don't put on a mattifying lotion if you're going to use a matte foundation. I would suggest having your skin be a little juicy before you put it on. It will velvetize it and make it look more natural. If I'm going to use a matte product, my skin is juicy as hell. I always do everything right out of the shower because your skin is still wet and moist. It's so much easier to apply and easier to blend. Similarly, don't put juicy makeup over juicy skin. It's going to move around and crease.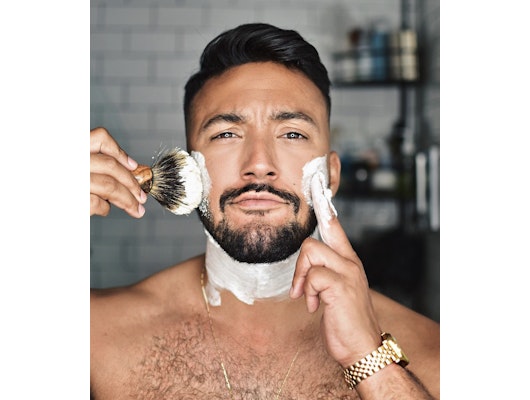 Courtesy
Spotlyte: What are some of your favorite skincare products?
DL: My current faves are all the Sunday Riley® products. I'm acne prone and I put a few drops of U.F.O.® Oil ($40) into my moisturizer. In the winter, I go for a creamier moisturizer to balance out oil production, but right now my moisturizer is Lab Series® Matte Renewal Lotion ($65). It's not too mattifying, it's just going to control it. It still leaves a nice sheen.
OLEHENRIKSEN Banana BrightTM Eye Crème ($38) is everything. It brightens under the eye and it's so juicy and rich but not oily or greasy. Before that I was using Origins GinZing® Refreshing Eye Cream ($32).
I'm so oily and I wear so much stuff, my skin can handle a lot of exfoliation. I also shave my whole face (when I shave my beard) and that's even more exfoliation. It was Glossier® Solution ($24) that changed my skin in a way I had never seen before. I also love Good GenesTM ($105) from Sunday Riley and Biologique Recherche® Lotion P50. The exfoliation factor of P50 is unlike anything else, and your skincare works better if you use it. If you're getting that top layer off, your skincare can actually penetrate deeper and better. [Editor's note: Read our editorial director's review of Biologique Recherche Lotion P50 here.]
My nighttime skin routine has made a bigger difference than my daytime because your skin is regenerating at night. I use LunaTM Oil from Sunday Riley ($105), which is amazing. If I don't have that, I use a straight-up face oil like the Elemis® Superfood Facial Oil ($55), which is really good. Kiehl's® Midnight Recovery Concentrate ($73) is a classic, and my skin always looks amazing the next morning when I use it.
Spotlyte: Have you taught your husband anything about skincare?
DL: My husband has become super high-maintenance because of me. He has a little ritual now, and he feels so good. There are things he never thought about — and things that he was always a little self conscious about that never thought he could change. Like, he tends to get a little red and he thought that's just how his skin is, but I taught him to help it. That confidence and level of self-care is what makes you feel good. It's not just about the results you're getting, it's that time you're giving to yourself.
Spotlyte: You're always traveling. What are some of your beauty travel tips?
DL: If I'm on an overnight flight, I try to have my skin clean before I get on the plane and then I put on a moisture mask during the flight and put some eye gels on. I have a little mini dopp kit in my carry-on that has face wipes, Bliss® That's Incredi-Peel® Pads ($22), a gel moisturizer, and some concealer. Before we land, I go in the bathroom and go through my little routine.
Spotlyte: What is some advice for guys who might be curious about makeup?
DL: Makeup should not be a gender-specific thing — get rid of that idea. Concealer is my number one thing for men, and it's the most common thing I get asked about on social media. There are so many guys that go buy concealer but don't want to ask questions, so they get a shade that's wrong for them. Don't be shy to ask for help. Find a concealer that doesn't have to set with powder so it doesn't crease. I like Tarte® Creaseless Concealer ($26), MilkTM Flex Concealer ($28), and Amazing Cosmetics® AmazingConcealer® ($28).
Also, all men should use a clear brow gel. Groom your brows, for Christ's sake!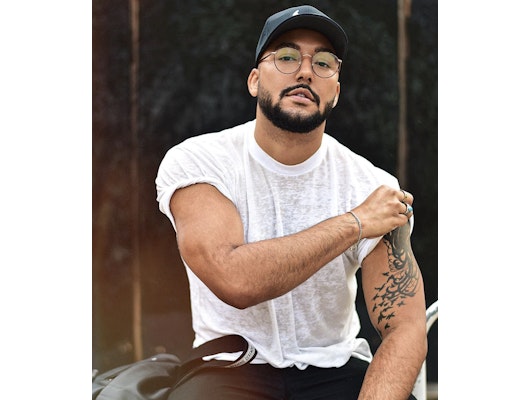 Courtesy
Spotlyte: You're a hairstylist, but who cuts your hair?
DL: I go to Tony at Made Man Barbershop® for my fade and Doug at Persons of Interest℠ in Williamsburg for the top. My hair has texture to it and it's black and I have a very specific fade, so people that know my hair type know how to cut my hair really well. With black hair, you see every mistake. Tony knows my head shape and gives me a perfect fade. Doug is great with the top and cuts my hair dry — never wet.
Spotlyte: Do you get facials? Where do you go?
DL: I don't get facials that often because I get hyperpigmentation. The Rescue Spa℠ facial was the first time I've ever gotten an extraction that didn't leave me with a dark mark. I don't want to go anywhere else. Danuta Mieloch (the owner) is so hyperfocused on different types of skin and how they react to different things. She has taught their technicians so well and makes sure they're up on everything.
I had a facial at Sarah Chapman® in London that was really good, too. They have a machine that you put your face into, and it tells you all about your skin like sun damage, wrinkles, everything. I was in the 90th percentile for all of it (which is really good).
Spotlyte: What about medical aesthetics?
DL: Yes, I have great skincare and yes, I use eye patches and eye creams but I also have filler on my cheeks. My practitioner Nurse Lynne at Center Aesthetic & Dermatology℠ is really amazing. She does a lot of men and she's good at saying no.
I was never interested in injectable wrinkle reducers because I never had a lot of lines, but I finally got  some [lines] on my forehead because I'm so expressive. I went in January to get it for the first time. I loved that my forehead looked [smooth] but it could still move. I liked the experience . . . Now I feel the lines have been softened.
I like talking about [cosmetic injectables]. I think it's important to know that it's been a journey for me. At the beginning, I [shied away from discussing it]. But the way the social tides are shifting, I thought, "No, I should talk about it!" I would never tell someone to get something just because, but if there's something that really bothers you . . . and there is a solution available, you could try it.
[Editor's note: Injectable wrinkle reducers temporarily smooth the look of moderate to severe wrinkles in certain areas of the face, including the forehead, frown lines, and crow's feet. Injectable filler is a temporary treatment that adds volume to areas of the face such as the lips, cheeks, and laugh lines. Like any medical treatment, both injectable wrinkle reducers and injectable fillers have potential risks and side effects. Talk to a licsenced provider to see if they're right for you. And learn more by chatting now with a trained aesthetic specialist.]
Spotlyte: You're a very fit guy. How do you keep in shape?
DL: I have to work out a lot. I'm naturally meant to be a husky guy. I also have an obsession with donuts and cake and sweets — I have a complicated relationship with sugar. I found that everything changed when I got a trainer. It took away the anxiety I had going into a gym. I know what to do now: I know what weights to use, I can go in and look like I know what I'm doing. My husband is a personal trainer, and he gives me advice, too. My first personal trainer started BRRRNTM and it's incredible. You work out in the cold and then you go into an infrared sauna after. The infrared sauna is super good for your skin too — [it's rejuvenating].
Spotlyte: Any parting words of wisdom?
DL: Beauty is all things — it's not just about hair and skin. It's about your hands, your body, general self care. It emcompasses more than just a lotion or a shampoo.
Allergan may receive commission for purchases made through links in this article.