If you've flipped through the pages of a fashion magazine over the past decade or so, you know Gucci Westman's name and have seen her work — but it's unlikely that you know her backstory. The makeup artist was born in a California ashram and raised in Sweden. That's where she was introduced to the magical world of high fashion and luxury beauty — the mother who Westman acted as an au pair for took her under her wing. She was clearly inspired, because shortly thereafter, she enrolled in makeup school.
Westman first studied in Paris, then learned special effects makeup in L.A. It was in the city of angels that she met photographers Annie Leibowitz and Bruce Weber, who introduced her to Grace Coddington [Vogue's creative director]. Coddington hired her to shoot for Vogue, and the rest is — if not history — a very colorful timeline that's full of dewy skin, vibrant lips, miles of runway shows, and stacks of editorial.
Throughout this esteemed tenure, a desire to create her own line of cosmetics intensified year after year. Earlier in 2018, she and her husband David Neville launched Westman AtelierTM, a makeup line with clean formulations, packaged so chicly and beautifully, you'll want to show it off on your dresser or vanity.
We'd be remiss if we didn't mention Westman's Instagram feed. Equal parts family, friends, and work, Westman seems to have figured the balance of this trifecta out. However, if you were to compliment her, she'd roll her eyes and say in her signature sigh, "It's a balance I work hard to achieve every day. Every day is a hustle." (And, yes, that is exactly what she said when I made that comment). We caught up with Westman to find out how, whether because of, or in spite of that aforementioned hustle, she manages to always looks so incredible.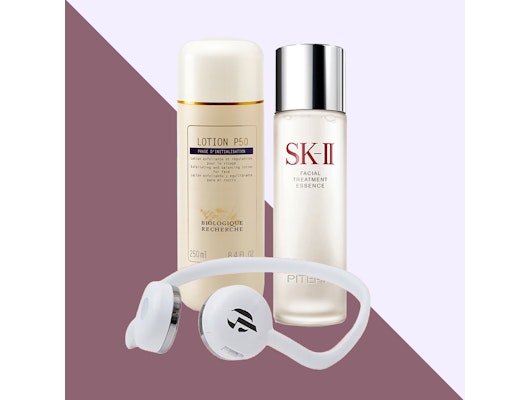 Spotlyte: Do you stay out of the sun? And whose products do you use?
Gucci Westman: I use La Roche-Posay® Mineral Broad Spectrum ($34) on my face and on my body. I do tend to wear a hat to protect my face, but know that the sun is essential for your health, and a bit of a glow.
Spotlyte: Is there ONE skin care product that would give you the sweats if you ran out?
GW: Any of my Biologique Recherche® products. [Read our editorial director's review of the famous Biologique Recherche P50 Lotion here.]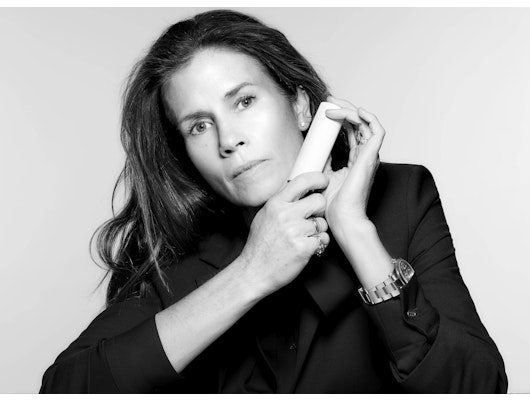 Westman Atelier
Spotlyte: You've mentioned that Westman Atelier is infused with skincare benefits and suitable for those with rosacea. Tell us more...
GW: Westman Atelier delivers consciously crafted beauty. The line is inspired by years in the industry, but also my own struggles with rosacea. When I was diagnosed, I turned away from potential irritators like silicones. We've taken a skincare approach to formulating this line and have focused on soothing, anti-inflammatory ingredients, including Phytosphingosine, a skin-identical plant extract with potent anti-inflammatory abilities, camellia oils that protect against environmental damage, and skin nourishers like coconut oil.
Spotlyte: What are your favorite ways to exercise?
GW: Being active is something that keeps me balanced and lowers my stress levels, so I always make time for it. I do hot yoga. In the summer, I run. I love being outdoors and horseback riding with my daughter. She has been riding since she was about six or seven months old.
Spotlyte: Do you meditate?
GW: My parents have always been into Eastern philosophy, so it's something I grew up doing. My husband and I do TM (Transcendental Meditation) together now. It's the best way to start the day.
Spotlyte: Who gives you your facials?
GW: Georgia Louise®. I try to see her once a month, either in New York or in L.A. since we both travel there often.
Spotlyte: What about in-office procedures?
GW: Georgia Louise uses non-invasive techniques and technology, and her philosophy is all about touch. I'm so intrigued with everything she does — when you leave her treatments, your face is visibly lifted and bright. I snap up all of the tools that she's created that allow me to take her results home with me.
Spotlyte: How do you care for your skin at home?
GW: I use SK-II® Facial Treatment Essence ($179), Georgia Louise's GloPulseTM ($165), and GloLiteTM mask ($1,500). I am really interested in the science behind LED and using the different colors and settings to fight specific skin needs. Also, a combination of Environ® Organic products.
Spotlyte: What about nutrition? Are you a healthy eater?
GW: Yes. I like to focus on the nutritional benefits of the food I eat. I don't have a specific food plan, but I stay away from meat and love to create my own nut and hemp milks. I always keep almonds and blueberries in the house for snacking and I love gluten-free nut bread.
Spotlyte: How do you hydrate internally and externally?
GW: I use the Georgia Louise® GloPulse and Sheet Masks and Nuun® Electrolytes ($19) to stay hydrated, both from within and on the surface.
Spotlyte: Finally, any crazy/weird/unorthodox things you do for your skin?
GW: Circulation is so important and I'm really into non-invasive ways to boost it. Take time to massage your own skin — whether it's in the bath or when you have a break.
Allergan may receive commission for purchases made through links in this article.