Over the summer, I observed some red and brown spots cropping up on my tan legs, plus uneven texture. So I connected with Bloomfield, Connecticut-based dermatologist Dr. Jennifer Pennoyer about it. What was going on with my stems? And could I remedy the skin there?
She told me what I already knew: that the damage was done years ago by the sun. As a sun worshipper that has spent many steamy beach days slathered in baby oil, I have noticed that my legs are aging faster than my face. It made me realize: we spend time slathering our faces and necks with anti-aging serums and sun protection formulas, yet something neglect other parts of our body. For me, it was my legs.
"Sadly, women often start taking care of their legs too late," remarks Dr. Pennoyer, who explains that SPF is the best protection against age spots and sagging skin. "Besides brown and red spots, women often complain of bumpy flesh and cellulite that occurs as collagen breaks down," she adds. "This can be a result of UV exposure, hormonal changes, or general aging and loss of elasticity." (So if you don't have any leg concerns right now, let this be a reminder that sun protection is essential!)
The sad truth is that while too much sun exposure can cause problems for some people, for others, these aging concerns are simply genetic or even bad luck. Yo-yo dieting and a fluctuating weight can also be to blame. "Those that have a history of gaining and losing weight will have put more stretch on the bands — connective tissues of collagen — which will result in uneven, bumpy flesh," explains Dr. Pennoyer.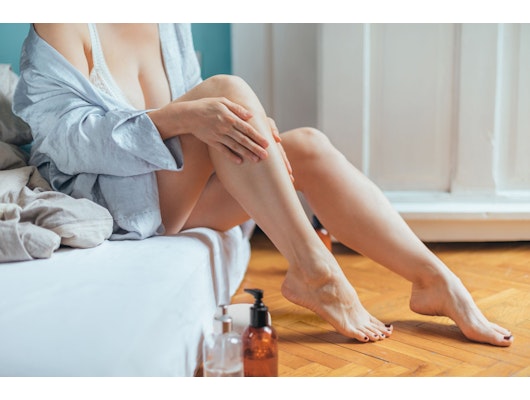 Stocksy United / Studio Firma
For those of us that made bad choices on one too many beach days, or lost the leg genetic lottery, there are certain treatments that can make a world of difference. A host of creams can help lighten age spots on the legs. The ones that work best contain retinol, as this ingredient has proven results in the brightening department. Paula's Choice® Retinol Skin-Smoothing Body Treatment ($27) is a cult favorite that promises to help smooth while improving the look of spots with retinol and vitamin E. Alternatively, spots on legs can be treated with lasers (learn more about what lasers can do for your body here), while Dr. Pennoyer notes that radiofrequency treatments can help improve sagging.
[Editor's note: Retinol shouldn't be used by those who are pregnant, considering getting pregnant, or nursing. Please consult with your doctor before use.].
But when I asked Dr. Pennoyer if my fancy, expensive leg cream that promised to smooth out my thighs would be all I need, she said likely not. "Although peptides and antioxidants often found in these creams promise to build collagen, nothing topically applied will clear cellulite," she explains. "Body serums can help with sagging skin to tighten a bit, but the results will be minimal."
As a professional makeup artist, it's perhaps not surprising that I went the cosmetic, topical route to treat my legs. I have been slathering my body with Loving Tan® Deluxe Bronzing Mousse in Dark ($35). This glorious product goes on easily with a mitt and results in the most natural tan I have ever had from a self-tanner in my life. The tone is deep with no orange at all and smells good, which is rare. Not only has it replaced damaging sun exposure in my routine, but I found that it conceals all of my leg imperfections, so they seem invisible to the naked eye. (Perhaps unsurprisingly, it is now my most trusted body product.)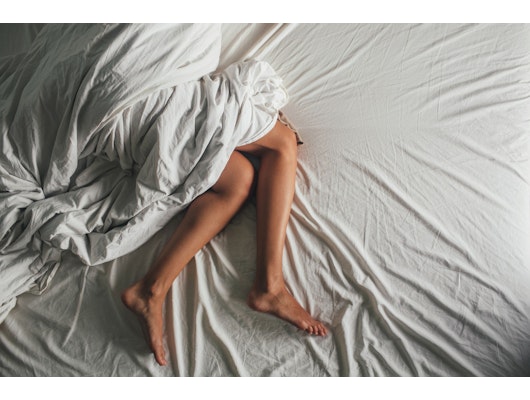 Stocksy United / Studio Firma
Body makeup like this is also an excellent option for anyone trying to manage varicose veins.  Many of my clients swear by Sally Hansen® Airbrush Legs ($9). "I wish that nude pantyhose never went out of style, because that would be a great solution, but the Sally Hansen product is a lifesaver for me," says Toni Gambale of Brooklyn, NY. "If I am tan, it's not as big of a concern, but for most months out of the year, I use the airbrush spray because it evens out my legs and covers my veins, and I don't have to worry about it rubbing off on my clothes."  
Gambale has been grappling with spider veins since her teenage years, and had a cosmetic procedure to treat them in her twenties, "which made the situation better but not cured." After having children, she found that her veins became worse, and sought medical attention. That's when Gambale discovered she had something called venous reflux disease, also known as venous insufficiency. This is a medical condition affecting the circulation of blood in the lower extremities, which ultimately can cause the dysfunction of leg veins. Over time, it may result in vein swelling and discoloration, which appears on the surface as varicose and spider veins. Gambale learned from her doctor that "the major veins have to be fixed, which will then fix the spider veins."
Dr. Pennoyer confirms that in this instance, treating the deeper veins will result in an all-over better appearance of superficial veins. "It's important that when considering the appearance of legs, you make sure that you don't have deeper issues when it comes to veins," Pennoyer points out. "But generally, the rule of thumb is that when you 'treat the highway, the exits go away.'"
However, treating deeper veins (which is often done with laser or radio frequency, but could require  surgery) leads to requires a bit of downtime. Post-treatment, you'll have to rest, avoid working out, and wear compression stockings to ensure the treatment isn't reversed. It's typically recommended to treat leg veins in colder months, when your legs are less likely to be exposed.
As inconvenient as that may sound, my theory is that a little bit of sacrifice in the winter  — whether it's due to procedure downtime or spending money on treatments — might result in some major summer results. We may just be able to throw away our leg makeup once and for all.
Some products were gifted to the author for the purpose of writing this article.
Allergan may receive commission for purchases made through links in this article.