They say the eyes are the window to your soul. If that's the case, then I need to keep them looking smooth and reduce those wrinkles! As I've gotten older, my crow's feet have started to crop up when I smile. So, I've become more vigilant than ever when it comes to my skincare routine around my eyes.
As I do for all my skincare advice, I turn to my husband (dermatologist Dr. Joshua Zeichner) for his expert opinion. Here are the tips I have successfully been able to incorporate into my daily life to keep those annoying lines at bay and to treat them when they crop up. They are simple enough for anyone to do the same.
Rule 1: Wear sunglasses all year.
The risk of sun damage is lurking everywhere. Not only is UV light harmful to the skin, but bright sunlight means squinting, as well. When we squint, the skin around our eyes folds on itself more than it would otherwise. Just as wrinkles set in over time from furrowing your eyebrows, the same is true of the eye area.
You might think that you and your eyes are safe on overcast mornings, but that's not necessarily the case. I've caught myself squinting even on cloudy days, because the glare of the sun can be just as bright as direct light. So for me, it is sunglasses every day — and the bigger the glasses the better.  Whether I am going for a walk in the park or picking up my kids from school, just five minutes of squinting a day certainly adds up over a lifetime.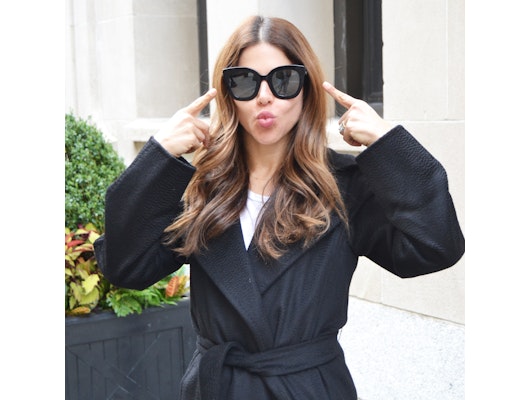 Cori Zeichner
Rule 2: Retinol is a staple.
Since the skin around the eyes is so thin, my husband tells me that it shows signs of age earlier than the rest of the face. One of the best ways to combat skin aging is with retinol. Retinol helps our skin cells make new collagen and elastin to keep the skin strong and bouncy. This means that wrinkles are less likely to set in over time. (Learn more about retinol here.)
I personally have been using prescription-strength tretinoin for about a decade. The only downside I've observed is that retinol-based formulas can be irritating to the skin, so your complexion needs time to adjust to it. When I first started using tretinoin, I applied it only once or twice a week. Eventually, I moved it up to every other day, and now my skin can tolerate it almost daily. It is too irritating for the upper lids, but I apply it to the lower lids and the crow's feet area regularly.
If your doctor decides you are a candidate for prescription-strength retinol, ask them for guidance. 
[Editor's note: Retinol shouldn't be used by those who are pregnant, considering getting pregnant, or nursing. Please consult with your doctor before use.].
Rule 3: Apply antioxidants every morning.
Sunlight exposure, pollution, and cigarette smoke are all harmful to the skin. My husband tells me they act almost like a tornado on the skin, destroying collagen and elastin with free radicals. (The less collagen and elastin your skin has, the more wrinkles you could have.) Antioxidants, such as vitamin C, scoop up those free radicals and prevent them from harming the skin. Even better, vitamin C also helps to brighten dark spots and even out skin tone. To combat all these signs of skin damage, I make sure to layer my vitamin C eye serum — I'm currently using Skinceuticals® AOX Eye Gel ($99) — underneath my sunscreen every morning.
Rule 4: Moisturize before bed.
In my twenties, my skin was oily, so I never used moisturizer — but that all changed in my thirties.  Little by little, I began to notice dry skin around my eyes, and even occasional flaking. I've learned that after your thirtieth birthday, skin cell turnover slows down. That means the skin can't protect itself from the environment as well as it was able to when we were younger. Applying a night cream near your crow's feet helps keep the skin well hydrated and in good shape while you sleep. When the weather is especially cold and dry, my simple trick is a dab of Vaseline® ($6) under the eyes before bed. Discover some of our favorite moisturizers here.
Rule 5: Injectable treatments help.
Creams and serums can help improve the look of crow's feet by plumping the skin. And there is also the option to treat them. To help reduce the appearance (albeit, temporarily) and smooth my lines, I get injectable wrinkle reducer treatments.
Injectable wrinkle reducers are used to help reduce moderate to severe wrinkles on certain parts of the face. I get mine administered at a doctor's office, and the treatment itself can take only a few minutes. I get my crow's feet treated no sooner than every three months and I know it's time for a new appointment when I notice the lines when I smile.
[Editor's note: Injectable wrinkle reducers are used to temporarily smooth the look of moderate to severe wrinkles in certain areas of the face. Like any medical treatment, they have potential risks and side effects. Be sure to talk to a licsenced provider to see if they're right for you. Have more questions? Chat with our team of trained aesthetics specialists now.]
---quiz start
---quiz end
So there you have it: the five things I'm doing to manage those wrinkles around my eyes — recommended by my dermatologist husband and approved by me!
DermWifeTM is a trademark of Cori Zeichner.