In Spotlyte's series His Regimen, influential individuals divulge their most trusted resources for every aspect of their beauty, skincare, and wellness regimens. Consider it your pre-vetted primer to all things gorgeous.
Designer Michael Bastian is possibly the most well-curated guy on the planet. It could be his time as men's fashion director at Bergdorf Goodman®, his jobs at Bill Blass®, Ralph Lauren®, and Tiffany & Co.®, or the fact that he's read every issue of GQ released in his lifetime. But it was in 2006, when he burst onto the American menswear scene with his first namesake collection, that he became instantly known for a certain brand of style that was both familiar and modern. His brain is like a card catalogue of inspiration, and he uses it to create a fully-formed vision of what every man can be. "My goal is to make a man look like a better version of himself," he told us on an early fall morning (in his impeccably decorated apartment).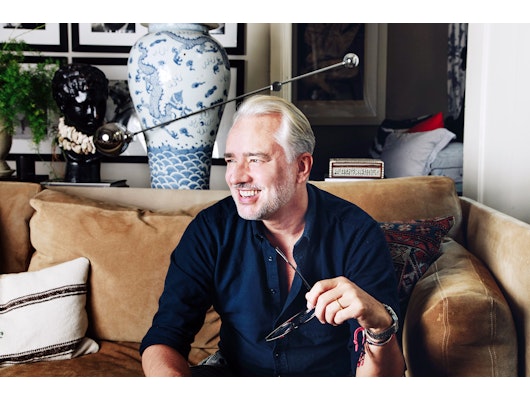 Joslyn Blair
What you might not know about Bastian is that he is also a grooming obsessive. On that same morning, he had artfully arranged all of his favorite products onto a silver tray and pulled out his favorite fragrances from his vast collection in preparation for our visit. He talked us through them all with the ease of a seasoned beauty editor — or at least someone who has tried a lot of product. "A lot of my grooming routine is centered around the fact that I like to be outside and deal with the effects of the sun," he said, but his knowledge extends far beyond sun protection. I can tell he truly loves grooming, even if it took awhile to get there. "I'm 52, and I finally feel that the way I want to look inside matches how I look on the outside," he laughed.
So what exactly does one of the world's most stylish men do behind the scenes? Here, he takes us through his favorite products and shares some of his best tips.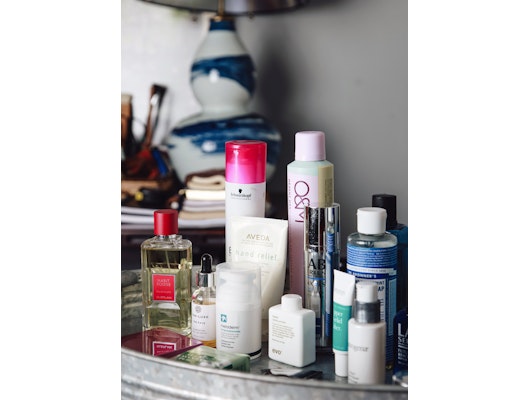 Joslyn Blair
The Basics
"For cleaning my face, I use L'Oréal Revitalift Bright Reveal® Cleanser ($6). It has a little scrub to it and you can use it every day. It gets all the city junk off. I'm really addicted to the Agua® LavandaTM ($9 for three bars) soap. It was Frank Sinatra's favorite soap and I found it on Amazon. It's like a '60s lavender scent. It's made in Spain and lasts forever.
Aveda® Hand Relief ($28) is the best hand cream because your hands never feel greasy. Hand cream is so specific. I want it to have a nice dry finish and to be a little waxy, so you can wash your hands and it doesn't come off. You don't need to mess with your cuticles or get manicures as much if you just use hand cream."
Fresh Faced
"The first thing I do to my face is put something under my eyes. I love Garnier® SkinActiveTM Clearly BrighterTM Eye Roller ($8). The metal rollerball is so cooling. If I need some extra help, I use La Prairie Skin Caviar® Luxe Eye Lift Cream ($350). It is just the best. I'm fine spending the money, but I want to see results come from it — which is how I can justify things like La Prairie.
I'm a bit of a Lab Series guy (the brand does the grooming for my lookbooks), and I use the Rescue Water Lotion ($37). I never understood the philosophy of until the team explained to me that you need to put moisture back into your skin before you put on cream so it seals it in. I also use Future Rescue® Repair Serum ($62), which is a good serum for hot humid days when you don't really need a moisturizer. It's small and easy to travel with. Mostly it's just enough, but for days when I need a little extra moisture, I use MAX LS® Power V Lifting Lotion ($132) — what guy doesn't like powerlifting?
In the middle of winter when you're pale and run down, my most famous piece of advice is to wear a pink shirt. Everyone looks better in a pink shirt. But if you need a little extra help, I love Tom Ford® for Men Bronzing Gel ($49). If anyone knows tan it's Tom Ford — you might as well go to the master. Back in the '80s, Halston made a bronzing gel that was amazing, and this feels like that — it's perfect. I also just discovered Tan Luxe® Drops ($49). You put a little moisturizer in your hand, then add a couple of drops, and rub it all over your face. It works great and looks completely natural.
A friend once gave me La Mer® lip balm ($60) and it is incredible. The tub lasts forever and it tastes great. I put it on every morning — partly because it tastes so good."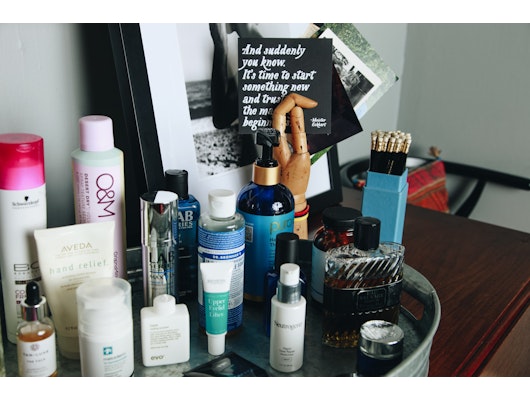 Joslyn Blair
Night Moves
"If you're going to be in sun all the time, accept the fact that you're going to have to deal with sun spots. Now [the market] has products that can fade them. One really good one is Meladerm® ($60) for hyperpigmentation, and another one is Neutrogena® Rapid Tone Repair Night Moisturizer ($22). It has retinol and vitamin C in it, so it turns over your cells and does all that great stuff.
[Editor's note: Retinol shouldn't be used by those who are pregnant, considering getting pregnant, or nursing. Please consult with your doctor before use.].
I've been using Liz Earle SuperskinTM Concentrate for Night ($54). I love Liz Earle — the line is all organic. I remember reading about this [product] in Vogue. They said you wake up literally looking years younger and it actually works! I got into a big Liz Earle moment for a while, but out of all of it, this is the stuff I never let go of."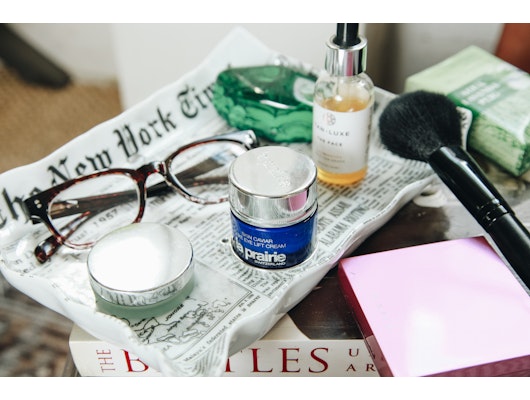 Joslyn Blair
Photoshoot Secrets
"Getting your picture taken a lot really opens your eyes to what works for you (and what doesn't). I try to not let them mess around with my hair on shoots. I bring my own product — I've become that guy. I just feel like no one knows my hair better than I do. I've seen too many pictures of myself where someone else did my hair and I didn't like it. I don't like my hair looking too perfect. I want to be able to push my hands through it.
Some form of a powder works best for me and the one I love the most is from O&M Desert Dry that comes out as a spray. It's good if you're doing your hair in your apartment in the morning, but it's big, so for travel I like EvoTM Haze Styling Powder ($19). This one you just shake. There's no oil at all, so if you have really thin fine hair, it gives you a little hold and a little volume.
Bausch + Lomb® came out with new [redness-relieving] eye drops called LumifyTM ($11) that are amazing. They work so much better than the old school kind. I remember Tom Ford once saying that you should always have white teeth and clear eyes. Just those two things make everyone look younger, well-rested and beautiful.
I've never really liked products that are supposed to absorb oil. I don't feel like they do the job. One time I was on a shoot and the groomer pulled out Mally Beauty® Face Defender ($40) — she said it's great for guys because there's no color. It's just a very clear, dry powder. It kills shine really fast and it lasts for a long time."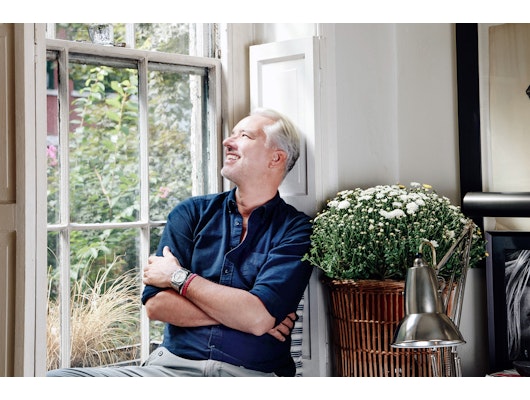 Joslyn Blair
The Hair Saga
"The story of me and my hair is a long and complicated one. I've always had thinner hair and a higher forehead. My hairline started receding in college, and when that happened, I freaked out and immediately started on Rogaine®.
[Editor's note: Talk to your doctor before starting or stopping any new treatment, medication, or supplement.]
Then, it started going grey in my thirties and I was fighting two battles. I would try to have the grey covered up but that didn't feel natural. It wasn't until my forties that I decided that the grey was something I should embrace. Now there is a great new phenomenon of guys that have silver hair and still look sexy as hell. They blew the argument that it makes you look older out of the water.
I use a purple shampoo called Schwarzkopf® Color Freeze ($11). It knocks out the yellow when you have silver hair. If you have really light hair and go swimming or use Rogaine, your hair tends to turn yellow. This shampoo also pumps up whatever pepper I have left.
I use another shampoo called Pura D'or® Hair Thinning Therapy Shampoo ($25). It's a good everyday shampoo. If you use the purple shampoo every day, you can get a purple tint to your hair, so it's good to have another one to use between.
I also use liquid Rogaine ($25). I have very fine hair, so for me the less stuff I put in it, the better. I'm doing everything I can to hold on to every strand. A model friend of mine started Nutrafol® ($88) [and recommended it] and I've been taking that, too. It's more natural and I feel better about using it."
[Editor's note: Talk to your doctor before starting or stopping any new treatment, medication, or supplement.]
Haircut Above the Rest
"This is serious. I'm very specific about haircuts. I've been going to Marie Caveggia for about 15 years now, and I've followed her around to like five different salons (right now she's at a salon called O&M). I first found out about her when I worked at Ralph Lauren, and a lot of guys went to her. Her philosophy is that it should be a little undone — you should never look like you just walked out of getting your hair cut, and it should always look natural. She's lasted longer than any relationship I've ever had. I don't know what I'd do if she decided she didn't want to do this anymore."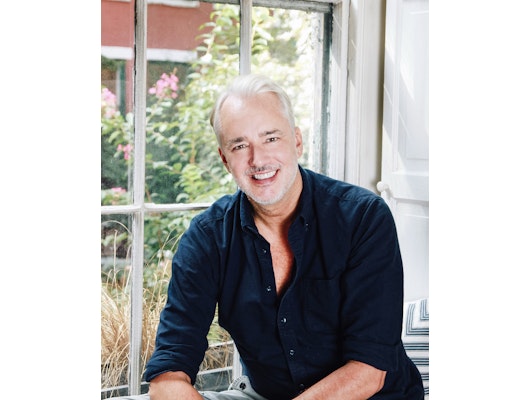 Joslyn Blair
Best Face Forward
"I get a facial done two or three times a year: once in February or March when I'm coming out of the winter, and definitely one in September when I'm off the beach and need a really good cleanout. With a facial, I really want them to dig in. I want the most crazy-obsessive Virgo facialist who is just going to get everything out. I want it clean! I go to Laurie Adams (she just opened her own space called LANY® Organics). She is great!
I'll occasionally do a mask at home. I love the classic Origins® Clear Improvement Charcoal Mask ($28). It goes on black and you basically have to scrub it off with a brush, but it pulls everything out of your face. I'm worried they're going to discontinue it!"
Massage Theory
"I was spending way too much money on massages and not having them as much as I would've like. Then all these places started opening on 8th Street near my apartment. In the front, they'll do foot massages, but in the back they have tables. They're great, they're clean, and they're cheap. Now I'll do it like once a week. It's not a special treat anymore, it's something that I do to feel better. My favorite one is called Four Seasons Body Work."
Keeping His Chin Up
"Ten years ago, when I was really getting my picture taken, I noticed that under my chin was looking a little soft. It took me by surprise. My dermatologist Dr. Steven Victor, MD, was getting into more treatments, and the one he gave me was almost like liposuction. It was an afternoon procedure and it lasted me 10 years."
Namaste
"I'm just now getting back into yoga, which is something I haven't done in years. There is a place called The Integral Yoga Institute. They have a set of four classes to get you back on your feet so you can start going to yoga again. Everyone at this point has done yoga before, but these are two-hour refresher classes. They offer everything there — yoga, meditation, sound therapy, chanting. That feels good to me right now."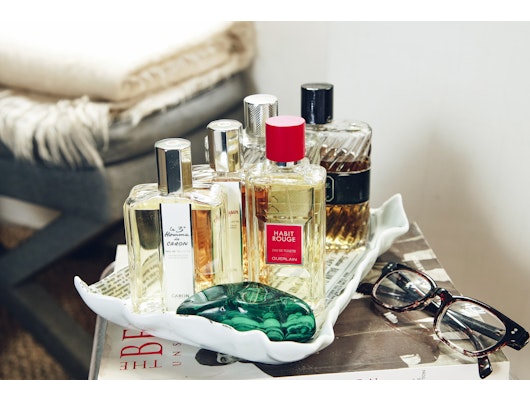 Joslyn Blair
The Smell of Success
"Fragrance is my real obsession. It started with a book called Perfumes: The A-Z Guide by Luca Turin and Tania Sanchez. They reviewed every perfume and cologne from the beginning of time that is still in production. They write about them like you would a restaurant or a movie. I read the book like a novel and became really obsessed with the fragrances that they were describing. Now I'm buying them on Amazon and eBay.
There were so many [scents] falling out of the shelves in my bathroom that I started wearing them together. Give me something dark and something light, something that's a little more night and a little more day and smash those together and that's interesting. There are two from Caron®, one called Yatagan® ($125) and one called Le 3eme Homme ($125). Yatagan is one of the darkest, heaviest, scariest men's fragrances and Le 3eme Homme is very light and fresh and is a floral for men which is pretty rare. I've been wearing those together: the super dark and the super light smells great.
Au Savage by Dior® ($75) is my big go to — I think it's perfect. They came out with the parfum ($105) which is dark and smells completely different. You put those together and you get something amazing. From Guerlain®, I've worn Habit Rouge® ($40) for a while, which is a classic, old dandy men's fragrance from 1965 and mixed it with Mitsouko® ($350), which is a very famous women's perfume. There is peach, leather, it's very old school. It smells like a really good soap or something. It's from the 1920s. Those two together are amazing.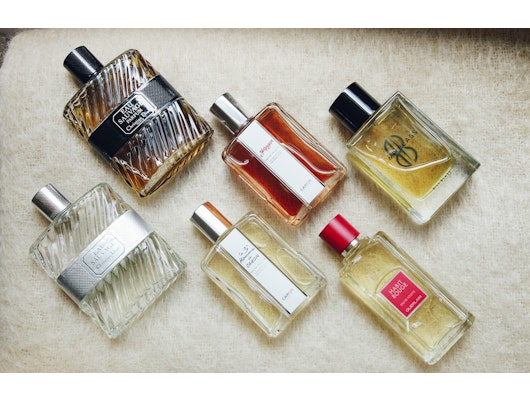 Joslyn Blair
I'm dying to do my own fragrance. When I was the men's creative director at Bill Blass for a minute, the clothing never came out, but we did do a fragrance called Mr. Blass. The idea was a cologne that changed during the day. Maybe Mr. Blass will come back as Mr. Bastian."


Allergan may receive commission for purchases made through links in this article.