Self-tanner is considered by many to be one of the most polarizing beauty products — but it doesn't have to be. Take it from Tan-Luxe® founder, Marc Elrick, who says he was "scared" to use the stuff for years before he launched the brand. "I've had every tanning disaster you can think of," he shares; "streaks, orange [color], dried-on clumps, [darkened] pores." As many of us know from first-hand experience, such mishaps are not unique to Elrick. But when applied correctly, he swears self-tanner has physical and emotional benefits (really!) that far outweigh the risks. Below, the pro shares his secrets for creating an even glow — even if you're brand new to bronzing. 
Choose Your Tan How You Would Choose Your Makeup
While it may sound obvious, choosing a formula that is simply too deep for your particular skin tone may result in a mishap (and make you swear off self-tanner for good!). Consider tanner as you would foundation: it's not one-shade-fits all.
For the most believable results, Elrick advises opting for a formula that makes sense for your coloring. "If you burn in the sun, always opt for a light to medium formula," he suggests. Try Tan-Luxe The Water in Light to Medium ($50), a clear, quick-drying self-tanner. On the other hand, if your complexion veers olive or deeper, a more intense formula (such as St. Tropez Self Tan Extra Dark Bronzing Mousse, $45) will still end up looking natural. Elrick's motto: "You don't choose the tan. The tan chooses you." 
Create an Even Canvas
There are few things more disheartening — and less natural-looking — than a splotchy tan. Avoid the issue by exfoliating your body before application (flaky and/or dry skin could cause unevenness). We like using Harper + Ari® Exfoliating Sugar Cubes in Rosé ($23) for this — the single-serving scrub cubes are simple to use and look chic tubside.
Additionally, hydrating your skin will go a long way towards achieving an even glow. "If you have excessively dry skin or dry patches, moisturize your hands, elbows, and feet," Elrick says. He loves applying an oil-rich body butter to these areas; these formulas can create a barrier on the skin and mitigate the risk of product overload in dry spots. You can also use a ultra-nourishing tanning formula like Elrick's own Tan-Luxe The Butter ($37). This product was formulated with coconut oil, shea butter, and cocoa butter to deliver a dose of moisture as it bronzes.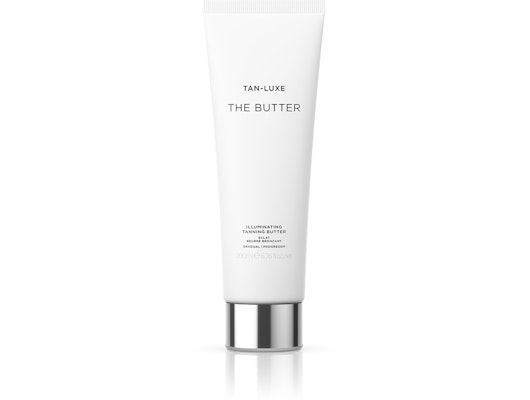 Choose Your Tools Wisely
Repeat after us: "I will not use my hands to apply self-tanner." Instead, use a tanning mitt (such as St. Tropez Applicator $7) on the entire body in large, circular motions. For hard-to-reach spots like the hands, Elrick recommends using a makeup brush or a beautyblender® ($20) to apply the product after you've finished with your limbs. Remember: self-tanner usually takes a few hours to develop. Most formulas advise waiting for at least four hours post-application to shower. When you do take a rinse, be sure not to scrub too hard with a loofah.
Have an Insurance Plan
Self-tanner slip-ups happen. Luckily, exfoliation (which isn't just for pre-tanning!) can help to remove mistakes. Elrick loves the Dr. Dennis Gross Alpha Beta® Peel Pads ($79) to help correct errors on the face. For the body, Tan-Luxe makes a chic-looking exfoliator, Glyco Water Self Tan Eraser ($33). "It's kind of like a glycolic [acid] treatment slash liquid chemical exfoliator for your body," Elrick explains. "It reduces tan mishaps instantly by up to 50 percent, and completely after 14 hours."  
Embrace It!
Once you've solidified your application technique, tanning can have a wonderfully satisfying, almost addictive effect. Shares Elrick: "So many people say to me, 'I feel healthier when I tan. I feel more confident. My teeth looks whiter. My eyes look brighter; I feel slimmer and I feel like was more toned.'"
Not to mention, everyone — of all skin tones and genders — can benefit from the endorphin-boosting effects of a little glow. "[Men] forget that a little bit of concealer or couple boxes of self tan can really impart an effect on self esteem," Elrick says. We can't say we'd disagree!
Some products were gifted to the author for the purpose of writing this article.
Allergan may receive commission for purchases made through links in this article.